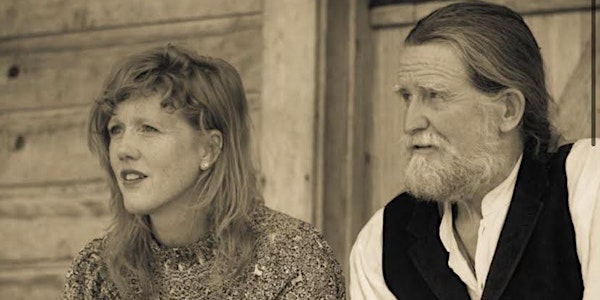 Reckoning – Author Reading & Talk/ Book Signing ~ Live in New York City
Join Stephen Jenkinson and Kimberly Ann Johnson for a special live conversation on their new release, their co-written book, 'Reckoning'.
When and where
Location
Buunni Inwood 4961 Broadway New York City, NY 10034
About this event
1 hour 30 minutes

Mobile eTicket
What is Reckoning Live? It's an evening devoted to reckoning, soul food, and culture work in community.
Join care activist Kimberly Ann Johnson and culture activist Stephen Jenkinson for an in-person live conversation. Two authors and teachers from different countries and different generations – one known for his work on death, the other known for her work on birth – together they reckon with the troubles of the times.
These evenings are an unguarded, sober meeting with spirit work, elderhood, grief and building culture in a me first era. "Try this at home. With Companions."
When? Thursday, February 23rd (Door opens at 6:15pm/ Talk 7pm-8:30pm/ Book signing until 9:30pm) We recommend you get there plenty early to enjoy food & drink at Buunni, meet a friend.
Where? Buunni Inwood, 4961 Broadway, New York, NY 10034 (between 207th and Isham) – maximum capacity is 75 of which 55 seats available.
Click here to purchase audio book, paperback or hardcover of ReckoningWe will have a limited number of books available the night of. Cash preferred.
Kimberly says..On the heels of this new book, Reckoning, that grew out of online recordings, we were able to stand in the same place and reckon together and with some of you. We have spoken with hundreds of people from Toronto to Sebastopol. We took no pictures, so there are none to show.
The meetings between us have been characterized by genuine interest and a devotion to what arises in the moment. We do prepare, but we do not rehearse. We don't "set each other up" to say the things we want to hear nor to try to create discord, where there surely could be some. In that way, it is truly alive, and something seems to happen that is beyond us.
The experience is electric and a high wire act. I'm getting eldered in real-time, and it is awkward, humbling, and requires some real work. And it's all I want to do. Some food for the soul – that would be my wish.
Podcasts with me and Stephen Jenkinson, if you're wanting to dive in!
🐾 Love, Truth, and Beauty with Sara Avant Stover
🐾 The Ghee Spot with Katie Silcox
🐾 Ian Mackenzie on the Crow's Nest This video was the first interview that we did while sitting in the same place, with the famous orange wall behind us. I was worked over - we'd done Ottawa the night before and I'd just flown in.
Stephen has been on a few podcasts talking about Reckoning, the book, and the process of working with me:
❤️ He tells one of my favorite stories about a 7-year-old girl dying and her family on the Holistic OBGYN podcast with Nathan Riley. The whole podcast is worth it just for that story that comes at the 34-minute mark.
—
Author's Remarks on Reckoning:
"You come by your prejudices more or less involuntarily. That means you inherit them. And generally speaking the world gives you plenty of reason to go with your prejudices and not wonder about them too much. That's a very dark thing to consider: the world in its conditions is so encouraging of your prejudices that you could almost be forgiven for being unconscious about them. Almost. Heartbreak is how you humanize your prejudices." ~ Stephen Jenkinson
"One of my particular heartbreaks is that the unconscious foundation of so much of my world view, even it criticisms, is rooted in individualism. Especially heartbreaking is the remarkable individualism of those around me who bang the drum of community. " ~ Kimberly Ann Johnson
—
ABOUT THE AUTHORS
Kimberly Johnson is an author, postpartum care activist, trauma educator, structural bodyworker and mother. A sought-after practitioner and lead authority in postpartum health, Johnson has been working hands-on in integrative women's health and trauma recovery for more than a decade. She is the author of the recent Call of the Wild: How We Heal Trauma, Awaken Our Own Power and Use it for Good as well as the early mothering classic, The Fourth Trimester: A Postpartum Guide to Healing Your Body, Balancing Your Emotions and Restoring Your Vitality. She is the host of the Sex Birth Trauma podcast, where her collaboration with Stephen Jenkinson first took root, and her work has been featured in The New York Times, Forbes, Vogue, New York Magazine's The Cut, Harper's Bazaar, Today.com and many more. https://kimberlyannjohnson.com/
Stephen Jenkinson, MTS, MSW, is an author, culture activist, ceremonialist, father and farmer. He teaches internationally and is the creator and principal instructor of the Orphan Wisdom School, founded in 2010. With Master's degrees from Harvard University (Theology) and the University of Toronto (Social Work), he has worked extensively with dying people and their families, is a former programme director in a major Canadian hospital and former assistant professor in a prominent Canadian medical school. He is the author of several books including the award-winning Die Wise: A Manifesto for Sanity and Soul, Come of Age: The Case for Elderhood in a Time of Trouble, A Generation's Worth: Spirit Work in a Time of Trouble, How It All Could Be and Money and the Soul's Desires: A Meditation. Stephen is the subject of the National Film Board of Canada feature length film documentary, Griefwalker and Lost Nation Road is a glimpse behind-the-scenes of a soulful mystery train called Nights of Grief and Mystery. He continues to tour the world, with singer/ songwriter Gregory Hoskins, with their odes to wonder, love letters for the willingness to know endings. https://orphanwisdom.com/