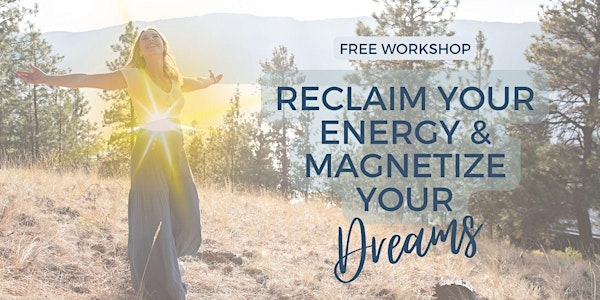 Reclaim Your Energy to Magnetize Your Dreams - Vancouver, BC
Are you tired of being tired? It's time to reclaim your energy and clean up your lifestyle so you can magnetize your wildest dream!
When and where
Location
Vancouver Virtual via Zoom Vancouver, BC v6h1k9 Canada
About this event
Did you know that 95% of disease are lifestyle based?
"Dis-ease" of the body are the result of 2 things: toxicities + deficiencies.
Learn how to fix those to shed toxins, nourish the body, finally heal and feel alive again.
You Can Heal and Start Magnetizing Your Desires
In this workshop, Vanessa Grutman, Certified Integrated Health Practitioner will give you tips to :
Reclaim your energy and vitality naturally;
Detox your body and your home for long-lasting health;
Shed the weight that doesn't serve you anymore;
Learn to sleep like a baby to allow your body deep rest, healing and rejuvenation;
Clean-up your lifestyle by removing distractions and adding simple steps with big wellness return;
And more!
Are You Ready To Take Control of Your Health?
I will help you understand the key principles of a healthy lifestyle while educating you on toxins hiding in your everyday life and fixing any nutritional deficiencies.
By removing toxins in our life and correcting nutritional deficiencies, the body naturally returns to a state of balance and starts healing naturally.
Feel vibrant again!
Ditch the need for an afternoon nap or coffee, no really!
Reconnect with your authentic self and increase your frequency to attract your wildest desires.
The right tweaks to your lifestyle can make all the difference.
This Workshop Is for You If:
You are tired of being tired;
You've tried everything and nothing has moved the needle for you;
You are ready to take ownership of your health and success;
You're open-minded and willing to step our of your comfort zone (a little bit!)
You're tired of feeling blah and want to feel inspired;
You're done with brain fog, pains and discomfort way beyond your age.
You have dreams to chase and want energy and vitality for those;
You want to be a better parent, partner, friend, colleague and member of your community;
You want to live every minute feeling alive.
Join me on this free workshop and learn more about healthy lifestyle, detoxification, low-toxin living and much more!
REGISTER TODAY - SPACE IS LIMITED.
I hope to see you there!
Vanessa Grutman, Certified Integrated Health Practitioner