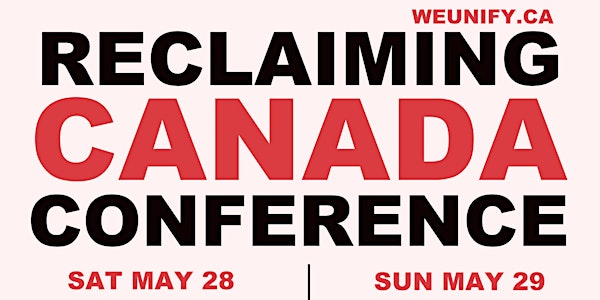 Reclaiming Canada Conference
A national conference bringing together a coalition of leaders to discuss the future of our democracy.
When and where
Location
Victoria, BC 108 Niagara Street Victoria, BC V8V 1E9 Canada
Refund Policy
Contact the organiser to request a refund.
Eventbrite's fee is nonrefundable.
About this event
In recognition of the 40th anniversary of the Canadian Charter of Rights and Freedoms, a national conference will be held in Victoria, British Columbia to assemble a coalition of leaders, including the Honourable Brian Peckford. This gathering will bring together Canadians from across the country to form a national strategy in order to advance our democracy and to repair the damage stemming from political and societal dissonance.
Canada's constitution was founded to protect individual rights and freedoms in order to unify the nation. In order to safeguard these rights in these rapidly changing times, a new Congress of Citizens will reimagine our nation and bring forward solutions that empower Canadians. This historic gathering will take place on May 28th and May 29th and will be jointly hosted by We Unify Canada, Vaccine Choice Canada, Freedom Rising, Taking Back Our Freedoms and many others.
PRESENTING SOLUTIONS
The conference will focus on peaceful action as well as principles that embody individual freedom.
The agenda includes:
Talks by prominent advocates.
Discussion of proposed strategies and solutions presented by freedom groups and leaders.
Decision-making sessions which will include voting on initiatives.
SCHEDULE
SUN MAY 29 | FULL DAY | CONGRESS OF CITIZENS PART 2
On Sunday May 29th at 12pm (Doors open 11am), we will continue the conference at the Victoria Edelweiss Club, (108 Niagara St, Victoria) until 10pm. Brunch will be provided at 12pm as well as dinner at 7pm.​
Guest Speakers:
Philip Davidso
Dr. Steven Pelech
Jeremy Maddock
Dr. Roger Hodkinson
Dr. Stephen Malthouse
Dr. Bill Code
Dr. Anna Kindy
The Hon. Brian Peckfrod
Ted Kuntz
Virtual Speakers:
Dr. Jessica Rose
Dr. Paul Alexander
James Topp
Daniel Bulford
The Hon. Preston Manning
Maxime Bernier
GUEST SPEAKERS
THE HONOURABLE BRIAN PECKFORD
Serving as Premier of Newfoundland from 1979 to 1989, Mr. Peckford co-authored the Canadian Charter of Rights and Freedoms as well as Canada's Constitution Act of 1982. On February 1, 2022, his legal team filed eleven affidavits in a Federal Court lawsuit to strike down the federal government's mandatory vaccine requirements for air travellers (the "Travel Ban").
THE HONOURABLE PRESTON MANNING
Mr. Manning's long record of public service includes work as founder of the Reform Party, as a Member of Parliament and serving as leader of the Official Opposition from 1997 to 2000. He is a dedicated champion of democratic and political reform and the founder of the Manning Foundation for Democratic Education.
DOCTOR ROGER HODKINSON
Doctor Roger Hodkinson is a medical specialist in pathology, a graduate of Cambridge University and a Fellow of the College of American Pathologists as well as the Royal College of Physicians and Surgeons of Canada.
DOCTOR PAUL ALEXANDER
Doctor Paul Alexander is an epidemiologist with a master's in epidemiology from University of Toronto and a master's degree from Oxford University. He earned his PhD from McMaster's and is a former WHO Consultant and Senior Advisor to United States Department of Health and Human Services in 2020 for the COVID-19 response.
DOCTOR STEVEN PELECH
Doctor Steven Pelech is research scientist and a professor in the Division of Neurology within the Department of Medicine at the University of B.C.  He is also a founding director and vice-president of the Canadian Covid Care Alliance and the co-chair of its Scientific and Medical Advisory Committee.  
DANIEL BULFORD
Corporal Daniel Bulford is a 15-year Royal Canadian Mounted Police officer and the former spokesperson for the Freedom Convoy 2022. He served as a sniper on the personal security detail for Canada's Prime Minister Justin Trudeau but left this prestigious role to stand against mandates and to join Mounties For Freedom Canada.
DOCTOR STEPHEN MALTHOUSE
Dr. Stephen Malthouse is a well-known physician who gained attention in October 2020 when he penned a critical open letter to provincial health officer Dr. Bonnie Henry. He is also a member of the Canada Health Alliance and Doctors On Tour.
JAMES TOPP
James Topp is a 28-year veteran of the Canadian Armed Forces who is marching 4,293 kilometers across Canada in a peaceful demonstration to restore the rights and freedoms of Canadians. He is currently under investigation for criticizing government policy.
DOCTOR JESSICA ROSE
Doctor Jessica Rose completed her Masters in Immunology and has completed 2 post doctorate degrees in Molecular Biology and Biochemistry. Dr. Rose has co-authored with Dr. Peter McCullough and her more recent research efforts are aimed at descriptive analysis of the Vaccine Adverse Event Reporting System (VAERS) data in efforts to make this data accessible to the public.
DOCTOR CHARLES LUGOSI
Dr. Lugosi has been licensed to practice law for over 38 years. He has authored Briefs to the U.S. Supreme Court and has also appeared as lead counsel in several important cases in the Supreme Court of Canada.
TED KUNTZ
Ted Kuntz is the President of Vaccine Choice Canada and co-founder of Freedom Rising. He is a psychotherapist, author and community activist with a Master's Degree in Counseling Psychology, and 25 years of clinical experience.
DOCTOR ANNA KINDY
Doctor Anna Kindy graduated from medical school 1986 and is a physician from Campbell River. She has been supporting her community and advocating for increased care and services.
PHILIP DAVIDSON
Philip Davidson is a former director of policy and stakeholder relations with the British Columbia Public Service (BCPS). He now leads BCPS Employees for Freedom, a volunteer-run registered not-for-profit society. This group was formed in 2021 in response to the public service mandates.
DOCTOR BILL CODE
Doctor Bill Code is a physician with 40 years of experience and one of the leading experts in Glutathione, the master antioxidant that is vital to the detoxification process for those suffering from chronic disease.
MAXIME BERNIER
Maxime Bernier is a Canadian politician who is the founder and leader of the People's Party of Canada. Formerly a member of the Conservative Party, Bernier left the caucus in 2018 to form the PPC. He was the member of Parliament for Beauce from 2006 to 2019 and served as a Cabinet minister in the Harper government.