Reconciling Ways of Knowing Visits the Victoria Virtual Forum
Please join Reconciling Ways of Knowing, as we visit the Victoria Forum on Nov. 12 to discuss Indigenous Knowledge in Responding to COVID.
About this event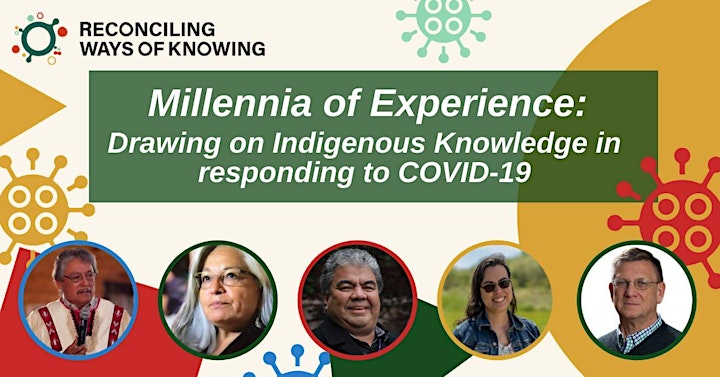 This episode will be hosted on Thursday, November 12, 2020 at 10:30 am Pacific / 12:30 pm Central / 2:30 pm Atlantic (for 90 Minutes).
This dialogue will explore how collaboration between Indigenous knowledge and science can improve public health outcomes throughout Canada in the face of COVID-19. Preliminary reports from Indigenous Services Canada suggest that First Nations communities are experiencing 1/4 of the infection rate and 1/5 of the mortality rate from COVID-19 experienced by the general Canadian population. The session will explore how Indigenous Peoples have leveraged their millennia of experience enduring past pandemics to protect their people and foster their resilience in the face of new public health challenges.
Speakers Elder Dr Dave Courchene, Jr, an Anishinaabe Elder and spiritual leader; Grandmother Katherine Whitecloud, a Dakota knowledge keeper and Indigenous health and wellness advocate; Miles Richardson, OC, a Haida political leader and negotiator focused on Nation-to-Nation relationships between Indigenous Peoples and Canada; Tom Swanky, JD, a historical researcher focused on the role of smallpox in the foundational relationship between Indigenous Peoples and the Crown in British Columbia; and Dr Sabina Ijaz, a medical doctor who has built deep relationships in Indigenous communities, in dialogue with moderator Darrin Mah, JD, will discuss the history of what Indigenous Peoples have learned in responding to pandemics, how this informs their responses to COVID-19, and what can be learned more broadly within Canadian society and the global community from these lessons.
The speakers will discuss issues including:
How Indigenous knowledge has been marginalized by a presumption within policy- and decision-making circles that (Western) science is the only valid form of knowledge upon which to base and inform their work;
How the devastation of Indigenous populations during previous smallpox and Spanish Flu pandemics has influenced Indigenous responses to COVID-19;
How Indigenous Peoples have exercised their sovereignty and self-determination to protect their nations and communities;
The role of traditional medicines and healing practices in protecting community health and recovering from the pandemic;
How Indigenous knowledge has helped mitigate negative health outcomes that may result from factors such as remoteness from healthcare facilities, food security challenges, higher poverty rates and housing shortages on reserve;
Opportunities for collaboration between Indigenous knowledge and science for improved health and social outcomes as we navigate our way through the pandemic together.
Organizer of Reconciling Ways of Knowing Visits the Victoria Virtual Forum