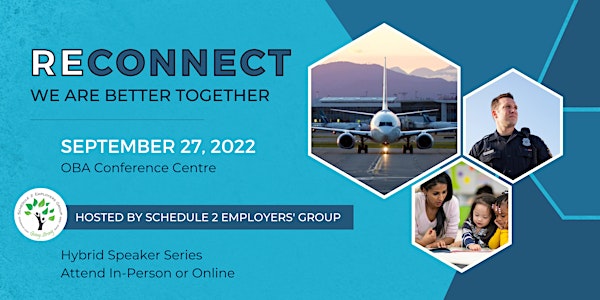 RECONNECT: We Are Better Together
The Schedule 2 Employers' Group invites you to RECONNECT: We Are Better Together, a hybrid speaker series on Tuesday, September 27, 2022
When and where
Location
OBA Conference Centre 20 Toronto Street Toronto, ON M5C 2B8 Canada
Refund Policy
Contact the organizer to request a refund.
Eventbrite's fee is nonrefundable.
About this event
Join the Schedule 2 Employers' Group on Tuesday, September 27 for RECONNECT: We Are Better Together. A hybrid virtual speaker series that provides access to the experience and expertise of subject matter experts in the field of health & safety, disability management and workplace wellness.

AGENDA
8:30 AM - Attendee Check-in & Breakfast
9:00 AM - Opening Remarks
9:15 AM - KEYNOTE: Envisioning the Work Culture of Tomorrow
Speaker: Sean Hayes, COHAESIO
Dr. Hayes trained as a Clinical Psychologist and has consulted internationally for 25+ years on change readiness and organizational transformation in the healthcare, aerospace, professional services, academic, government and not-for-profit sectors. His interests include the implicit dynamics among and between leaders and teams, workplace diversity, and stress management in relation to organizational transformation. In 2021 drawing from in-depth primary research, he co-authored "The Era of the Character Leader has Dawned' that examines the impact of global socio-political factors, the emergent workforce, and the dramatic transformation of the post-COVID culture of work. In his Keynote, he will share highlights from this initiative, discuss what are the implications for the workplace of tomorrow, and propose approaches for managers, teams and organizations to adapt and excel in the work culture of tomorrow.
10:15 AM - Terminations and WSIB: Risks & Liabilities
Speaker: Daryl Seupersad, Sherrard Kuzz LLP
Terminating a worker on an active claim comes with risks, but there are steps you can take to mitigate them. This session will discuss what steps to take to mitigate and issues that should be considered before termination.
11:00 AM - Break
11: 15 AM - Understanding Psych Reports, IMEs, & Medical Opinions
Speaker: Dr. Allyson Harrison, Queen's University
The rise in illness identity and the promotion of 'useful illnesses'
1. This session will provide an overview about the problem of incentivized diagnoses
2. Conditions that must occur for incentivized illnesses to become 'useful' will be reviewed.
3. Ways that employers and insurers can help minimize the risk of illness identity in workers and reduce the long-term harm associated with promotion of useful illnesses.
12:00 PM - Lunch & Networking
12:45 PM - "Fitness" and "Readiness" to RTW Following a Psychological injury/illness
Speaker: Toni Harrington, Homewood Health
Existing approaches to rehabilitation for psychological injury are based on a disability insurance models developed over 100 years ago. While legislation has evolved, our modern system continues to be rooted in a medical model with an emphasis on objective, scientific measurement. If the COVID pandemic taught us anything is that the work that we perform is not a linear process that can be anticipated. The real world is unpredictable. No individual is the same. Determination of RTW fitness or readiness cannot be assessed with a singular tool. We know that work functioning and associated performance fluctuates over time (i.e., hours or days). Functioning cannot be defined independently of its context. This is especially true as workers age or are injured. Psychological injuries can be chronic or episodic in nature. To capture the complex and multifaceted construct of "fitness to return to work", our workplaces need to focus on aspects that go beyond the duration models and context-free aspects of recovery and readiness. This session will explore meaningful information that is required to further understand worker needs; possibilities for work resumption and opportunities for job specific modification.
1:30 PM - PANEL: WSIAT Appeals: evidentiary Issues & Other Interesting Insights
Moderator: Laura Russell, CompClaim
Panelists: Stephen Roberts, McTague Law Firm LLP
Michelle Zare, Zare ParaLegal Services
This expert panel will provide insight into preparation for WSIAT appeals including:1) Mediation (ADR stream): what issues work/which ones don't, examples of resolutions other than WSIAT decision2) Evidentiary Issues:
medical reports/clinical notes, medical Assessor opinions, 3rd party referrals (any difference in options for worker rep vs. employer rep.), what do Vice Chair or Panels prefer, how do they weigh the evidence
witnesses: how to select, prepare them
Other relevant documents, e.g. photographs, videos, witness statements, physical demands analysis, etc.
3) Closing arguments: what do the decision-makers want to hear from the representatives, what don't they 'like'
4) Use of other WSIAT cases: how helpful / successful is this? Are there some types of decisions that have more weight than others?
5) Written Submissions: situations where this occurs (written hearings, closings, post-hearing), strategies for success.
2:30 PM - Closing Remarks