Reconnect with Housing Summiteers
A 90-minute reconnect with regards to creating Community-Based Responses to Housing in Brantford/Brant following the recent Housing Summit.
About this event
Housing Summit Working Circles To Gather Again
Join us to fan the flames of our community-based response
The small groups who formed community-based housing responses at our Housing Summit have continued to gather and are doing so again.
They are making wonderful progress! We continue to make new connections.
Pat Power is continues to till the soil of relationship, reaching out and bringing new folks to the table.
Jocelyn is making wicked progress in exploring possibilities for Tiny Homes. Her small group is honing in on how-to and are angling towards getting one on the go. 
Laurie is trucking on with plans to create a physical space for a Hub for Community Services and Resources in support of housing security in a new build she is involved in. A bunch of amazingness is converging on this possibility.
Special Guest Lucas Stewart from Encompass Coop brought us steps closer to understanding social enterprise, which is another part of Laurie's plan for the hub, as well as some innovative and liberating ways forward with regards to financing builds.
Energy is high.
We'd love to see you at our next gatherings to catch up, jump in, support emerging initiatives or even name your own. 
Join our gathering on:
Wednesday, August 24, 1:00-2:30 PM EDT (Register on this page)
IF YOU MISSED THE SUMMIT YOU ARE WELCOME TO JOIN US. The more the merrier! We'll catch you up and count you in!
During our time together we'll check in on what' shaking with our initiators, see what's on the move in your world, what's changed or what's calling for change in your neck of the woods and with regards to creating Community-Based Responses to Housing in Brantford/Brant.
If you choose to join us, we ask that you:
Arrive on time and commit to being fully present for the whole gathering
Come prepared to listen to and learn from others
Be ready to share your stories and gifts
Consider saying yes to an initiative that inspires you
YOU MUST REGISTER TO RECEIVE THE LINK for this reconnect!
Graphic Reflections
For fun we have included below the graphic reflections from the pre-summit Community Conversations and the summit (May 26, June 9 and June 23 respectively) captured live during each gathering by Yvonne Hollandy of Axiom News.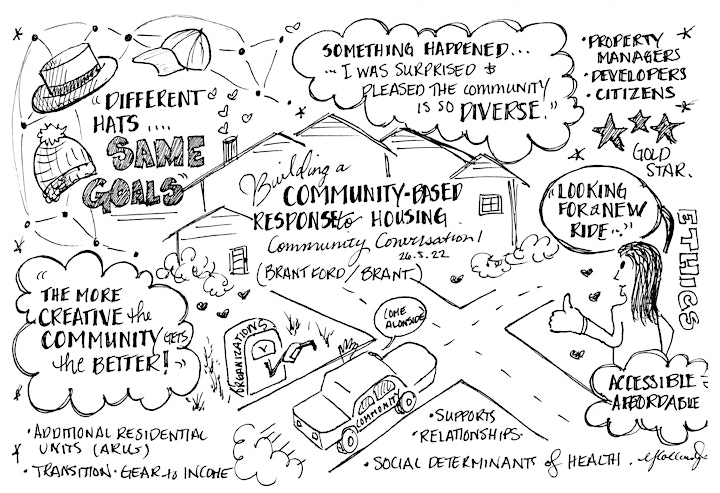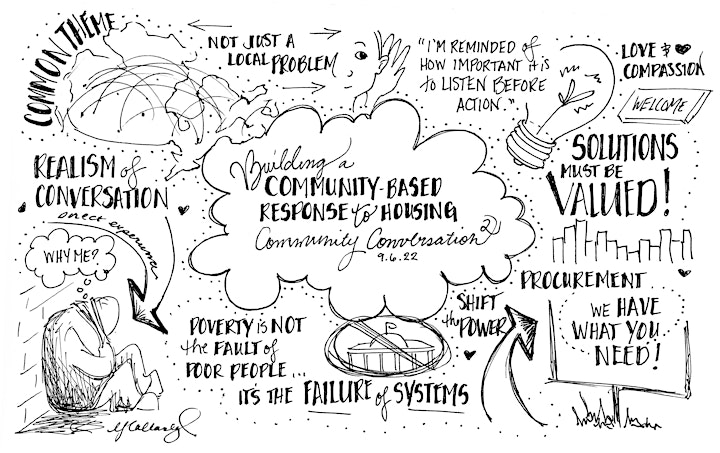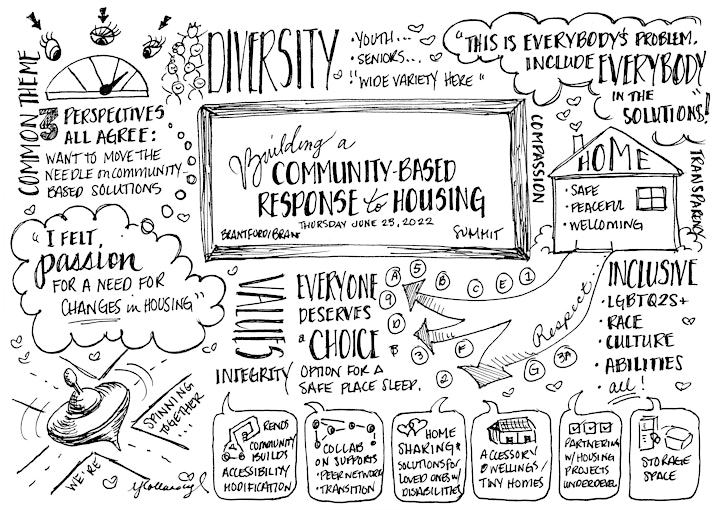 These events are a collaborative organizing effort between the following:

This event is supported by Axiom News. If you have any questions, write to events@axiomnews.com.