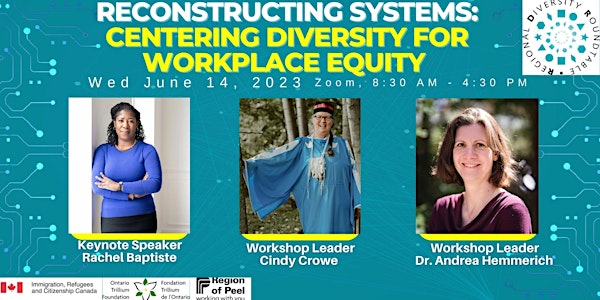 Reconstructing Systems: Centering Diversity for Workplace Equity
This year the theme of our conference is Reconstructing Systems: Centering Diversity for Workplace Equity.
By The Regional Diversity Roundtable
Date and time
Wed, Jun 14, 2023 5:30 AM - 1:30 PM PDT
About this event
Annual General Meeting - 8:30 am to 9:30 am
Conference 9:30 am to 4:30 pm
HELD ON ZOOM **LINK TO FOLLOW REGISTRATION**
Our world is in need of significant systems change to address deeply entrenched workplace inequities and create a more inclusive future. At the upcoming conference, the theme of reconstructing systems will be explored, challenging attendees to critically examine the existing norms, question the barriers, and inspire action towards the reconstruction of diverse, equitable and inclusive systems.
Institutions and organizations have made efforts to institutionalize diversity, equity, and inclusion (DEI) with the establishment of directorates, government actions, and the formation of DEI positions and committees across sectors. While there is a greater awareness of social justice issues, extreme polarities still persist, and there is much ground to cover. Violence and hate continue to impact our organizations and communities, emphasizing the need for fundamental changes.
The human services sectors, in particular, have faced significant challenges in recent years. Issues such as systemic racism, funding delays and cuts, workforce changes, and the equitable serving of marginalized communities have brought to light the need for resilient systems that can adapt and meet the sector's mandates. To achieve this, it is essential to recognize, acknowledge, and commit to removing gaps and barriers that exist within our systems.
Creating resilient systems that endure and sustain requires a comprehensive approach. Organizations must focus on both internal and external factors. Internally, there is a need for introspection, self-reflection, and a commitment to address biases and inequalities within the organizational structure and culture. Externally, organizations must engage with the broader community, collaborate with stakeholders, and advocate for systemic changes that promote inclusivity and equity.
To bring about systems change, adaptation and action are paramount. It is crucial to identify and implement strategies that disrupt existing inequitable systems, dismantle barriers, and foster inclusive practices. This requires a collaborative effort where stakeholders from various sectors come together to drive meaningful change. By collectively building and increasing impact, we can create systems that are more just and inclusive.
At the conference, the keynote speaker will guide attendees by provoking through critical reflection and inspiring action with a major focus on ARAO-DEI and the Settlement Sector. Additionally, capacity-building sessions will provide attendees with practical strategies for advancing DEI in workplaces and communities. These sessions will empower participants to anchor change and drive the necessary transformations within their organizations.
Join us at the RDR's annual conference (virtually) as we explore the urgent need for reconstructing systems, challenging workplace inequities, and inspiring action for inclusive futures. Together, let's embrace the imperative of systems change and work towards a more equitable and inclusive society.
Indigenous Opening    -TBA                                                             
Keynote - Rachel Baptiste
Introducing Rachel Baptiste, an influential keynote speaker who offers a fresh perspective on equity, by exploring the interconnected nature of organization identity, culture, and ecosystem, Rachel presents a comprehensive framework for achieving true equity. With her insightful talks, Rachel inspires audiences to embrace diversity and inclusion as fundamental pillars of success. Drawing from her extensive expertise and experiences, Rachel Baptiste sheds light on the crucial elements necessary to create an equitable environment within organizations in the newcomer/refugee/settlement sector along with education, health and more.
                                              Capacity Building Session
1. 'Sustainable Leadership - Reinforcement of Inclusion and Success Stories: The Future of Sustainable Leadership in the Region/Province' - Cindy Crowe
An enlightening and transformative workshop on 'Sustainable Leadership - Reinforcement of Inclusion and Success Stories: The Future of Sustainable Leadership in the Region/Province.' This capacity building session aims to empower leaders with the knowledge and skills necessary to drive sustainable change and foster inclusivity in their respective regions and provinces through interconnectedness.During this workshop, Cindy will share her insights and success stories, providing invaluable inspiration and practical strategies for creating positive impact in newcomer/refugee and settlement sectors. Participants will delve into the key principles of sustainable leadership and explore how to effectively integrate them into their leadership practices through the practices of interconnectedness. They will gain a deeper understanding of the role inclusion plays in fostering innovation, resilience, and long-term success. Through engaging discussion/ interactive activities, attendees will develop a roadmap for championing sustainable leadership within their organizations and communities.
2. 'Digitally Advancing Inclusion and Innovation: Cross-Sectoral Advancement and Approaches' - Dr. Andrea Hemmerich
A ground-breaking workshop on 'Digitally Advancing Inclusion and Innovation: Cross-Sectoral Advancement and Approaches' where we explore the power of liberatory design thinking. In today's digital age, it is crucial to bridge the gap and ensure equal access to technology and its benefits. This capacity building session will equip participants with the knowledge and tools to leverage digital advancements for inclusive growth. By embracing liberatory design thinking, we will challenge traditional mindsets and reimagine solutions that address systemic barriers to inclusion. this workshop will delve into practical approaches and success stories from various sectors. From education and healthcare to public services and entrepreneurship, we will explore how digital technologies can break down barriers, create opportunities, and empower marginalized communities especially as organizations in the newcomer/refugee and settlement sectors.
                                  Join to learn and grow #HowToDEI with #RDRPeel
-------------------------------------------------------------------------------------------------------
NOTICE OF FILMING, PHOTOGRAPHY, and RECORDING
When you register for The Regional Diversity Roundtable (RDR) event or program, you enter an area/digital space where photography, audio, and video recording may occur.
By registering for the event/session/program, you consent to interview(s), photography, audio recording, video recording and its/their release, publication, exhibition, or reproduction to be used for news, webcasts, promotional purposes, telecasts, advertising, inclusion on websites, social media, or any other purpose by The Regional Diversity Roundtable. Images, photos and/or videos may be used to promote similar RDR events in the future, highlight the event and exhibit the capabilities of RDR.
You release RDR, its officers and employees, and each and all persons involved from any liability connected with the taking, recording, digitizing, or publication and use of interviews, photographs, computer images, video and/ or sound recordings.
By registering, you waive all rights you may have to any claims for payment or royalties in connection with any use, exhibition, streaming, webcasting, televising, or other publication of these materials, regardless of the purpose or sponsoring of such use, exhibiting, broadcasting, webcasting, or other publication irrespective of whether a fee for admission or sponsorship is charged. You also waive any right to inspect or approve any photo, video, or audio recording taken by RDR or the person or entity designated to do so by RDR.
You have been fully informed of your consent, waiver of liability, and release before registering for the event.
About the organizer
RDR is a charitable non-profit organization in Region of Peel, ON, Canada that is committed to building diversity, equity, and inclusion (DEI) competency in the human services sector. Our objective is to institutionalize DEI in core values, structures, workforces, policies, and services through a collective impact framework. By engaging in cross-sectoral collaboration, we support the public, non-profit and social services sector. We build capacity through training, workshops, and conferences, alongside offering multiple other DEI resources to ensure organizations are not only equipped to serve a diverse clientele but also that the diverse communities are reflected in all aspects of organizations.