Recording of Raise More Money From Your Business Community
Description
Is corporate philanthropy dead or dying?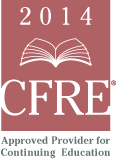 If so, what can we do to resurrect it?
Session Description:
Today's economy is challenging for corporations, individuals and especially for nonprofits. If your organization has relied on corporate support in the past or is thinking about how to best approach businesses in a challenging economy, this session will be one you don't want to miss. Based on research for a new book, this session will discuss the challenges facing corporations today and how nonprofits can develop win-win situations to encourage corporate philanthropy. We will discuss how to approach corporate leaders, how to motivate them to become involved in your organization, and how to develop a corporate appeal.
Although corporations and businesses giving is very small compared to individual giving, much more is given through gifts in kind, corporate sponsorships, and through the personal donations of individual corporate leaders. And, in a typical capital campaign, businesses often provide a much more significant percentage of the overall goal. However many nonprofits fail to touch their local business community for a variety of reasons. We'll address those reasons and how you can overcome these mistakes.
Learning Objectives:
• List the ways corporations and businesses can get involved in your organization
• List the things corporations are looking for in a nonprofit organization
• Outline the structure for a corporate/business appeal using volunteers
Session Agenda:
A mailing to local Chamber members does not a Business Appeal make!

Why nonprofits fail at approaching their local business community

The fallacy of the Corporate/Foundation Relations Office

"Ask for money, and you'll get advice, ask for advice and you'll get money"

Identifying and cultivating your local business community

The 'Willie Sutton theory'

Building networks

Cultivation activities

Organizing Your Annual Corporate/Business Appeal

A case study

Getting started
Presenter: Linda Lysakowski, ACFRE

Linda is one of just over 100 professionals worldwide to hold the Advanced Certified Fund Raising Executive designation. In her twenty-plus years as a philanthropic consultant, Linda has managed capital campaigns, helped hundreds of nonprofit organizations achieve their development goals, and trained more than 27,000 development professionals in Canada, Mexico, Egypt, Bermuda, and most of the fifty United States.
A graduate of Alvernia University and AFP's Faculty Training Academy, she is a Master Teacher. Linda is the author of Recruiting and Training Fundraising Volunteers; The Development Plan; Fundraising as a Career: What, Are You Crazy?; Capital Campaigns: Everything You NEED to Know; Are You Ready for a Capital Campaign? workbook, Raise More Money from Your Business Community; Raise More Money from Your Business Community This Year workbook, Fundraising for the GENIUS 1st and 2nd editions, a contributing author to The Fundraising Feasibility Study—It's Not About the Money and YOU and Your Nonprofit Board, co-editor of YOU and Your Nonprofit and The Nonprofit Consulting Handbook; and co-author of The Essential Nonprofit Fundraising Handbook , The New Donor, and The Leaky Bucket: What's Wrong With Your Fundraising…And How You Can Fix It. She is working on several books that will be published in 2014.
In addition to her consulting and training practice, Linda serves as Acquisitions Editor and Marketing Editor for CharityChannel Press and For the GENIUS Press and is President of Linda Lysakowski, LLC