Recording of Raise More Money Through Email Appeals - A Step By Step Guide...
Description
Are your email appeals falling flat? Do you wish that you could raise more money online using email?
Session Description: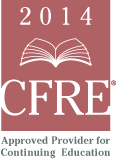 As more and more donors move to online communications channels, email is a huge opportunity for non-profit fundraising. But creating great email appeals is different from traditional direct mail, which can throw even the best fundraisers for a loop.
Non-profit fundraising expert, Vanessa Chase shows you how to create, write and send amazing email appeals that will help your organization raise more money this year! In addition, you'll also learn about what you need have in place to successfully grow your email list and have continued success for year to come.
With the fall fundraising season coming soon, now is THE time to get your email appeals in tip-top shape!
Here's what you'll learning during this webinar:
Key differences between email and direct mail appeal

Steps to writing a strong email appeal

How to format your email for better engagement

Top tips for creating a compelling call to action

How to write a catchy subject line

Examples of both successful and unsuccessful email appeals

Tips for growing your email list and managing data

Answers to your burning questions about email appeals!

Vanessa is a fundraising strategist and copywriter, and runs the non-profit resource website, Philanthropy For All. Through her work, Vanessa's goal is to help passionate non-profit folks learn techniques and tools to better articulate their non-profit's impact in a way that translates to more money raised.
Through her consulting and strategy work, she has had the opportunity to work with the Love Global Foundation, Union Gospel Mission, the National Coalition Against Violent Atheletes, A La Roche Canada, Boucher Institute of Naturopathic Medicine, Immigrant Services Society of British Columbia and the University of British Columbia. Vanessa's work has included building and growing fundraising programs, creating communications, strategy and collateral, grant writing and copywritiing.
Her work has resulted in combined $10 million fundraised and significant improvements in donor relations that will create lasting legacies for the causses they support.
Prior to working in a consulting capacity, Vanessa worked as an in-house fundraiser at Union Gospel Mission and the University of British Columbia.
As a recognized expert in fundraising and communications, Vanessa has been invited to speak at a number of events and associations including: BC Spinal Cord Community Services Network, NetSquared Vancouver, NetSquared Cambridge, Artez Interactive and the UBC Impact labs.
Vanessa currently serves as a Vice Chair of the Board fo Directors at Women Against Violence Against Women.