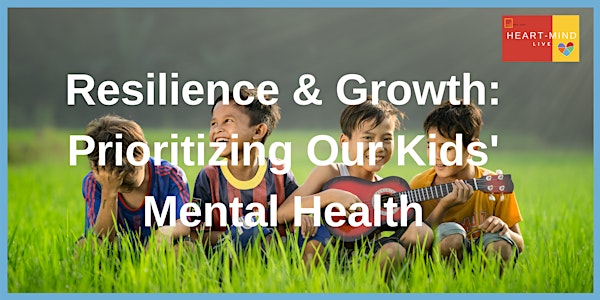 Recording of Resilience & Growth: Prioritizing Our Kids' Mental Health
A webinar with leading experts on building resilience and supporting the mental health of our children and youth during a global crisis.
Refund Policy
Contact the organizer to request a refund.
About this event
The Dalai Lama Center for Peace and Education is pleased to offer access to a recording of our fourth Heart-Mind Live Webinar, Resilience & Growth: Prioritizing Our Kids' Mental Health!
Registration grants you access to a private link to a recording of this webinar.
How do we build resilience in our children and youth through a global crisis? Together with expert panelists, this webinar explores the impact of the pandemic on the emerging mental health needs of children and youth, identifying effective, timely and practical ways to respond to those needs.
This webinar shines a spotlight on the research and practice that can guide adults well positioned to make a positive difference in the lives of children through a proactive, strengths based lens of resilience and healthy development and growth.
Our hope is to ensure that children's social emotional development and mental health remain a high priority when addressing the challenges faced in our schools, homes and communities today.
Fiona Douglas-Crampton (CEO, Dalai Lama Center for Peace and Education) hosted our featured panelists: Dr. Michael Ungar, Dr. Ashley Miller, and Dr. Nikki Martyn.
Dr. Michael Ungar: Founder and Director of the Resilience Research Centre at Dalhousie University. Michael's ground-breaking work as a family therapist and resilience researcher is recognized around the world. Author of 16 books including Youth Resilience and Culture, I Still Love You: Nine Things Troubled Teens Need from their Parents, and Change Your World: The Science of Resilience and the True Path to Success. His blog Nurturing Resilience can be found on Psychology Today.
Dr. Ashley Miller: Child and Adolescent Psychiatrist and Family Therapist at BC Children's Hospital and a Clinical Associate Professor at the University of British Columbia. Ashley is a speaker, award-winning educator and co-author of What to Say to Kids When Nothing Seems to Work: A Practical Guide for Parents and Caregivers.
Dr. Nikki Martyn: Program Head of Early Childhood Studies at the University of Guelph-Humber. She holds her Doctorate degree in child psychology and early childhood education from the Ontario Institute for Studies in Education at the University of Toronto. She is the principal investigator of the research project "children's experiences of the pandemic" found at www.childart.ca. This study explores children's perspectives, views and experiences of the pandemic through their voices.
This is by far one of the most helpful webinars I've attended. I cannot wait to share with my organization.
- Heart-Mind Live Webinar participant
Webinar Details:
Thursday, March 4, 2021 9:30AM - 11:00 AM PST
Upon registration, you will receive an email confirmation with the private link to view the webinar.
Please note that as a not-for-profit organization, our Center is offering this webinar recording by donation (minimum  $10), which allows us to continue to develop new programs, resources and relevant webinar offerings.
On balance, the available research evidence suggests that BC's response to the COVID-19 pandemic must make children's mental health a high priority — ensuring that children do not experience additional avoidable adversities due to either the pandemic or the public health responses.*