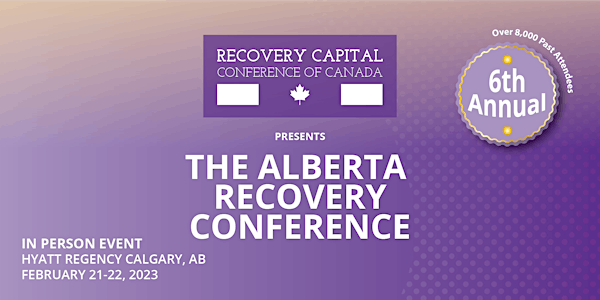 Recovery Capital Summit Presents - The Alberta Recovery Conference
Recovery-oriented systems of care that build recovery capital, a systems changes to overcome addiction
When and where
Location
Hyatt Regency Calgary 700 Centre Street South Calgary, AB T2G 5P6 Canada
Refund Policy
Contact the organizer to request a refund.
Eventbrite's fee is nonrefundable.
About this event
1 day 8 hours

Mobile eTicket
6th Annual Event
The Alberta Recovery Conference focuses on the #AlbertaModel - recovery-oriented systems that build recovery capital, a province-wide systems change.
The last conference sold out with over 1,000 people attending in person. We expect this educational event will sell out again.
Presenting Canada's 2023 most innovative and largest addiction recovery conference. The Alberta Recovery Conference, February 21st and 22nd, Calgary Alberta, Hyatt Regency Calgary Convention Centre.
60 speakers over 2 days, from Government, Policy Makers, First Responders, Front Line Workers, Medical Experts, People with LIved and Living Experience, Occupation Health Leaders, and Indigenous Health Leaders.
Canada and the world are watching as Alberta transitions into a Recovery Oriented Response to overcome addiction, homelessness, crime, and overdoses.
This is a national call out to come and learn about the #AlbertaModel, ROSC, and how building #RecoveryCapital is at the root of - healthy communities, better health outcomes, saving money, and saving lives.
👉𝟱𝟬% 𝗼𝗳 𝘁𝗶𝗰𝗸𝗲𝘁𝘀 𝗮𝗹𝗿𝗲𝗮𝗱𝘆 𝘀𝗼𝗹𝗱
👉Hotel Discounted Rooms Sold Out at the Hyatt, sorry, you can find a room across the street at the Calgary Marriott.
If you work in Healthcare, Occupational Health, or are part of an Indigenous Health Team, this is a must-attend event.
The conference sessions will focus on Recovery Oriented Systems of Care (ROSC):
👉𝗥𝗢𝗦𝗖 𝗮𝗻𝗱 𝗜𝗻𝗱𝗶𝗴𝗲𝗻𝗼𝘂𝘀 𝗛𝗲𝗮𝗹𝘁𝗵 𝗧𝗲𝗮𝗺𝘀
👉𝗥𝗢𝗦𝗖 𝗶𝗻 𝗢𝗰𝗰𝘂𝗽𝗮𝘁𝗶𝗼𝗻𝗮𝗹 𝗛𝗲𝗮𝗹𝘁𝗵
👉𝗥𝗢𝗦𝗖 𝘄𝗶𝘁𝗵 𝗬𝗼𝘂𝘁𝗵 𝗮𝗻𝗱 𝗬𝗼𝘂𝗻𝗴 𝗔𝗱𝘂𝗹𝘁𝘀
👉𝗥𝗢𝗦𝗖 𝗶𝗻 𝘁𝗵𝗲 𝗗𝗼𝗰𝘁𝗼𝗿'𝘀 𝗢𝗳𝗳𝗶𝗰𝗲
👉𝗥𝗢𝗦𝗖 - 𝗽𝗮𝘁𝗶𝗲𝗻𝘁𝘀 𝗮𝗻𝗱 𝗰𝗹𝗶𝗻𝗶𝗰𝗶𝗮𝗻𝘀 𝗲𝘅𝗽𝗲𝗿𝗶𝗲𝗻𝗰𝗲
👉𝗥𝗢𝗦𝗖 "𝘀𝘆𝘀𝘁𝗲𝗺𝘀 𝗰𝗵𝗮𝗻𝗴𝗲" 𝗶𝗻 𝗚𝗼𝘃𝗲𝗿𝗻𝗺𝗲𝗻𝘁
What is the #AlbertaModel
The Alberta Model is a coordinated network of services and supports that builds on the strengths and resilience of individuals, families and communities to achieve a life free of illicit drugs and improved health, well-being and quality of life for those with or at risk of addiction or mental health issues.
About the Recovery Capital Summit
The Recovery Capital Summit aims to transform provincial policies, services, and systems toward a recovery-oriented paradigm responsive to the needs of people nation-wide and within our own communities.
In years prior, recovery-oriented events and conferences facilitated innovative knowledge exchanges, data sharing, and enhance service coordination. These efforts have articulated guiding principles and measures of recovery that can be used across programs and services to promote improvements in systems of care.
The progress of the thousands of service users, family members, providers, researchers, and policymakers has generated the foundational knowledge for this 2-day Alberta Recovery Conference.
This Summit provides an opportunity to inform the design of systems that extends beyond traditional prevention, treatment, and harm reduction to continue sustaining ongoing wellness, resiliency and quality of life.
More details here
When ordering your ticket, you will be asked which sessions you would like to attend.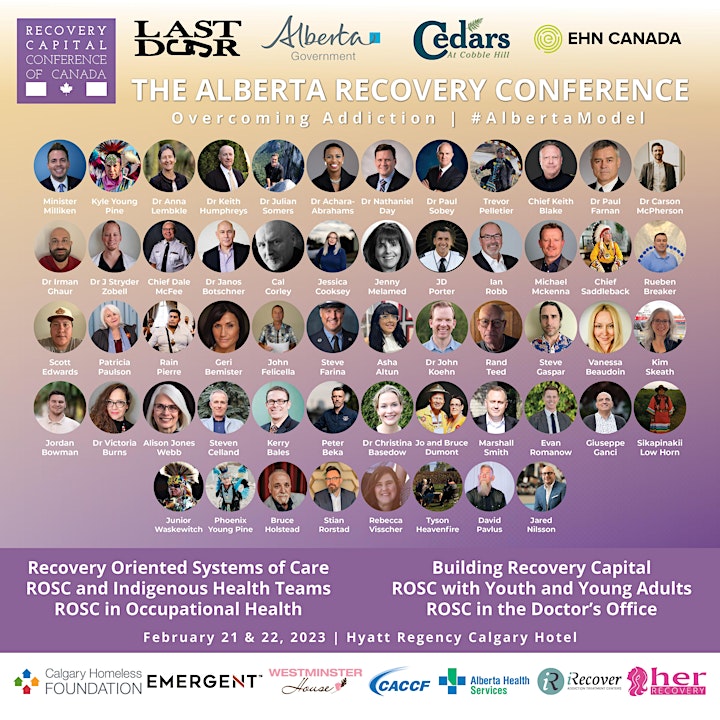 Cancellation / Substitution
Please email your cancellation to commumity@lastdoor.org. Cancellations will be accepted until February 15th, 2022, for a full refund. There is no refund for cancellations received after February 15th, and no refund for no-shows at the conference. Substitutions are accepted at any time.