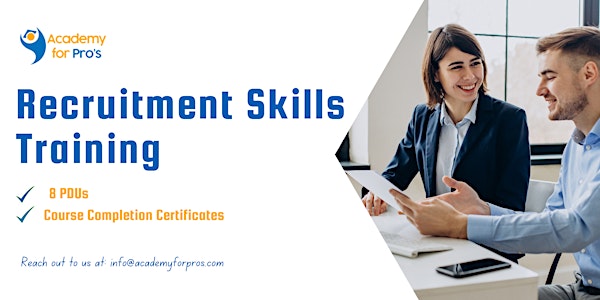 Multiple dates
Recruitment Skills 1 Day Training in Fairfax, VA
Our classroom training provides you the opportunity to interact with instructors and benefit from face-to-face instruction.
Date and time
January 24 · 9am - December 22 · 5pm EST
Location
For venue details reach us at: info@academyforpros.com Fairfax, VA 22030
Refund Policy
Refunds up to 7 days before event
About this event
Certificate: Course Completion Certificate Language: English
Duration: 1 Day Credits: 8
Course Delivery: Classroom/ Virtual Live/ On-Site
Course Overview:
This training is aimed at helping hiring managers understand the concepts behind delivering a sound recruitment campaign: What are they trying to achieve, why and how?
Course Contents:
Improve the recruitment skills of the managers within your organisation to help build effective teams
Recruitment is a crucial factor in the success of any business. All organisations are defined by the employees within it, so ensuring you employ the right staff at the right time is critical to your success. Aside from this, it is important that the people responsible for recruiting within the business are focused on ensuring they follow legislation and best practice to avoid any potential embarrassment or costly litigation.
This course materials will provide you with everything you need to effectively develop the skills of hiring managers within your organisation. They will be taken through the full process of recruitment; developing a wide understanding of the requirements of an effective recruitment campaign in order to help them provide a robust approach to recruitment that helps secure the right candidate for the role.
Why is taking this recruitment skills training a good idea?
Well, just imagine if you were better able to:
● Present the company as a professional organisation that anyone would want to work for.
● Consider legislation and best practice to ensure the recruitment process is fair, robust and fit for purpose.
● Create a positive work environment through the introduction of employees that have a range of skills and experience.
● Provide a fair assessment and selection process that identifies the best candidate and demonstrates evidence.
● Improve their behavioural and situational questioning skills to make interview conversations effective.
● Simply apply core recruitment skills, for overall organisational success.
● Ultimately this training allows you to develop a managers approach to recruitment, making them better able to effectively recruit the right employees for a role and consequently assist the organisation in meeting its business targets.
● This Recruitment Skills training will help you to develop your recruitment skills and ensure they are able to effectively attract the best employees into the organisation. You will learn how to manage the recruitment process from end to end, managing the relationship with the candidate effectively, performing effective assessment and selection with evidence to support it – all while selling the role and organisation.
Course Topics:
● Aims of a Recruitment Campaign – Defining what we want to achieve from a recruitment campaign. To ensure we identify the best candidate for the role, minimise the time spent on recruiting, while keeping within legislation requirements. This includes a review of the key tasks required throughout a recruitment campaign.
● Recruitment as a Manager's Responsibility – Identifying the challenges, concerns and benefits of being a hiring manager. Looking at how to overcome any issues or fears the manager may have and establishing the key components of an effective recruitment campaign. This includes a review of a to-do list of recruitment responsibilities.
● The Law and Best Practice – An overview of the legislation for equality, how this affects recruitment and how to ensure individuals are neither discriminated against or overlooked. Ensuring the recruitment campaign is fair, robust and fit for purpose, catering for all needs and that evidence is maintained at every stage to demonstrate compliance. Highlighting the difference between best practice and the law.
● Defining the Role – Starting the recruitment process off on the right foot by effectively defining the role through the Job Description and Person Specification – setting the basis for making the process, fair, robust and fit for purpose. Including our organisational values within this framework.
● A Brief History of Interviewing – A review of how recruitment has progressed. Looking at; Recruiting for the 'right fit', Competency Based Recruiting and Value Based Interviewing. Exploring the benefits and pitfalls of each and how to ensure we use the right approach.
● Making Improvements Without Increasing Workload – Including value related behaviours in the person specification that helps ease the recruitment process and helps improve your ability to select the person with that best suits the role.
● Advertising – Attracting Candidates – Creating a good job advert that is tailored to the role and the target audience. Being able to sell the role while being honest and fair.
● Assessment and Selection – Establishing the importance of this part of the process while identifying the best type of assessment methods for different roles. Highlighting the importance of gathering evidence throughout assessments.
● Telephone Interview – Identifying the benefits of telephone interviews, when to use them and how best to approach the task. Includes a telephone interview template.
● The Interview – Determining what you want to get out of an interview. Includes the key components below.
● Interview Preparation – The main elements to cover prior to running an interview
● The WASP Technique – A clear interview structure, explained in detail
The key elements of an interview Explaining the Role, Work History etc.
● Interview Questions – An understanding of the general questions you should ask, moving on to Structured, Competency based questions that focus on Behavioural and Situational questions. Exploring these with an in-depth activity.
● Selling the Opportunity and the Organisation – Developing an approach to appealing to the candidate and showing the organisation in a good light. Making the candidate want to work for you.
● Closing Questions and Parting – Asking vital questions that will determine the deal breakers for the candidate and ensure both you and the candidate leave the interview knowing all the facts.
● Capturing the Evidence – Ensuring you have delivered a fair and effective interview by gathering relevant data and including this in your interview notes.
● Getting the Most Out of an Interview – An activity that provides participants with the opportunity to test their ability to identify key data from an interview and assess a candidates suitability for the role. establishing any discrepancies, contradictions or issues during interviews with candidates.
This Recruitment Skills course is interactive and engaging with activities and exercises throughout.
Course Feature:
At the end of this recruitment skills training, you will be able to:
● Describe the concepts behind delivering an effective, fair and robust recruitment campaign that is fit for purpose
● Define best practice and the legislation surrounding recruitment
● Explain the options available when running a campaign
● Confidently make independent recruitment decisions
● Effectively recruit, assess, filter and place candidates
Certification:Once after the training you receive course completion certificate from Academy for Pros
Who can Attend?
Anybody who is interested in learning Recruitment Skills.
Note:
However, catering to the demands of busy professionals, our virtual training programs are as effective as face-to-face learning. Reach us at info@academyforpros.com for dates and details of Instructor Led Live Virtual Session.
If you would like to get this course customized and delivered exclusively for your group, we have an On-Site Training Option you can reach us at info@academyforpros.com for more details about on-site or corporate training.
Offers:
Groups of 3 people 10% Discount
Groups of 5 people 15% Discount
Groups of 10 people 20% Discount
About the organizer
We deliver training solutions to Corporate, Government Agencies, Public sectors, Multinational organizations and Private Individuals. Our Primary focus is to train in a wide range of areas from IT Technical, Personal Development, Human Resources and Management Courses to Project, Program and IT Service Management.
We have most experienced trainers in the Industry. Our Trainers are highly skilled in their subject areas and are uniquely positioned to provide participants with deep industry experience. They are motivated to transfer knowledge through practical support post and pre-training to provide participants with additional support outside the classroom.