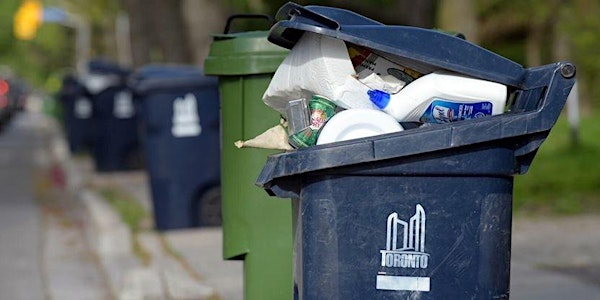 Recycling Design Sprint Challenge: Contamination in the Blue Bin
Event Information
Location
The Symes
150 Symes Road
Toronto, ON M6N 0B1
Canada
Description
Confused about what belongs in the Blue Bin?
The City of Toronto faces a big challenge of managing contaminated recycling – almost 30% of all recycling is contaminated with non-recyclable materials like food waste and clothing, which must be sent to the landfill.
The City of Toronto, in partnership with Civic Hall Toronto, is hosting a design sprint to better understand some of the challenges and frustrations that residents might have around the Blue Bin recycling program. This will help the City improve its programs and communications in an effort to tackle the challenge of Blue Bin recycling contamination head-on.
Join us for the first-ever Blue Bin Design Sprint on November 9!
The event is free and light food and refreshments will be served.
You can expect a highly-participatory, hands-on session. Below is a simple Event Outline:
Registration (8:30 am)
Introductions (9:30 am)
How do we recycle?
Discussing and mapping sentiments around recycling
Building empathy for recycling challenges
-Refreshments Break- (approx. 11:45 am)
Issue & problem discovery
Our ideal recycling future
How do we get to our ideal future?
Report backs & closing
Additional Details:
- TTC tokens are available for reimbursement with Presto Card or TTC Transfer
Date and time
Location
The Symes
150 Symes Road
Toronto, ON M6N 0B1
Canada