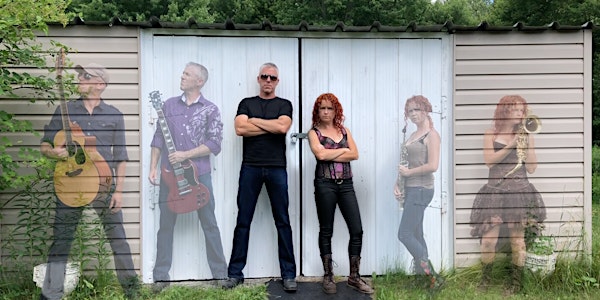 Red Dirt Skinners
Patchwork is thrilled and privileged to host multi-award winning Red Dirt Skinners in September.
By Patchwork House Concerts
Date and time
Sat, Sep 9, 2023 8:00 PM - 11:00 PM ADT
Location
Patchwork House Concerts 30 First Ave Bedford, NS B4A 1Z9 Canada
Refund Policy
Contact the organizer to request a refund.
Eventbrite's fee is nonrefundable.
About this event
Described by Roots Music Canada as "The Pink Floyd of Folk Music" the Red Dirt Skinners are the multi-award winning, multi-instrumentalist husband and wife team of Rob and Sarah Skinner. Widely regarded as one of the most innovative acts to come out of the UK in recent years, 
the duo cross more genres than would make sense to mention and have won National and International Awards in Rock, Folk, Blues, Country, Roots, Alt-Rock and Songwriting. It would be fair to say that if you like songs influenced by Pink Floyd, Simon and Garfunkel, Supertramp, Queen, and David Bowie coupled with some epic storytelling, humour and heartfelt emotions, you'll love a Red Dirt Skinners concert.
With male and female harmonies blending together as one voice and Sarah's trademark soprano saxophone solos, you will be swept along by the refreshingly different sound of the Red Dirt Skinners.

In July 2017 it was deemed by Canadian Immigration that the British-born Red Dirt Skinners were "performers of a world-class level" and they were invited to become Canadian residents. Having already completed several successful Canadian tours, the Skinners were thrilled and honoured at the invitation and took up residency almost immediately. In 2022, they became sworn in as Canadian Citizens and are excited to share their music and their love of their new country.

The band's current album Bear With Us is a collection of ten original songs drawing on such hard-hitting subject matters as dementia, homelessness and narcissistic abuse, whilst still managing to produce soaring choruses, catchy lyrics and the ever-present award-winning sound of Sarah's saxophone solos. Bear With Us is an extremely full-sounding album from two highly skilled multi-instrumentalists and straddles multiple genres. This album is a triumph to positive thinking and a further development of the band's signature sound.
A Red Dirt Skinners concert combines captivating storytelling with knowing lyricism and outstanding musicianship. The Skinners have a natural rapport with their audiences and their live shows are a wonderful experience; a musical journey to remember. Be prepared for laugh-out-loud lyrics, followed by songs sure to pull at your heartstrings. This video gives a little insight into what their live show is like.
Rob and Sarah Skinner will steal your hearts. Don't miss their show!
NOTE: Patchwork (https://patchworkhouseconcerts.ca) is a house concert series, i.e. we present concerts in our living room. For all shows the artist(s) take the door. We provide the stage, chairs and hopefully a room filled with eager listeners. We will provide a few snacks and soft drinks will be available; otherwise it is BYOB (we have glasses!). Bringing music-loving-friends and visiting family members is strongly encouraged.
About the organizer
Patchwork House Concerts is a house concert series hosted by Monique & George.  We provide a stage for live music to be performed to a listening audience.  The stage happens to be in our living room.  To sign-up for our private email list, message mleblanc.patchwork@gmail.com.  Visit our website at www.patchworkhouseconcerts.ca for a list of upcoming and past shows.