Description
Are you stuck in a rut at work? Do you find yourself dreading the week ahead on a sunday evening? It's time to make some changes.
James Potten & Chloe Garland will walk you through our Personal Professional framework here at RED Academy. Discover which environments you thrive in, how you problem solve, culture factors that matter to you and key personality traits that point you towards certain environments or career paths.
Armed with this new information you'll be ready to make positive changes in your working life.
This is an interactive session so please come with an open-mind and be prepared to work in teams!
Your facilitators
James Potten
James is the Managing Director of RED Academy in London. James has expertise in galvanising teams to scale businesses and make purposeful ideas happen.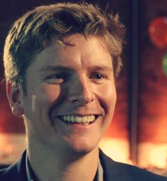 He loves working with disruptive companies that focus on optimising the relationship between people and technology to create an abundant yet sustainable world. He also believe the existing paradigm of business culture is stifling creativity. So he wants to do something about it!
He also mentor start-ups and Chairs a micro-finance charity called Deki which has a fantastic mission to create a world of opportunity, not poverty through a hand up, not a handout.
James has found his personal transition from a competitive to creative mindset to be an incredible awakening. He believes business leaders should encourage a culture of self-discovery and personal growth to maximise creativity and therefore productivity. He believes the most successful leaders of the future will be those with the greatest capacity to share.
Chloe Garland
After studying Philosophy at The University of Nottingham and travelling to Peru to work in equine-therapy, Chloë went on to qualify as a life and career coach to start her own coaching business 'Quarter-Life'.
Quarter-Life works with young adults experiencing symptoms of the 'Quarter-Life Crisis'. She helps people who are struggling to make a decision about the direction of their lives and careers gain clarity over their next steps. She says that 'the best we can do in life is work out what we know about ourselves and make our decisions based on that'. Quarter-Life works with universities, charities, schools and businesses with the overall aim of helping young people lead happier lives and careers.
About RED Academy
RED Academy is a tech school and community for the creators of tomorrow. Offering intensive, career moulding courses in User Experience Design, User Interface Design, Digital Marketing and Web & App Development. Simply put, we love tech and we love to teach. It's one of the few industries where anything is possible. It moves at a pace that no other industry has seen before.
RED is for people who want fulfilling, innovative, and important work. It's for having creative freedom, for making connections, and for having a say in what happens next.
Organizer of RED LifeDesign: Learn to Love What you do