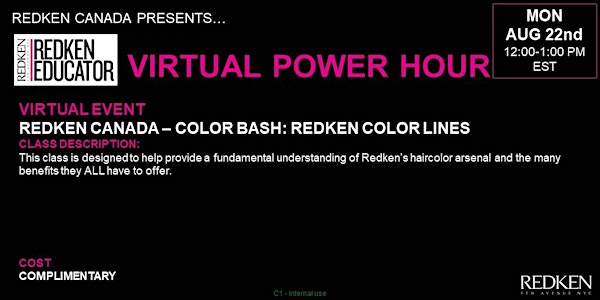 REDKEN CANADA - PRINCIPLES OF HAIRCOLOR
Learn to "think like hair".
About this event
Learn to "think like hair". Dive into the Haircolor Science and foundation necessary to build your confidence and, meet your client's every color need.
CLASS DESCRIPTION:
What is haircolor? When, how, and why do we color hair? This class is designed to help provide an understanding of Redken's Haircolor Portfolio, the foundation of haircolor Principles and Formulation. Understand how positioning our brand will build your skill set and your color expertise and learn express techniques that keep your clients on trend while keeping everyone's busy schedule in mind.
TOP 3 CLASS TAKEAWAYS​:
Rediscover the Law of Haircolor, the Haircolor Wheel and the Level Systems. Learn hair composition, natural, gray and white hair
Hydrogen Peroxide and Alkaline Agents, Permanent Haircolor, Demi-Permanent haircolor, Semi-Permanent Haircolor, Temporary Haircolor, and Lighteners
Use Redken's Style Station App for formulation tips, look book ideas and other resources to increase revenues and customer satisfaction
TARGET CUSTOMER:
Essential Level: Stylists who are currently performing haircolor services and may or may not be new to the Redken Haircolor family.
TYPE OF CLASS:
PRINCIPLES
VIRTUAL Look and Learn
TIME:
INVESTMENT: