Description
Please note this event is sold out.
Join us to learn about how organizations can divert waste from landfills while creating a culture of waste reduction. This event will include speakers who will provide first-hand experience with the implementation of waste reduction strategies in their organizations as well as those who understand the technicalities associated with waste reduction.
About the speakers: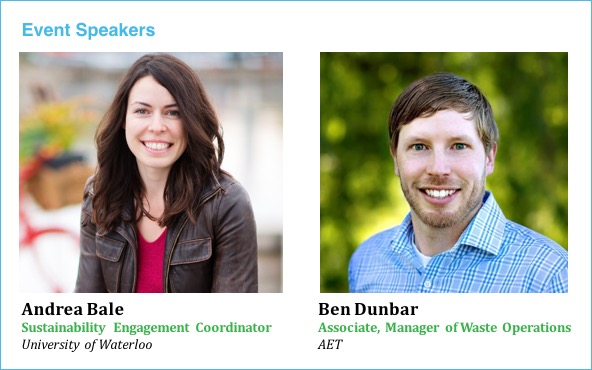 Andrea Bale supports the planning and implementation for events, campaigns, programs, collaborations and communications related to sustainability, both on campus and in the broader community. Andrea brings experience from Reep Green Solutions, a local environmental charity, where she worked as the Customer Engagement and Outreach Coordinator and Waste Reduction Advisor. Andrea completed her Masters at the University of Waterloo in Environment and Resource Studies, focusing on behavioural and environmental psychology principles for fostering sustainable energy retrofits in the residential sector. She also received a Bachelor of Science from McMaster University where she focused on environmental science and psychology.
Ben Dunbar graduated from the University of Waterloo with a Bachelor of Environmental studies, completed a post-graduate certificate in Environmental Management and Assessment at Niagara College, is a Canadian Certified Environmental Professional (EP) and a LEED Accredited Professional. He joined AET in 2006 and has extensive experience coordinating and completing solid waste studies and developing waste management programs for all levels of government and IC&I sectors including: optimization studies at material recovery facilities, curbside participation studies, new program pilot studies, construction waste management and inspections, and waste assessments and analysis including GHG emissions calculations.
What to Expect:
- Networking and hot breakfast
- Presentations from three qualified speakers on waste reduction
- Short question period to allow you to interact with the speakers
Who Should Attend:
- Regional Sustainability Initiatives member champions are eligible for FREE admission, please contact Samantha Tavenor (samantha.tavenor@sustainablewaterlooregion.ca ) for details.
- Sustainability champions trying to reduce waste in their organizations, especially members of Green Teams or similar
- Community members who are interested in learning about waste reduction strategies

Traveling to the Event:
- We encourage you to try more environmentally friendly methods of traveling to and from the event
- Consider carpooling, taking public transit, biking, or walking
- To find a carpool buddy and reduce your traveling impact, please visit here