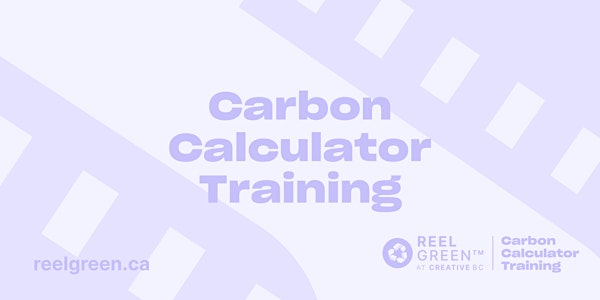 Reel Green™ Carbon Calculator Training - FEBRUARY 2023
Reel Green™ offers free Carbon Calculator training for all film industry professionals in British Columbia and Canada.
Date and time
Tuesday, February 21 · 9:30 - 10:30am PST
About this event
Derived from one of the motion picture industry's leading carbon calculators, albert, Reel Green™ has adapted a carbon calculator for British Columbia, for free, for productions in B.C. to use.
Calculating the carbon footprint of your production is an important step in understanding the impact of film production. Having consistent data and metrics from the industry can help organizations like Reel Green understand priority areas for sustainable practices as well as help productions understand and measure their carbon impact.
Additionally, with more available data points we can also derive economic benefits of going green on production!
The albert carbon calculator tool is available free for all productions to use. It has helps streamline the process of inputting and collecting data needed to calculate carbon impact. Multiple productions can be tracked on this tool, and having a single data hub helps to develop benchmarks for productions to work from and improve upon.
We can also offer consultative support though Reel Green™. For more information on carbon calculation please contact reelgreen@creativebc.com
About the organizer
The Reel Green™ initiative is a mainstay at Creative BC and we are looking ahead to the next decade and how we can empower and inspire productions to innovate and implement sustainable production practices, and industry stakeholders to collectively support this effort. We are prioritizing education, engagement, communications, and resources as we develop a platform for the reduction of environmental impacts and stakeholder engagement at the local level to set an example for other jurisdictions globally.