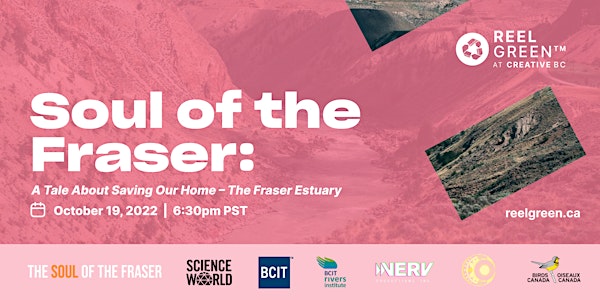 Reel Green™ Presents: Soul Of The Fraser - Screening and Q&A
Join Reel Green™ at Science World, for an exclusive screening of The Soul of The Fraser documentary, followed by a Q&A with the filmmakers!
When and where
Location
Science World 1455 Quebec Street Vancouver, BC V6A 3Z7 Canada
About this event
The Fraser River forms the largest estuary along the Pacific Coast of North America, is home to over 400 species of vertebrates, thousands of plants and a myriad of small invertebrates.
In this documentary screening, follow an ensemble cast ranging from a former government fisheries biologist turned activist to a boat captain with an Indigenous family history long forgotten, as they search for a way to save what's left of the Fraser Estuary.
Following the screening, we will have a special Q&A with river restoration expert Professor Ken Ashley, the cast, and the filmmakers. Step out of the bustle of Vancouver and reconnect with what's left of the mysterious Fraser Estuary!
Date: Wednesday, October 19th, 2022
Time: Doors open at 6:30pm, screening starts at 7:00pm
Location: Science World – Science Theatre | 1455 Quebec St, Vancouver, BC V6A 3Z7
Presented in partnership with: Reel Green™, Birds Canada, Science World, BCIT – Rivers Institute, NERV Productions, and Willow Grove.
Featuring a Special Q&A with:
Brendan Chu - Nerv Productions
Misty MacDuffee - Raincoast Conservation Foundation
Kitty Guerin - Artist and Musqueam Community Member
Councillor Morgan Guerin - Musqueam First Nation
Moderated by:
Professor Ken Ashley - BCIT
More Speakers to be confirmed soon.
About the Film
The Soul of The Fraser (2022) (80 min)
In beautiful British Columbia, Canada, follow an ensemble cast ranging from a former government fish habitat biologist turned activist to a boat captain with an Indigenous family history long forgotten, as they search for a way to save what's left of the Fraser River Estuary. This documentary feature uses the estuary as a case study, proving a lack of environmental stewardship as a result of Indigenous suppression and bureaucratic mis-management.
Watch the Trailer (below or at this link): https://www.youtube.com/watch?v=HGiWCnMH_tc
About the Filmmakers
The filmmakers at NERV Productions Inc. began producing feature length documentaries immediately after graduating from Capilano University. Over the past 5 years they have produced movies, shorts, PSAs, music videos, and commercials for a variety of clients. Particularly focusing on environmental stewardship, the filmmakers Brendan, Chris and Jakob believe in educating the public of the injustices on the local environment.
Read more about NERV Productions: https://www.nervproductions.com
About the Partners
Reel Green™:
Sustainable production efforts in British Columbia were formalized 10 years ago through the Reel Green initiative, a resource centre with a collection of best practices to help productions reduce their environmental impacts and improve their overall environmental footprint.
The Reel Green™ initiative is a mainstay at Creative BC and we are looking ahead to the next decade and how we can empower and inspire productions to innovate and implement sustainable production practices, and industry stakeholders to collectively support this effort. We are prioritizing education, engagement, communications, and resources as we develop a platform for the reduction of environmental impacts and stakeholder engagement at the local level to set an example for other jurisdictions globally.
Learn more about Reel Green™: https://www.reelgreen.ca
Birds Canada:
Birds Canada is a non-profit, charitable organization built on the enthusiastic contributions of thousands of caring members and volunteer Citizen Scientists. Together we are Canada's voice for birds! Our mission is to drive action to increase the understanding, appreciation, and conservation of birds in Canada. Birds Canada is partnering in the promotion of the Soul of the Fraser as it highlights some of the key threats facing the Fraser River Estuary Key Biodiversity Area.
Learn more about Birds Canada at: https://www.birdscanada.org/
Science World:
Science World is a charitable non-profit and science centre based in Vancouver, BC that engages learners across the province in STEAM (science, technology, engineering, art & design and math).
Visitors to our iconic geodesic dome explore interactive, hands-on exhibits and galleries that nurture their process of discovery and inspire connection with their natural, physical and built environments. Participants in our outreach programs—students, teachers and families in every region of BC—access the experience of Science World through virtual visits from scientists, livestream science shows, and weekly afterschool STEAM mentorship.
Visit the Science World Website: https://www.scienceworld.ca
BCIT Rivers Institute
The BCIT Rivers Institute was created to provide an important place for non-profit agencies, other post-secondary institutions, government bodies and international partners to "plug-in" to BCIT's expertise, resulting in a united community with the shared mission of restoring endangered rivers, streams, lakes, estuaries and wetland ecosystems in British Columbia and beyond. This outreach capability will expand the scope of public awareness activities and provide more leverage to attract funding and create positive change in protecting and restoring our important aquatic environments.
Information about the Rivers Institute Team: https://www.bcit.ca/rivers-institute/about/our-team/