Description
WORKSHOP DESCRIPTION
Join us for a work party to build a rain garden! Once built and planted, the new rain garden in the front yard at Reep House will provide habitat for pollinators and soak up rain so that it can reduce pollution and risk of flooding downstream.
Rain gardens are constructed to capture a large volume of water. Rain gardens differ from conventional gardens because they are dug out and filled with a special soil/compost mixture, enabling the garden to act like a sponge. Learn step by step how to construct a rain garden to maximize its ability to capture water, while also enhancing and beautifying your outdoor space!
Join us anytime between 12pm – 4pm. Everyone is welcome to help out or just come to observe the process! Regardless, please remember to wear closed toed shoes and dress for the weather!
A TIMELINE OF THE DAY'S EVENTS
(times are approximate)
12:00 pm – 12:15 pm: Presentation about rain gardens
12:15 pm – 1:30 pm: Digging out the rain garden
1:30 pm – 2:15 pm: Refilling the rain garden with special soil/compost mix
2:15 pm – 3:15 pm: Planting plants, adding mulch, watering plants
3:15 pm – 4:00 pm: Cleaning up
PRESENTERS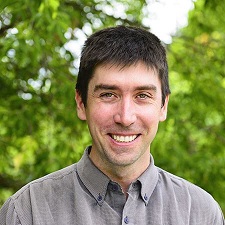 Patrick Gilbride is the Manager of Green Infrastructure Programs at Reep Green Solutions. He is passionate about working with homeowners, businesses and institutions to implement nature-based solutions that provide benefits to them and to the wider community.
TRANSPORTATION
We encourage the use of active transportation such as walking or biking. The house is just off the Iron Horse Trail. It is also easily accessible by GRT bus routes that use Queen and have stops near Mill St. If you drive, please consider carpooling with others you know are attending.
Parking
You are welcome to use Schneider Ave or David Street parking. The Victoria Park Pavilion parking lot is also free to use and only a few minutes walk to the Reep House. Please do not park at the Schneider Haus or Mitchell St lots (click to enlarge map)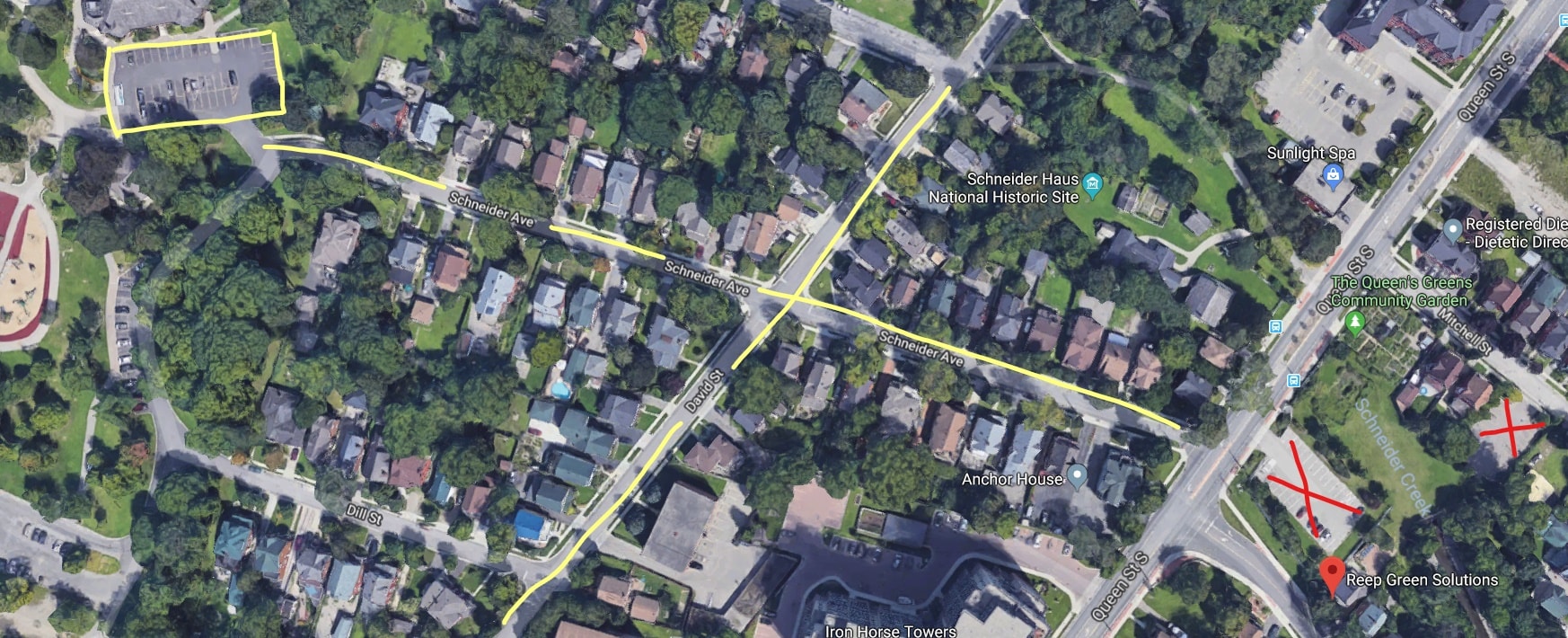 Photo Notice
By your entry, you consent to the possibility of being included in the footage and to the purposes for which it may be used: to publicize the event taking place in this area and/or to promote Reep Green Solutions. Individual participants will not be identified without their consent. Reep Green Solutions has exclusive rights to and ownership of this multimedia footage. Speak with the staff/volunteers if you would like to opt-out of appearing in photo/video. Contact communications@reepgreen.ca if you have questions or concerns.