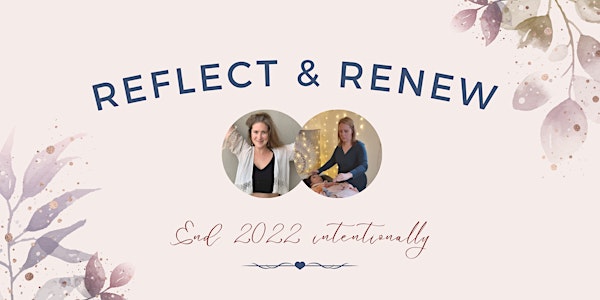 Reflect & Renew
Join us to reflect on your year, release what's ready to be left behind in 2022, & enter into 2023 feeling centered, open, & renewed.
About this event
This is an intentional end-of-the-year event to support you in carving out the time for yourself to reflect on your entire year -
You will get clear on all aspects of this year - what you experienced, what you learned, what challenged you, what you want to celebrate, & all the wisdom/lessons/growth you want to take forward with you into the new year!
It's difficult to actually take the time for yourself to review all the magic contained within an entire year! It can be a daunting task that you WANT to do, but often find yourself pushing off to the side. But it's truly SO important - for your healing, your growth, your entire evolution.
We want you to take the time to reflect on the high's & the low's - on what amazed you, what challenged you, & everything in between. We want you to wrap up this year feeling centered, grounded, & completely at peace within.
Let's ALSO clear away any heavy energy/emotions that your soul wants you to leave behind in 2022 - through a powerful combination of Reiki & Sound Healing, you'll have the opportunity to let. it. go.
Event Details:
2 Hours
Online on Zoom
Capped at 25 women
Facilitators: Shannon Keating & Chrystal Higgins
Event Includes:
Journaling
Music
Guided Meditation
Reiki-Infused Sound Healing Ceremony
Deep Connection - with yourself & others
Discussion & Sharing
During this experience, you will show up as yourself, exactly as you are. You wil be guided through intentional journaling exercises centered around reflecting on 2022, and then lovingly held in a healing experience of reiki & sound healing to release stagnant energy, reconnect with your essence, & center into a state of deep peace.
Some of the benefits you'll receive from this event
The opportunity to intentionally reflect on your year & pull out your unique lessons & wisdom to carry forward into the new year
Deep connection with both yourself & other women who are on a similar path of self love, personal development, & spirtual growth
Energy clearing of all that is no longer serving you - you get to fully trust that the Reiki & Sound Healing will work it's magic on your mental, emotional, & physical body!
You will leave this event feeling centered & connected to yourself, with a deep peace inside of your heart.
More about the workshop facilitators
Shannon Keating -- Shannon is a Holistic Life Coach for Women & Teen girls. Shannon is passionate about supporting our younger generation of women in a variety of areas including self love, body image, emotional intelligence, holistic health, mental health, & healthy relationships. She supports women & teens through 1:1 coaching, courses, programs, intuitive readings, and Human Design Readings. Shannon is a wealth of knowledge when it comes to self-empowerment & self-love.
Check out Shannon's Website: www.shannonkeating.com
Follow Shannon on Instagram: @shannonkeating
Chrystal Higgins -- Chrystal is a Singer, Sound Healer, & Reiki Practitioner who focuses on healing the mind, body, and soul through self-love, connection, and sound. She has been on her own journey of self-love for the past 3 years. Witnessing the transformation within herself that has come from learning how to have compassion and tenderness for her whole self has inspired her to guide other women through their own self-love, healing journeys. She loves creating spaces for women to gather and welcome in their own feminine energy.
Check Out Chrystal's Offerings: link.tree/chrystalhiggins
Follow Chrystal on Instagram: @iamchrystalhiggins