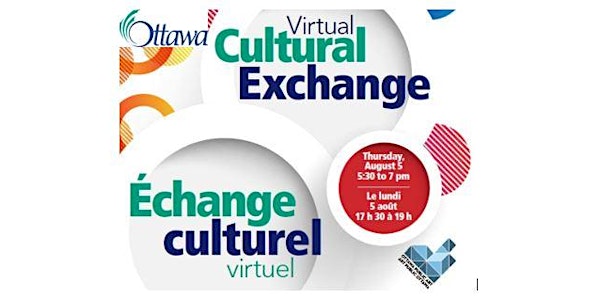 Reflection/Inflection Arts Response Project: Cinq à Sept/Cultural Exchange
Cultural exchange with City of Ottawa artist team Third Way Creative / Un cinq à sept avec la troupe Third Way Creative de la Ville d'Ottawa
By Public Art Program | Programme d'art public
When and where
Date and time
Thu, Aug 5, 2021 2:30 PM - 4:30 PM PDT
About this event
Reflection/Inflection Arts Response Project: Cinq à Sept & Cultural Exchange
Thursday, August 5th, 2021, 5:30 to 7:00 PM
Zoom in for a lively virtual cultural exchange and Cinq à Sept with City of Ottawa artist team Third Way Creative. Seattle, Washington based artist team Third Way Creative has been retained by the City of Ottawa O-Train Stage 2 Public Art Program as cultural facilitators and artists for the Reflection/Inflection Arts Response Project taking place in the West end of Ottawa around Byron Linear Park and Richmond Road communities. For more information about the project please visit https://ottawa.ca/en/arts-heritage-and-events/public-art-and-city-ottawa-art-collection/public-art/o-train-public-art-program#request-proposal-reflection-inflection-arts-response-project .
Everyone is welcome to join for an online cultural exchange that will be ignited through movement, poetry, games, prompts, music, visuals, and celebration. Special appearance by choreographer Moni Hoffman of Propeller Dance. This event is free and will be primarily conducted in English (with some non-verbal performances and visuals).
//
Projet d'intervention artistique Réflexion-inflexion : cinq à sept et échange culturel
Jeudi 5 août 2021, de 17 h 30 à 19 h
Participez à un cinq à sept et à un échange culturel virtuels animés sur Zoom avec la troupe Third Way Creative embauchée par la Ville d'Ottawa. Les membres de cette troupe basée à Seattle, dans l'État de Washington, ont été recrutés par la Ville comme artistes et animateurs culturels de son Programme d'art public de l'Étape 2 de l'O-Train pour le Projet d'intervention artistique Réflexion-inflexion, qui se tient dans l'ouest d'Ottawa, près du parc linéaire Byron et du chemin Richmond. Pour en savoir plus sur le projet, rendez-vous à https://ottawa.ca/fr/arts-patrimoine-et-evenements/art-public-et-collection-dart-de-la-ville-dottawa/art-public/le-programme-dart-public-de-lo-train#demande-de-propositions-reflexion-inflexion-projet-dintervention-artistique.
Nous vous invitons à cet échange culturel en ligne autour du mouvement, de la poésie, des jeux, des répliques, de la musique, des images et des festivités. La chorégraphe Moni Hoffman, de Propeller Dance, sera également présente en tant qu'invitée spéciale. Cet événement gratuit se tiendra principalement en anglais (mais il y aura des images et des performances non verbales).
About the organizer
The City of Ottawa Public Art Program collects, commissions and exhibits artwork to create conversations and make art accessible to everyone. Art is integrated into our daily lives through the City of Ottawa Art Collection, public art commissions, and exhibitions at Karsh-Masson Gallery, City Hall Art Gallery and Corridor 45|75.
Avec son Programme d'art public, la Ville d'Ottawa collectionne, commande et expose des œuvres pour susciter la discussion et rendre l'art accessible à tous. La collection d'art et les commandes d'œuvres publiques de la Ville ainsi que les expositions de la Galerie Karsh-Masson, de la Galerie d'art de l'hôtel de ville et du Corridor 45|75 sont autant de moyens par lesquels les arts peuvent se greffer au quotidien.