Reflections on Dispute Resolution in Geotechnical Engineering Practice – "Real Street" Experiences

Wednesday, April 18, 2018 from 5:30 PM to 8:30 PM (EDT)
Event Details
Evening Program
5:30 Cocktails and socializing
6:30 Dinner
7:30 Lecture
Abstract
The Speakers will share some observations and experiences pertinent to the resolution of disputes which the geotechnical engineering profession have encountered with greater frequency over the years, to the point where disputes now occur far too often and the profession is becoming increasingly involved in litigation.
The lecture will focus in particular on the desirability of minimizing situations in practice which might lead to disputes, and the use of alternate dispute resolution methods in the event that disputes do occur.  It will be presented from two perspectives; (a) from the standpoint of practicing geotechnical engineers where the emphasis will be on strategies aimed at minimizing pitfalls which could lead to disputes, and (b) from the standpoint of the geotechnical engineering profession at large, where increased attention to the avoidance of disputes is considered both vital and timely."
Speakers
Mr. John ("BB"J) Seychuk, P.Eng., is a senior geotechnical consultant and the longest serving employees of Golder Associates.  John is one of the Golder's founding father and has started his "real street" career in England in 1955, where he spent a year with a Contractor sitting on drill rigs and writing site investigation reports.  He joined Golder in 1961 and has served the company in different capacities from consulting to management.  John has presented in a number of external seminars and conferences and internal occasions on the importance of risk management, contractual issues and fundamentals of consulting business.  John has received several distinguished awards including the CGS-SOS annual award in 2008.
Mr. (MAJ) Fred Matich, P.Eng., is a senior geotechnical consultant and has made enormous contributions to the development of geotechnical engineering in Canada and internationally.  He played a major role in pioneering geotechnical engineering consultancy in Eastern Canada, and his exceptional service continues today with his own geotechnical consulting practice.  Fred has worked on several research, technical and standard committees, and has been involved in mining development projects in Canada and abroad.  Fred has been the recipient of several distinguished awards from the CGS and Professional Engineers Ontario and has received CGS-SOS annual award in 2012.
When & Where

St. Bernard Church (Clairvaux Hall)
1789 Lawrence Avenue West
Toronto, ON M6L 1E3
Canada

Wednesday, April 18, 2018 from 5:30 PM to 8:30 PM (EDT)
Add to my calendar
Organizer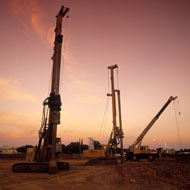 About Us
The Canadian Geotechnical Society Southern Ontario Section (CGS-SOS) represents the national organization at the local level centered at the Greater Toronto Area (GTA) and covering some cities in Southern Ontario. The CGS-SOS was established in the early 1970s and forms the largest region of the Society. Its purpose is to provide opportunities for continuing education (through lectures and seminars), and for constructive dialogue and sharing of experiences. This is accomplished through organizing events on about a monthly basis.
The Canadian Geotechnical Society (CGS) is an independent, federally incorporated, non-profit learned society which exists to serve and promote the geotechnical and geo-science community in Canada. It encompasses a wide spectrum of scientific and engineering disciplines within the geotechnical field. Membership is open to individuals from all sectors including private consulting, universities, industry, contracting and public services.