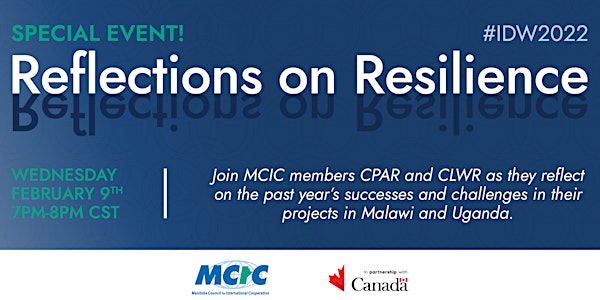 Reflections on Resilience: An IDW Discussion with CPAR and CLWR
Join us for the virtual event, Reflections on Resilience: An IDW Discussion with CPAR and CLWR
About this event
In celebration of International Development Week, join MCIC for our virtual event, Reflections on Resilience: An IDW Discussion with CPAR and CLWR. Hear from Canadian Physicians for Aid and Relief (CPAR) and Canadian Lutheran World Relief (CLWR) as they reflect on the past year's successes and challenges in their projects in Malawi and Uganda. With input from project participants in Uganda, learn about how individuals and organizations overcame obstacles and continued to make an impact through their humanitarian work in the face of COVID-19.
Since its inception in 1991, International Development Week (IDW) has been observed each February and celebrates Canadian contributions to international humanitarian assistance throughout the world. IDW offers an opportunity to recognize and highlight the unique role Canadians play in building a better world. It encourages us– especially our youth– to be informed and to get involved in international issues!
We encourage you to grab a Fair Trade cup of coffee or glass of wine and join us for a celebration and engaging conversation. MCIC will be dropping questions in the chat and encourage attendees to reflect on their own experiences of resilience. Join the conversation on Twitter and follow MCIC (@MCIC_CA) as we live tweet this International Development Week event.
We will be using Zoom to share this event online, and participants will receive a link by email after registering. Need to join by phone instead? Register and you'll receive the phone-in information.