Event Information
Refund Policy
Refunds up to 7 days before event
Eventbrite's fee is nonrefundable.
Carbon offsetting, biodiversity & land restoration, carbon neutrality, ESG, compliance, rebranding, costs reduction, revenue science, profit
About this Event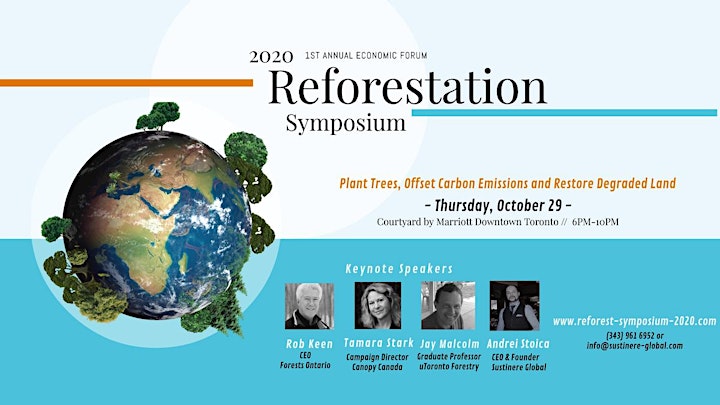 Are you a decision-maker looking for new ways to "Go Green"?
Are you an executive looking to reduce your company's environmental and carbon footprint? 
Are you looking to achieve carbon neutrality for your business, and rebrand your company as an environmental leader?
Are you looking to reduce costs and generate more revenue, while being a friend to the Earth?
To celebrate World Development Day 2020 and highlight the potential of reforestation, Sustinere Global is proud to host its first Reforestation Symposium Online Event. This event will feature prominent keynote speakers, networking opportunities, and an action-based approach to put you and your organization at the forefront of climate adaptation and mitigation solutions, new revenue and market share expansion, and environmental and social risk reduction.
This online Webinar will be particularly helpful for executives in aviation and mining. Aviation thought leaders will learn how to access green recovery funding from the federal government, offset aviation carbon emissions with reforestation, comply with ICAO regulations and attract new revenue from environment-conscious clients and consumers. Mining leaders will learn how to access investment opportunities by championing ESG, how to generate social license and gain community support for projects in Canada and abroad through reforestation, and how to conduct Environmental Impact Assessments in line with tree planting activities, thus reducing costs and enhancing the productivity of projects.
***Due to the impact of COVID-19 on the city of Toronto, this in-person event will take place online as a free Webinar. The complete in-person event with the reception, entertainment, and in-person networking will take place at the end of January 2021.***
Keynote speakers include:
Tamara Stark, Campaign Director with Canopy Canada. Tamara has been campaigning for conservation in countries as diverse as China, Japan and the United Kingdom, and she has a solid track record of working with the business world to protect forests. She began as an activist dedicated to saving the Great Bear Rainforest and, after the initial success of getting conservation measures in place, turned her attention to protecting South East Asian rainforests and improving the wood manufacturing industry in China.
Dr. Jay Malcolm, Professor at the Daniels Faculty's Forestry program at the University of Toronto. Dr. Malcolm received his B.Sc. and M.Sc. from the University of Guelph and his Ph.D. from the University of Florida. He specializes in conservation biology, tropical ecology, landscape ecology, and ecological impacts of climate change. Dr. Malcolm also researches community ecology and has been featured on CBC for his research work. 
Rob Keen, CEO of Forests Ontario. He is a Registered Professional Forester (RPF) and has provided forestry services to landowners, developed forest management plans on Crown and private lands, and led forest audits for the Forest Stewardship Council and Ontario Ministry of Natural Resources (MNR). Rob is geared towards accomplishing Forests Ontario's vision and has been featured in the news recently for the 50 Million Tree Program.
Andrei Stoica, CEO & Founder of Sustinere Global. He is a jurist, policy analyst, and humanist, working with the Government of Canada. He is passionate about giving everyone choices and resources for living with dignity in a clean natural environment. Andrei brings over 5 years of leadership experience across both the governmental and non-profit sectors and conducts reforestation projects in Canada and South America. His Canadian non-profit organization, Sustinere Global, specializes in post-mining reforestation, and helps businesses become more profitable as environmental leaders.
Special guest speaker:
Wayne Anaka, CEO & Founder of AVCON.WW, an aviation consulting and project management firm based in Toronto.  A dynamic Aviation Industry leader, Wayne was the principal Founding Partner of NavStar Aviation Group, an aviation ground handling company based at three airports in Canada and three airports in Florida. Mr. Anaka is focussed on Revenue Science and Leadership TEAM Building, and is certified in Chief Revenue Officer (CRO) thinking and is a Certified Member (CM) of the International Association Airport Executives (IAAE) Canada. He is a recognized leader in environmental risk management and helps aviation clients become carbon neutral by investing in reforestation.
Event Moderator:
VickiLynn Chan, has been traveling the world researching the connection between nature, spirituality and everyday life. She is passionate about helping people identify the wisdom embedded in nature and then applying that knowledge to their daily lives in order to create a more meaningful and fulfilling human experience. Her work provides practical insights on the delicate symbiotic relationship people have with their environment and the importance of sustaining that healthy bond now more than ever.
With the importance of making our planet livable for future generations and tackling the global climate crisis, all sectors of business, government, academia, and non-profit must work together to implement eco-friendly solutions. Reforestation has emerged as a key answer for offsetting carbon emissions, as featured in the journal Science (2019) and by UN Environment (2020).
This event will provide you with tangible knowledge about one of the most prominent climate action approaches to save our planet, which is to plant trees. As a business, you will learn how to generate new revenue and long-term profitability by offsetting your environmental footprint and growing your customer base. Come prepared to learn how to integrate reforestation in your environmental plan or career focus, and walk away with a new network of like-minded change-makers.
Event schedule:
6:00 pm - Introductory remarks
6:05 pm - Plenary Presentation - Andrei Stoica
6:15 pm - Q&A Session
6:25 pm - Honorary Guest Presentation - Dr. Jay Malcolm
6:35 pm - Q&A Session
6:45 pm - Keynote Presentation - Tamara Stark
6:55 pm - Q&A Session
7:05 pm - Keynote Presentation - Rob Keen
7:15 pm - Q&A Session
7:25 pm - Special Guest Presentation - Wayne Anaka
7:35 pm - Q&A Session
7:45 pm - Closing remarks
This symposium is appropriate for decision-makers in government, business (particularly aviation and mining), or the non-profit sector, environmental managers, international development practitioners, forestry and conservation professionals, academics and university students looking to focus their careers on climate action and green growth.
PLEASE ACCESS THE LIVE EVENT HERE: Join Zoom Meeting https://zoom.us/j/94757445294
Event website: https://www.reforest-symposium-2020.com    
Event Facebook: https://www.facebook.com/events/1004123396737125/
Organization website: https://www.sustinere-global.com    
Date and Time
Location
Refund Policy
Refunds up to 7 days before event
Eventbrite's fee is nonrefundable.