Description
Industrial refrigeration systems are significant consumers of site energy. They are often large and complex with a "set-it and forget-it" mode of operation. This can lead to long-term inefficient operation with little awareness that the system is not operating efficiently. The objective of this course is to develop an understanding of various refrigeration systems and the basic thermodynamics behind the vapour compression refrigeration cycle. With this knowledge, the participants will identify how refrigeration systems use energy and strategies to reduce system energy use.
The following topics will be covered in the course: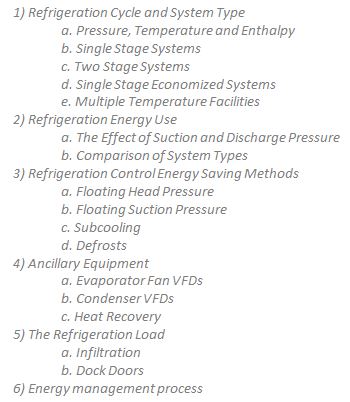 Registration is available on a first-come, first-served basis. Registration and payment are required seven days prior to attending the training event via the online registration. Refunds are only available up to seven days prior to the event. The fee is $200 + HST. There will be no registration or acceptance of payment at the training event. Space is limited to a maximum of 25 registered attendees. Morning coffee and lunch will be provided during the course. Please contact us if you have specific meal requirements.
This course is offered in English and all course materials and presentations will be in English.
---
Les systèmes de réfrigération industriels sont des consommateurs significatifs d'énergie sur le site. Elles sont souvent grandes et complexes, avec un mode de fonctionnement "set-it and forget-it". Cela peut conduire à une exploitation inefficace à long terme sans que l'on sache que le système ne fonctionne pas efficacement. L'objectif de ce cours est de développer une compréhension des différents systèmes de réfrigération et de la thermodynamique de base derrière le cycle de réfrigération à compression de vapeur. Grâce à ces connaissances, les participants détermineront comment les systèmes de réfrigération utilisent l'énergie et les stratégies pour réduire la consommation d'énergie du système.
Les sujets suivants seront abordés dans le cours :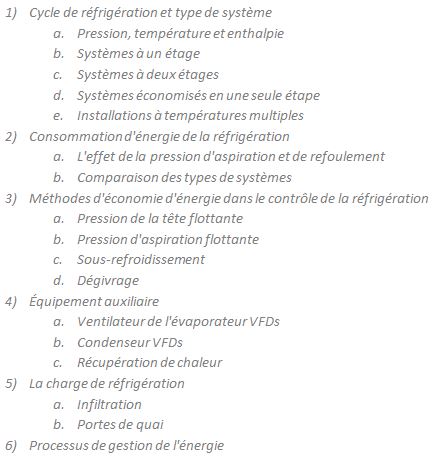 L'inscription se fait selon le principe du premier arrivé, premier servi. L'inscription et le paiement sont exigés sept jours avant la participation à la formation via l'inscription en ligne. Les remboursements ne sont possibles que jusqu'à sept jours avant l'événement. Les frais sont de 200 $ + TVH. Il n'y aura pas d'inscription ni d'acceptation de paiement lors de la formation. L'espace est limité à un maximum de 25 participants inscrits. Le café du matin et le déjeuner seront servis pendant le cours. Veuillez nous contacter si vous avez des besoins spécifiques en matière de repas.
Ce cours est offert en anglais et tout le matériel de cours et les présentations seront en anglais.