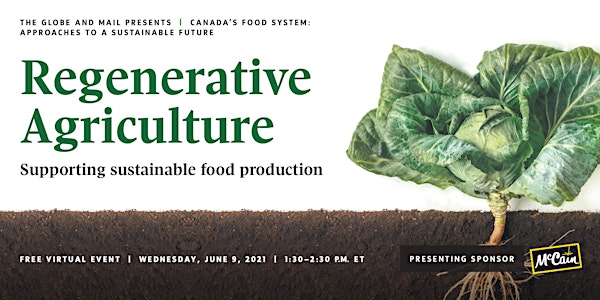 Regenerative Agriculture: Supporting sustainable food production
A discussion of regenerative agriculture and its role in securing farming for the future.
About this event
What does soil erosion mean to the future of farming? Though opinions vary on whether the number of harvests is finite, the consensus is we need better agricultural practices to sustain farming for the long term. What role might regenerative agriculture play? This webcast will explore how regenerative agriculture might support more sustainable food production and climate change action.
For more details, visit www.globeandmailevents.com/regenerativeag
Questions? Email marketing@globeandmail.com.
______________________________________________________________________________________________________
The Globe Events Webcast Terms and Conditions
By registering for this event, you agree to The Globe and Mail's terms and conditions, privacy policy and community guidelines.
Eventbrite shares any registration information you provide with The Globe and Mail. The Globe and Mail may use your email address to send you information about the event, promotions and other products and services. You can unsubscribe from non-essential communications at any time by clicking the link at the bottom of the communication, emailing optout@globeandmail.com, or by calling Customer Service at 1-800-387-5400. Any registration information you provide may also be used for analytics and to deliver relevant content, communications, advertising, promotions, offers and discounts.
The Globe may also share your name, title, and company with its event partners for event management and administration purposes. The Globe will not share your email address with any event partners without your express consent. Any information shared with our event partners will be subject to their privacy policy.
This event will be hosted on a third-party live streaming platform. By registering, you agree to their privacy policy. After registering, you will receive a unique link in advance to access the event online.
If you participate in any event discussions, the standards set out in The Globe and Mail's Community Guidelines apply. As a general rule, questions and comments should be fair and constructive. In short, treat others as you expect to be treated.
The Globe and Mail, 351 King Street East, Suite 1600, M5A 0N1; Phillip Crawley, Publisher