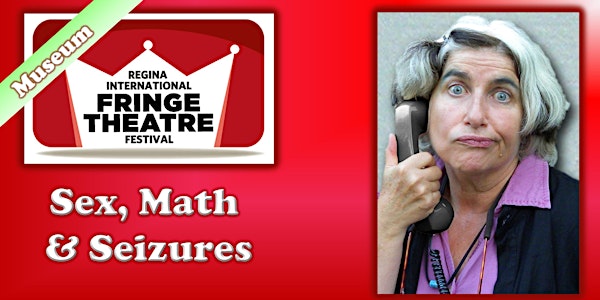 Regina Fringe Festival - Sex, Math & Seizures
When and where
Location
Royal Saskatchewan Museum 2445 Albert Street Regina, SK S4P 4W7 Canada
Description
Produced by: Barbara Selfridge
By: Barbara Selfridge, Featuring: Barbara Selfridge
Length: 60 Minutes
Genre: Solo, Rated: Mature Content 14+
International - Oakland, California USA
Bumper stickers say: "Be kind to your kids. They'll choose your nursing home." Selfridge, at 50, has to choose: her father or the brain-damaged sister he abandoned. Yikes! Also: that surprisingly-witty sister, their surprisingly-racy mother, number theory, and guilt-trips about forgiving absentee fathers. Double-yikes! "... funny, sad, thoughtful stuff... must-see!"
Director: David Ford. Taped pre-show music by a special needs rock band. "Stalking Grace" — Bárbara Selfridge's other solo performance — features her mentor, the writer/activist Grace Paley.
Sunday, July 2, 2017 No Show
Monday, July 3, 2017 7:00 PM
Tuesday, July 4, 2017 5:00 PM
Wednesday, July 5, 2017 1:00 PM
Thursday, July 6, 2017 4:00 PM
Friday, July 7, 2017 8:30 PM
Saturday, July 8, 2017 1:15 PM
No Refunds or Transfers
Eveyone must have a ticket to attend a Fringe Performance.
*Management reserves the right to offer special promotional codes and specials at their discretion, without the refund of any portion of a ticket purchased previously for full price.