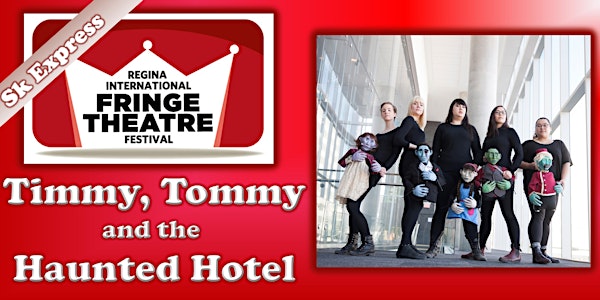 Regina Fringe Festival - Timmy, Tommy & the Haunted Hotel
When and where
Location
Saskatchewan Express Theatre 2272 Pasqua St Regina, Saskatchewan S4T 4M4 Canada
Description
Produced by: Pape & Taper Productions
Written by: Ali DeRegt & Kathryn Smith, Music & Lyrics by Kathryn Smith
Featuring: Ali DeRegt, Haley McDonnell, Camille Pavlenko, Bianca Miranda
Genre: Musical, Rated: General 14+ Some Language
Venue: Sask Express
National - Calgary, AB
Sisters Timmy and Tommy are trapped inside the old Barrington Hotel and must work alongside the ghostly inhabitants if they ever want to make it out alive - or home for dinner. Using original music, humour, and puppetry, Pape & Taper brings a black comedy about death, change, and growing up.
Pape & Taper is a Calgary based puppet theatre company dedicated to unsung heroes, untold stories, and the magical use of tape and paper. Photo by Sean Dennie.
Sunday, July 2, 2017 No Show
Monday, July 3, 2017 7:15 PM
Tuesday, July 4, 2017 1:15 PM
Wednesday, July 5, 2017 9:15 PM
Thursday, July 6, 2017 5:45 PM
Friday, July 7, 2017 3:15 PM
Saturday, July 8, 2017 6:00 PM
No Refunds or Transfers
Eveyone must have a ticket to attend a Fringe Performance.
*Management reserves the right to offer special promotional codes and specials at their discretion, without the refund of any portion of a ticket purchased previously for full price.