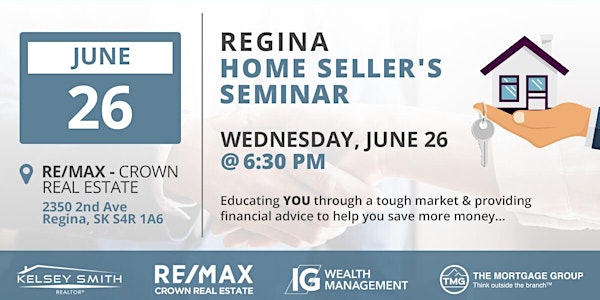 Regina Home Sellers Seminar
When and where
Location
2350 2nd Ave Regina, SK S4R 1A5 Canada
Description
Most people buy a home to kick start their personal investment portfolio. Real Estate can be an incredible asset to assist you in becoming debt free and living your life with the freedom you desire. Ultimately, the goal is to be mortgage free, right?
So, what do you do when you're thinking about buying a bigger home? What about when you're ready to sell your home? What do you do with the equity you've gained to benefit you long term?
This is where advice and information from industry professionals can help you!
Sheri Deibert, a seasoned Mortgage Specialist with The Mortgage Group comes loaded with information about porting a mortgage, bridge financing and more. The mortgage world comes with dozens of questions like "How long should my new mortgage term be? What mortgage rate should I go with? Fixed or Variable interest rates?" Sheri will help you understand which of these options is best for your second home, to help you get to your retirement goals faster!
Kelsey Smith, a Realtor® with Re/Max Crown Real Estate is passionate about helping people win at selling their home and getting the most money possible out of their sale. Kelsey will cover easy cost-free ways to increase your homes market value, how to determine if you should renovate or not renovate and more information about market conditions & closing costs. Your home may be your largest "basket," so knowing how to maximize on this will benefit you for years down the road.
Sam Lichtman, a Registered Retirement Consultant & Level 1 CFP with IG Wealth Management, will be explaining the different options available to you regarding your hard-earned equity and can help you make an educated & informed decision when you decide to sell. You may need to use all the equity in your current home to buy your next, and that could severely handicap your ability to meet your retirement goals. Whether upsizing or downsizing, Sam's information will be extremely beneficial to you when deciding what to do with your home's equity.
This is a non-pressure, information based seminar designed to help set you up for financial success in the future. We are thrilled to be able to bring this seminar to you and we look forward to meeting you!
Kids are welcome.
Coffee & water will be served.
Take home information will be provided!
Limited tickets and seating available for this event.