Reiki Class Level 1 (An opportunity to learn and apply)
About this event
What is Reiki: EXPERIENCE and HANDS ON CLASS.* (note limited amount of participants, next available in January.)
Reiki is an energy healing technique that involves a Reiki master or practitioner using gentle hand movements to guide the flow of healthy energy (also known as life force energy) through the client's body to reduce stress and promote healing.
Reiki is known to reduce daily stress and help with management of some chronic diseases.
During the class you'll learn about Reiki, Reiki history, how Reiki works, the five principles of Reiki, introduction to the chakra system, the many uses and benefits of Reiki, how to facilitate a session for others and yourself.
The course will also include a manual, Reiki I attunements (four) and Reiki Level I certificate of completion.
Attunement, is the process that attunes you to the frequency of Reiki energy, enabling you to channel Reiki energy to yourself and others.
This class is relaxed, fun and interactive. Some people feel Reiki energy for the first time, others don't feel the energy during the attunement or a session, however they experience profound peace and relaxation.
During the class you practice giving treatments to others while they are laying down on a bed or sitting on a chair.
Reiki Level I Certification Includes:
• The history of Reiki
• Receive four initiations
• Knowledge of five principles of Reiki
• Knowledge of the basic uses of Reiki
• Benefits of Reiki II and Reiki III
• Differentiate & experience the hand positions for self-healing
• Differentiate & experience the hand positions to heal others
• Introduction to the Chakra System.
• A Reiki I manual
• A Certificate for your Reiki level attained
. Continued ongoing support after the workshop.
FEE FOR 2DAY workshop is $444.00 CDN.
Please e-mail transfer to: payment with credit card VHMEC by calling 647-478-9029.
A non-refundable $111 deposit is required to secure your spot. In the event of not being able to attend, the deposit can be used towards a future workshop or treatment.
Presenter: Beatriz Marin, is a member of The Canadian Reiki Association, and she has been a spiritual psychotherapist since 2009, graduating from Transformational Arts College in Toronto. In 2003, she was introduced to Reiki and in the same year she completed Reiki level I, followed by Reiki II in 2004. She offers standard Reiki treatments in her practice, where it includes Chakra Balancing, Chakra work, and Chakra workshops, Meditation, and Customized Consultations. In the practice she has found a passion and appreciation for Reiki By 2013, she became a Reiki Master. She now facilitate numerous Reiki I, Reiki II and Reiki III Initiation sessions regularly.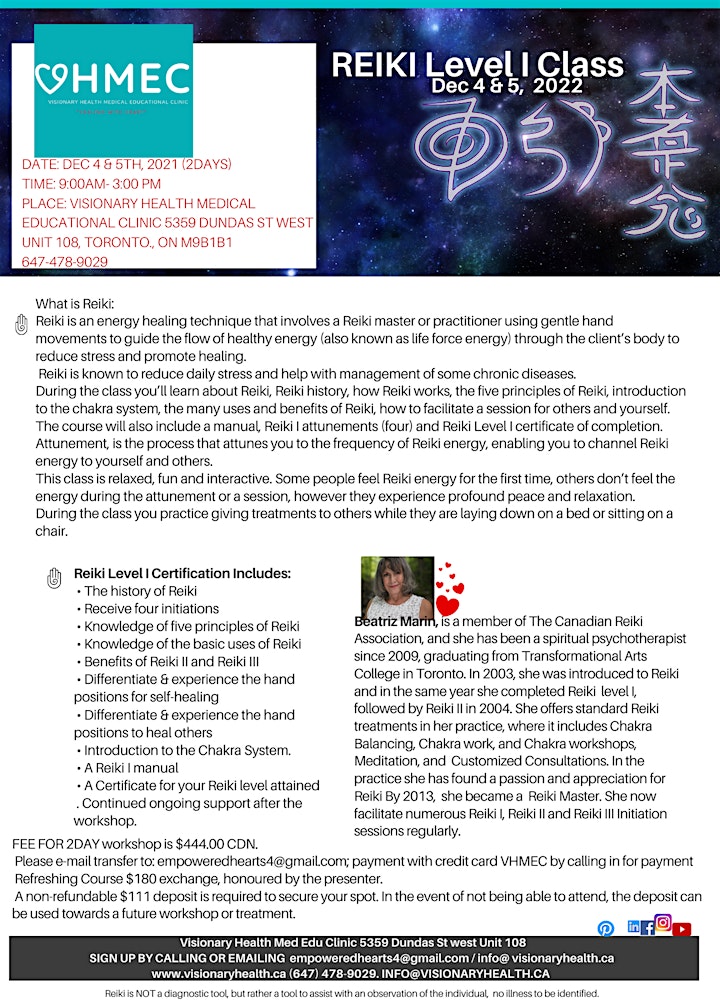 Organizer of Reiki Level I, Hands on Class