Reiki Certification Training in live interactive multi-camera virtual environment, student support materials, 6 Student class sizes
About this Event
Tuition: $147.00
EARLY BIRD TUITION DISCOUNT
Enter discount coupon code earlybird in the registration process and save an additional $40 off your tuition!
INTRODUCTION
Join International Reiki Master/Teacher Russ Littau for an entertaining, enlightening, provocative learning experience of attaining your Reiki Level One Certification. Russ has been teaching these life changing events for over 15 across Canada, United States, Mexico, and the UK. He has spent many hours modifying the curriculum to perfectly resonate with an online teaching environment.
LEARNING ENVIRONMNET
Russ has taken his many years of audio video production and online broadcasting and created the perfect immersive, virtual training space. Your learning adventure takes place in a specially equipment teaching room with multi-camera setup, high quality music and sound, student support materials, interactive chat room and more.
CIRICULUM
History of Reiki & it's founder
General theory of energy healing
Theory of Reiki as a healing modality
Foundations of visualization
The power of imagination
Practical applications of visualization in treating others and your own personal development
Releasing your Baggage" – workshops on releasing emotional memories gently, quickly, and profoundly
Hands on practice time giving treatments on yourself and others
Treating over distance – how to effective treat others whether they're ten feet away or ten thousand miles
Bringing the past and the future into the present – The key to releasing emotional traumas
Treating spaces and places using Reiki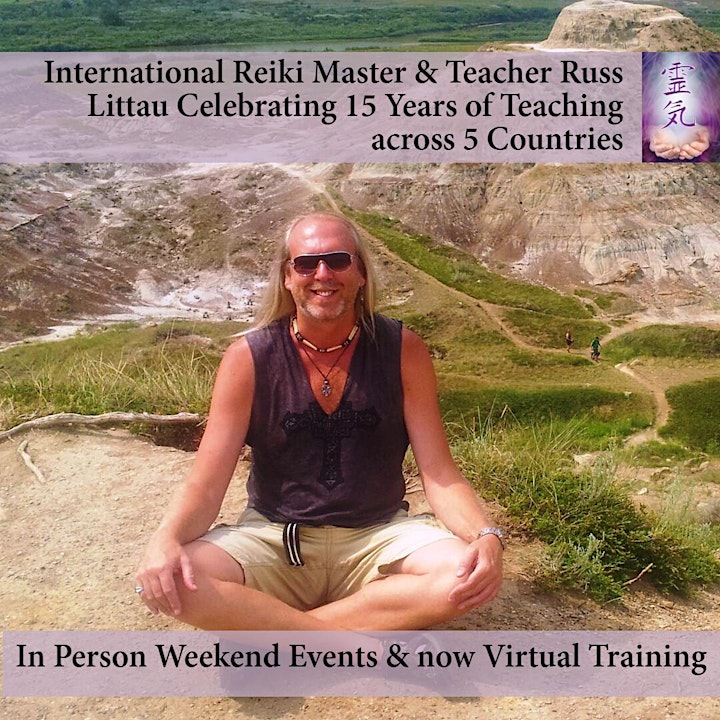 Dear Friend, Thank you so much for taking the time to stop by.
I still remember my first Reiki Certification Training I took like it was yesterday. It was the fall of 2004. Earlier that spring I had been healed of a severe lower back injury through a method I never ever dreamed was possible. A friend of mine, who had been reading a book on energy healing, came over and by gently resting his hands on my lower back initiated a healing process that in two treatments restored my back to the health and vibrance I had once enjoyed but thought I may have lost forever.
That was when everything changed.
I began to explore all areas of energy healing, meditation, energy physiology, and more. I started a weekly meditation group and have conducted over 200 meditation gatherings. After taking my initial Reiki levels in 2004 I became a Reiki Master and Teacher and taught my first certification class in December of 2005. Since that time I have taught hundreds of students through out Canada, the United States, Mexico, and the United Kingdom.
Sharing what I have learnt with people just like you is not a 9 to 5 job for me. It's not something I do. It's what I am here to do. For myself and my team it truly is a way of life. If you have come this far, I encourage you to take the next step and register for our next workshop(s) in your area. I assure you that it is not a mistake that you are here.
Russ
BONUS' AND DISCOUNTS
BRING A FRIEND - Invite a friend to embrace the Reiki experience with for only $37.00! The Bring a Friend options allows one friend to share your seat in the virtual training room with a 80% discounted tuition. NOTE: They will not have their own seat in the virtual training room but will share yours.
ATTEND AN IN-PERSON EVENT - for $100.00. While these are indeed challenging times and in-person events have been difficult the storm will pass and our in-person training will increase. As this happens you are welcome to be our guest for only $100. Typically tuitions for our weekend sessions are $577.00. That's a savings of $477.00!
ATTEND 2 REIKI PRACTITIONERS REFRESH AND RECHARGE VIRTUAL GATHERINGS FREE - On a regular basis we hold Refresh and Recharge events for our practitioners. The cost for these is $25, however you will received 2 free passes for the event.