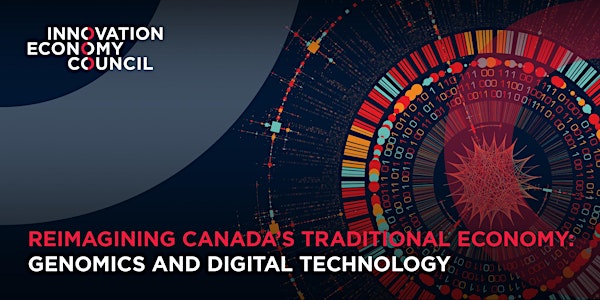 Reimagining Canada's Traditional Economy: Genomics and Digital Technology
Join us to hear how digital technology and genomics can reimagine Canada's traditional economy.
About this event
LOCATION
Vimeo: https://vimeo.com/showcase/iec
Join us on December 13 for a virtual broadcast exploring the opportunity to reimagine traditional economies through digital technologies, genomics and biomanufacturing.
PANEL 1:
Canada's 21st-century story is a tale of two economies: its traditional sectors like forestry, mining, energy, steelmaking and agriculture, and innovation sectors like advanced manufacturing, pharmaceuticals and biotech.
While traditional sectors play a critical role in our economy, they are looking for ways to modernize through technology, reduce their carbon footprint and operate more efficiently. This discussion will explore the opportunities for Canada's traditional powerhouse industries to embrace the innovation, digitization and modernization needed to compete in the fast-moving waters of international commerce.
PANEL 2:
Climate change is often framed as a choice between protecting the environment and promoting economic growth — but it doesn't have to be. Embracing change and economic prosperity can go hand in hand. Take genomics, for example. Mapping the human genome led to life-changing medical breakthroughs, like the rapid development of mRNA vaccines.
Genomics and biomanufacturing can also help Canada's most important sectors meet emissions targets while delivering economic impact. With the right vision, strategy and investment, we won't have to choose between growth and the environment.
AGENDA
12:05-12:35 p.m.
Panel 1 — Lift All Boats: The opportunity in digitizing Canada's traditional industries
Panelists:
Jean-Charles Fahmy — President and CEO, Canada's CENGN
Stephanie Holko — Director, Project Development, NGen
Mariam Awara — COO, Pulsenics
Avi Bhargava — Co-founder and CTO, Ukko Agro
12:40-1:10 p.m.
Panel 2 — Clean DNA: How genomics can reduce emissions and drive economic growth for Canada
Panelists:
Bettina Hamelin — President and CEO, Ontario Genomics
Warren Mabee — Associate Dean and Director, School of Policy Studies, Queen's University
Fei Luo — Co-founder and CEO, Liven Proteins
Sandra Dworatzek — Principal Scientist, SiREM
1:10-1:15 p.m.
Audience Q+A
WHO SHOULD ATTEND
People who work in cleantech, health tech, enterprise ventures, and advanced manufacturing and materials.
TICKET PRICE
FREE
PARTNERS/SPONSORS
Canadian Business