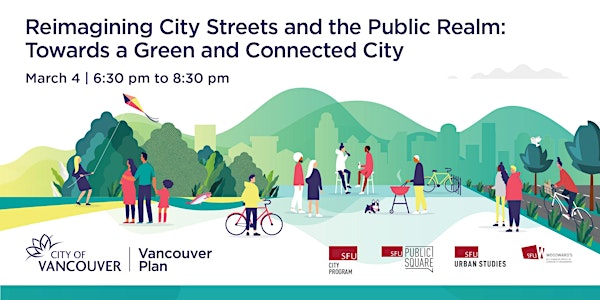 Reimagining Streets and the Public Realm: Towards a Green & Connected City
Part of The Future We Want: The Change We Need series, hosted by the City of Vancouver in partnership with SFU
About this event
Vancouver benefits from an amazing natural backdrop, with the North Shore mountains, forests, and connection to water around the city. However, through its past colonial actions, the City of Vancouver has removed almost all of the pre-existing natural environment, along with the narratives of these lands' Indigenous stewards, and we now rely on human-built systems to sustain ourselves.
Much of the city's public life, and how we collectively experience our own communities, occurs on streets, parks and plazas. This connection with public spaces has been recently and vividly highlighted by the pandemic, with inclusive access to these spaces becoming more important than ever before. Streets are a critical component of these public spaces, but the amount of space given to public life, sustainable transportation and rainwater management is limited, and our transportation networks remain centred around cars.
With over 30% of the city dedicated to streets and 11% of parks, how can we reimagine these lands to better serve our collective needs?
How can we rebalance our relationship to nature and retroactively re-shape the city based on ecological principles and acknowledging local First Nations values and traditional knowledge?
How can we transform "publicly controlled spaces and places" so they are centred on equity and in direct partnership with local Indigenous communities?
How do we restore the city's natural systems, water cycle and biodiversity?
How do we create more opportunities for recreation and strengthening community cohesion?
How do we manage the effects of climate change, including more frequent and intense storms, sea level rise in low lying areas, drought and heat island effect, and threatened drinking water supply?
Join us at the fifth event of The Future We Want: The Change We Need series as we discuss the stewardship of Vancouver's public realm, a major contributor to our identity. A panel of local and international thinkers will offer their insights on the future of the streets, places and spaces that shape Vancouverites' everyday experience of their city. Please bring your ideas to contribute as well, as we continue on with Planning Vancouver Together.
Speakers
Rosalind Campbell is from xʷməθkʷəy̓əm (Musqueam) where she is an elected councillor. She is also a lawyer whose practice in the area of Aboriginal Law has included corporate, commercial and governance. Rosalind has volunteered as board director of several non-profit organizations that support Canada's indigenous peoples in the areas of live performance, education and social services for indigenous women and children, along with committees of several provincial government entities to assist with their implementation of some of the Truth and Reconciliation Commission's Calls to Action, UNDRIP principles and MMIWG2S Inquiry recommendations.
Zahra Ebrahim is the CEO of Monumental, an organization dedicated to supporting an equitable recovery from COVID-19. She is a public interest designer and strategist who has led organizations in the social and private sector that design and deliver participatory and equity-centred approaches to policy, service, and infrastructure development. She is an Adjunct Professor at the University of Toronto, the Chair of the Board of Park People, and the Vice-Chair of the Canadian Urban Institute.
Larissa Grant is Title & Rights Floor Manager for the xʷməθkʷəy̓əm (Musqueam) Nation.
Deborah Harford is the Executive Director of ACT (Adaptation to Climate Change Team), where she is responsible for development of the initiative's pioneering vision and its partnerships with the public, private and philanthropic sectors, as well as overall management of the program. She directs and produces ACT's research and policy recommendations designed to advance effective, sustainable adaptation strategies at all levels of government and across sectors, as well as communication and promotion of the program's outcomes.
Gil Penalosa is the founder and chair of the board of the successful Canadian non-profit organization 8 80 Cities. He is also chair of the board of World Urban Parks, the international representative body for the city parks, open space and recreation sector.
Alyssa Schwann co-directs a landscape architecture and public art practice undertaking research, design, and advocacy in the areas of cultural landscapes, landscape conservation, and ecological wisdom. Her professional experience includes practice in Canada, Britain, and the Netherlands, with projects in North America, Europe, and North and South Africa. She is also a public policy researcher working with northern tribal and territorial governments. In 2013/2014, she was named an Action Canada Fellow. Alyssa is based in Vancouver, BC, and Berkeley, CA, USA.
Tracy Tackett is the Grow Green Stormwater Infrastructure Initiative Manager for Seattle Public Utilities, with over twenty years of drainage and wastewater project experience. Throughout her career, she has worked to incorporate sustainability goals with other City goals. As the GSI Initiative Manager, Tracy provides strategic direction and program oversight programs, projects and policies influencing the Drainage and Wastewater portfolio ($1.5B 2020-2026), including projects for stormwater conveyance, sanitary sewer overflow reduction, CSO reduction, water quality improvement.
T'uy't'tanat-Cease Wyss' diverse heritage includes Skwxwu7mesh, Sto:lo, Irish-Métis, Hawaiian and Swiss. An artist, she has extensive experience producing various formats of media art for almost 30 years, and works as an ethnobotanist with traditional training by Indigenous elders.
Presenter
Lon LaClaire is the General Manager of Engineering Services and has worked at the City of Vancouver for 23 years. With annual budgets totaling over $500 million and 2,200 staff, he is responsible for the design, construction, operation and maintenance of this world class city's public works infrastructure. His department is also mandated with a variety of planning and regulatory functions and plays a central role in the day-to-day functioning of the city. As the largest city department, Engineering delivers a complex array of essential public services while implementing an ambitious policy agenda to become the greenest City in the world.
Moderators
Meg Holden is professor and director of the urban studies program and professor in the department of geography at SFU. Meg is an urban environmental pragmatist. Her engaged research program examines urban policy, planning and social aspects of sustainable development intentions and transitions in cities and communities, with foci in value-based measurement and indicators, community well-being and livability, neighbourhood housing, planning and experience, and local democracy and justice.
Andy Yan is the director of The City Program at Simon Fraser University. Born and raised in Vancouver, Andy Yan has extensively worked in the non-profit and private urban planning sectors with projects in the metropolitan regions of Vancouver, San Francisco, New York City, Los Angeles and New Orleans. Andy is a registered professional planner with the Canadian Institute of Planners. He is also an adjunct professor in Urban Studies at SFU as well as an adjunct professor in the School of Community and Regional Planning at the University of British Columbia.
About the Series
The future we want will not be achieved by applying the solutions of yesterday to the challenges facing our city and communities today. In collaboration with Simon Fraser University, the City of Vancouver presents The Future We Want: The Change We Need — a free, online, interactive dialogue series that brings together new and varied perspectives and ideas to shape the transformative social, economic and physical changes we need.
This series will invite knowledge keepers, thought leaders, changemakers and community members to discuss, deliberate and share their thoughts on the future of the City of Vancouver. These dialogues will contribute to the Planning Vancouver Together planning process, informed by policy analysis, scenario development and public engagement, to create a new, long-term strategic citywide plan looking to 2050 and beyond.
Each of the six conversations in this series will address the biggest challenges standing in the way of achieving our goals; and new ideas – big and small – to help unlock our collective potential as a truly just, resilient, sustainable, affordable and culturally vibrant Vancouver.
________________________________________________________________________________________________
PARTNERS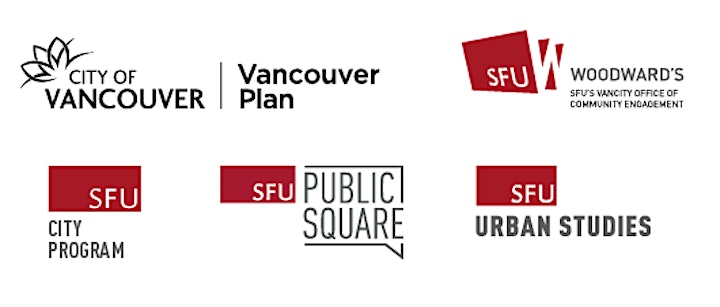 ________________________________________________________________________________________________
ACCESSIBILITY, TECHNOLOGY AND PRIVACY
Accessibility
Closed captioning and ASL-EN interpretation will be available for this event.
Registration and password
A password to access this webinar will be sent to all registrants via email in the days and hours preceding the event.
Technology requirements
This workshop will be presented in a participatory webinar format. To engage fully you will need:
A laptop, computer, or smartphone
A webcam
A microphone
Speakers or headphones
Protecting your privacy
To ensure that we are using online meeting technology in a privacy-conscious way, we are following best practices for this online event series:
We will only circulate the meeting link to those who are registered for the event
We will password protect the meeting
We will enable end-to-end encryption
We will not use attention tracking
We will ask that participants use their first and last name as their display name on the webinar, so we can check incoming participants against the event registration list
To protect your own privacy we suggest that:
You use a unique email address to log into the webinar. This is so that the webinar platform can't cross-reference your profile with the rest of your digital profiles under your email address.
We suggest you do not use your Facebook profile to log into the webinar. This is so that the webinar platform can't cross-reference you with your Facebook account.
We remind you that whatever you say in the webinar is public and recorded, so please do not share sensitive information about yourself or others, and do not say anything you do not wish to enter the public domain.
To protect the privacy of others we ask that:
You do not record or photograph yourself, other participants, or the hosts during the webinar, unless permission is requested and given.
If you have any questions, concerns, or comments regarding this event's accessibility or privacy, feel free to connect with us at psqevent@sfu.ca.
________________________________________________________________________________________________
Commitment to community guidelines and social accountability
All participants are asked to participate as socially accountable community members. We ask that you provide your full name as your display name during the online meeting and that you review our community guidelines ahead of your participation in the event. This is to ensure the safety of our guests and speakers as well as foster honest and accountable dialogue between people in this space. Thank you for respecting our community guidelines!
Above all, there will be zero tolerance for those who promote violence against others on the basis of race, ethnicity, national origin, sexual orientation, gender identity, religious affiliation, or different ability. Anyone who incites harm towards other participants (be it through the chat, video or audio functions) will be removed at the discretion of our technical team and moderator.
Be as present as possible (put away phone, close/mute tabs).
Thoughtful questions are welcome in the chat throughout the session. If your question is for a particular speaker, type "@name" at the beginning.
Respect the opinions of others. Every participant brings information, points of view and ideas to contribute.
Don't assume pronouns/gender/knowledge based on someone's name or video image. We can refer to people using the usernames they provide!
Step up, step back: if you've asked a question or shared a comment, ensure that new voices are heard before you contribute again.
Practice self-care: if you need to get up or take a break, please feel free.