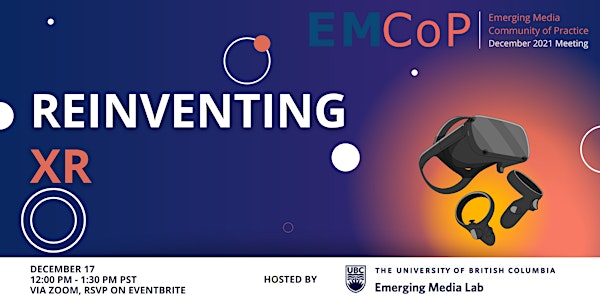 Reinventing XR
Join Patrick Pennefather, Farhad Dastur, and Debi Wong to learn about opportunities to implement VR/AR in education and research.
About this event
EM CoP is evolving and increasing our focus on building a strong network & bringing opportunities to collaborate across different communities that care about the role of virtual / augmented reality in education and research.
We'll be having a panel discussion with a few members of our newly forming steering committee on Growing our EM CoP Community, and presentations from Farhad Dastur from KPU, Debi Wong from re: Naissance Opera, and Patrick Pennefather from UBC / CDM.
Zoom link will be posted soon!
Our speakers:
Patrick Pennefather, Ph.D - Assistant Professor at UBC Department of Theatre and Film and shared with the Master of Digital Media Program (Co-owned by UBC, SFU, BCIT, and ECUAD)
Patrick, recently appointed at UBC's Theatre & Film program in Production and Design, is passionate about bridging partnerships between various stakeholders in the academic, cultural, service, and digital media industries. He's developed a successful rapid prototyping methodology focused on mentoring teams co-constructing scalable digital prototypes with over 45 companies and organizations (Microsoft, EA, Ubisoft, Blackbird, Finger Foods, Kabam, and more) over the past ten years with sessions focused on aligning priorities, research initiatives, vision, strategy, problem-solving and scalability. His research interests and scholarly activities are focused on rapid prototyping for mixed realities as well as designing spatial audio in physical and virtual environments.
Farhad Dastur - Faculty Member & Principal Investigator, KPU Virtual Reality Lab
Farhad strives to live the good life; to serve his community; to inspire others to greatness, and to aspire to the greatness of others. Farhad's passion-work is the creation and delivery of educational experiences that speak to the emotional and intellectual lives of learners. The organizational house he wants to build and work in values integrity, honesty, and collaboration. It is a house where creativity flourishes, where contributions are honored, and where diversity of thought, experience, and identity are welcomed.
Debi Wong - re:Naissance Opera
Debi is currently artistic director of re:Naissance Opera, a Vancouver-based indie-opera company. With re:Naissance she created and produced the interactive social media opera, #DidoAndAeneas, which addressed cyberbullying, and her adaption of the Baroque opera, Acis & Galatea was recognized as one of "Vancouver's Best Operas" by Vancouver Classical Music. This year at re:Naissance, she spearheaded Canada's first Opera Hackathon which brought together technologists and opera creatives to "hack" the medium of opera. She also launched Live From The Underworld, a new interactive and operatic live stream series that uses real-time motion capture to depict mythological avatars that respond to audience input. Debi is also the creative director and co-creator of OrpheusVR, a choose-your-own-adventure, virtual-reality opera that was featured at the Vancouver International Film Festival in 2020. Other co-creations include: Tap Ex: Augmented Opera (2019) for Tapestry Opera in Toronto which was hailed as an "experimental success" by the Globe and Mail and The Apocrypha Chronicles, the award-winning podcast that uses science-fiction and audio-documentary to depict a futuristic world. Debi is a graduate of Yale University (M.Mus) where she studied vocal performance she is currently a doctoral candidate at The University of the Arts Helsinki.