Description
What you need to know about Rejuvenate 2019, updated Dec 29th.
Plenty of Advance $25 tickets available
Tickets available at the gate nightof
Free Transit, New Westminster Skytrain Station
Kids 7 and under free
Kids 8 - 14 $10, tickets at the gate.
FREE Child-minding in a secure play room


Timeline
6:00 pm, Main Ball Room Doors open
6:30 pm, Child-minding Services Open
7:00 pm, Dinner (Sold Out)
9:00 pm, Upstairs Dance Floor opens with Djs
9:00 pm, All Tickets All Acces
9:30 pm, Fashion Show/drag Show
10:00 pm, The Timebenders Live Las Vegas Style show
12:00 am, Midnight Countdown


Ring in the New Year with us! - Everyone Welcome.
About the TimebendersLadies and Gentlemen, tonight's entertainment is one of the most unique groups in North America. They're one part Las Vegas Show, 1 part Dance party and 2 parts fun. For over 20 years the Timebenders have been filling dance floors all over North America. They have performed from Florida to Acapulco, to Hawaii, to Alaska and everywhere in between, including the private 5000 square foot rumpus room of Bill Gates.Get ready for a "Rock down Memory Lane" with the best hits and stars over the past 60 years
We're excited to present the Timebenders!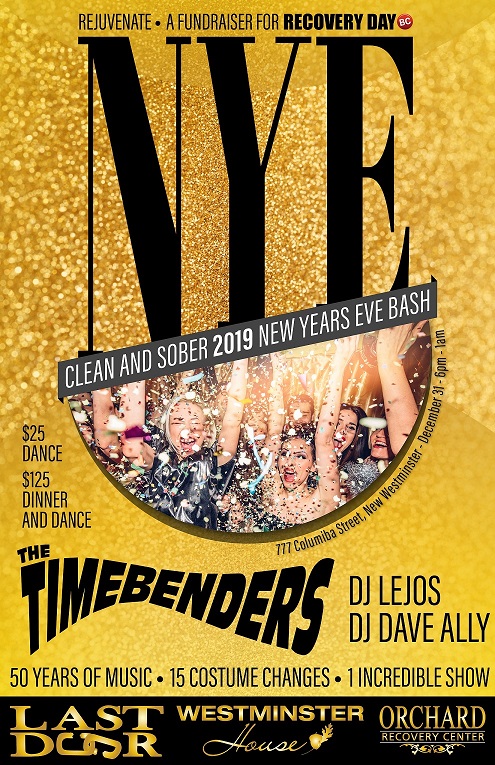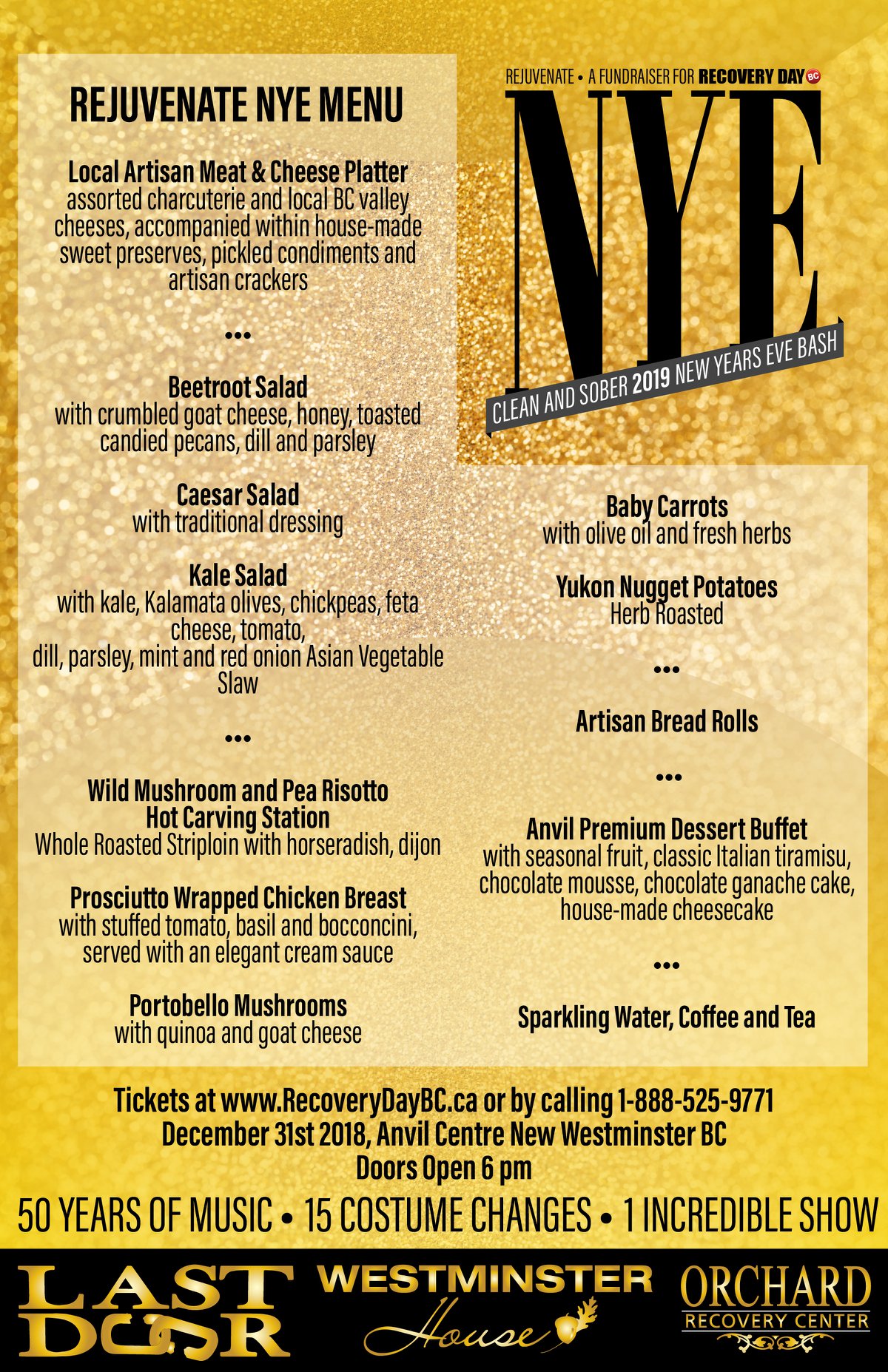 Rejuvenate New Year's Eve Menu

Local Artisan Meat & Cheese Platter
assorted charcuterie and local BC valley cheeses, accompanied with in house-made sweet preserves, pickled condiments and artisan crackers

......

Beetroot Salad
with crumbled goat cheese, honey, toasted candied pecans, dill and parsley

Caesar Salad
with traditional dressing

Kale Salad
with kale, Kalamata olives, chickpeas, feta cheese, tomato, dill, parsley, mint and red onion Asian Vegetable Slaw

……

Wild Mushroom and Pea Risotto

……

Hot Carving Station
Whole Roasted Striploin with horseradish, dijon

Prosciutto Wrapped Chicken Breast
with stuffed tomato, basil and bocconcini, served with an elegant cream sauce

Portobello Mushrooms
with quinoa and goat cheese

Baby Carrots
with olive oil and fresh herbs

Yukon Nugget Potatoes
Herb Roasted

......

Artisan Bread Rolls
Organizer of Rejuvenate New Year's Eve - A Fundraiser for Recovery Day BC
Recovery Day BC organizes the annual Recovery Day BC Festival. 
Whether you are in recovery, an ally to someone who is in recovery, or want to celebrate New Years in a substance free environment, come to our New Year's Eve Event.
This is a substance-free, wicked-awesome and family-friendly event with two dancefloors, amazing food and live entertainment.