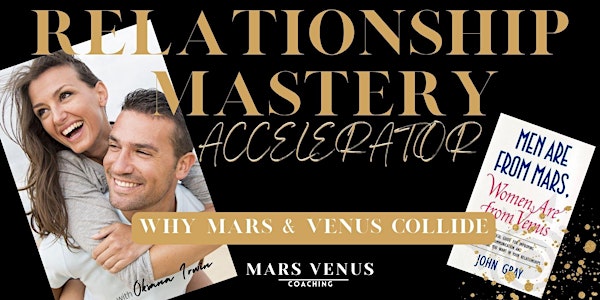 RELATIONSHIP MASTERY ACCELERATOR, Lethbridge
CATAPULT YOUR RELATIONSHIP FROM STRUGGLES AND CHALLENGES TO PEACE, LOVE, HARMONY AND CONNECTION.
When and where
Location
Lethbridge Virtual via Zoom Lethbridge, AB T1J 2J7 Canada
About this event
Why so many relationships that have every potential to blossom and thrive often end up struggling?…
Is a mystery to most people.
I used to be confused about that too, but not anymore.
Now I know EXACTLY why some relationships THRIVE and others STRUGGLE and often face a sad yet very common reality of ending up in a messy breakup after months or years of arguments, dissatisfaction and bitterness.
… When it comes to relationships, people want love, passion, peace and harmony but instead, are constantly bumping into disagreements, frustrations, and arguments.
… They crave happiness, intimacy and aliveness, yet instead, feel constantly stressed, frustrated, and disappointed…
…They want to be feeling loved and appreciated in their relationships but instead grow distant and resentful because their partners take their effort, love and care for granted.
...They want connection and intimacy, but nobody teaches them how to create that and they end up bitter, resentful, and angry at their partners.
…They want more support, appreciation, and understanding but don't know how to ask for it in a way that is understood and reciprocated and end up feeling lonely and disconnected.
YOU MIGHT BE ONE OF THOSE PEOPLE WHO HAS BEEN STRUGGLING WITH YOUR RELATIONSHIP.
UNTIL NOW!
In this RELATIONSHIP MASTERY ACCELERATOR Workshop, I am going to show you how easy it is to shift your relationship away from struggles toward harmony and peace by using gender-intelligent insights.
This workshop is based on Dr. John Gray's book "Why Mars and Venus Collide" you will begin a journey of improving your relationships by understanding how men and women cope with stress differently and how THAT impacts your relationships.
WHEN: MONTHLY (check the dates)
WHERE: Zoom link will be provided upon registration.
********** **** *********
HERE'S A QUICK SNEAK PEEK OF WHAT WE'LL COVER:
Uncover The Unexpected Factors That Negatively Impact Good Relationships
Anatomy Of the Sexes & Thriving Relationships
The Science Of LOVE
********* *** **********
In just 2 hours, you'll walk away with an array of SOLUTIONS that you can apply IMMEDIATELY in your life and relationship that will catapult you from struggles and challenges to fulfillment, peace and harmony.
***** *** ******
IN THIS COURSE, YOU WILL ALSO LEARN:
How to avoid the most common mistakes most couples make in relationships.
∙ How to create more harmony and connection in your relationship.
∙ How to become more attractive to the opposite sex without losing 10 lbs.
∙ Why do men disappear 'out of the blue' and stop communicating.
∙ How do your emotions impact your hormones and intimacy.
∙ What women can do to turn their mood around and naturally boost their happy hormones without relying on men, pills or supplements.
∙ When is a good time to leave a man alone to get what you *actually* want in your relationship.
∙ How to give yourself an unfair advantage over other women and become a MAGNET to the opposite sex so men will be insanely attracted to you and only you. (It's magick!)
Register Now and start enjoying a relationship you love.
* You will receive an email with a Zoom link after your registration.
I can't wait to see you on the inside!