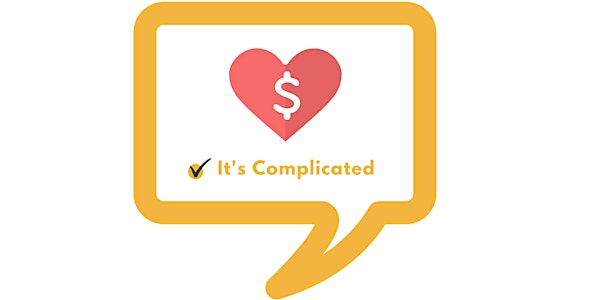 Relationship with Money Status: It's Complicated
Hear unique stories about what has influenced and transformed 5 local entrepreneurs' relationship with money.
When and where
Location
Groundswell Clubhouse 421-268 Keefer Street Vancouver, BC Canada
Refund Policy
Contact the organizer to request a refund.
Eventbrite's fee is nonrefundable.
About this event

So you want to liberate yourself from that job of building someone's else's dream to build your own. We're in an economic shift and entrepreneurship, freelancing, and self-employment are on the rise - get ready to set your own fees and cut the middle man out of the exchange (aka your work for pay!). But dealing with money involves more than rational decision making. Sometimes we can feel it in our gut, we avoid talking about it, we carry with us misguided experiences with money from our youth….
Here at Groundswell, over 200 individuals have designed their business with the skills, tools and mentorship delivered in our social venture programs. And we've realized that there's a lot more to dealing with money than just the technical skills. Underneath, our personal relationship with money exists, which is, let's face it, a complicated one for most of us.
Narratives about having money, making money, sharing money, spending money, are all shaped by pivotal people and experiences in our lives. How does self-esteem, culture, family, class, gender and race play a role in shaping our narrative around money? These factors directly affect how we price, position and budget, so why aren't we talking about it? At Groundswell we are, and our panelists are ready to share their unique stories about what has influenced and transformed their relationship with money throughout their entrepreneurial journeys.
PANELISTS
Madeleine Shaw is the co-founder of Lunapads, a sustainable personal care products manufacturer and e-retailer; creator of G Day, a national rite of passage celebration series for tween girls and their Champions; and founder of Nestworks, a family-friendly shared workplace concept. She is a graduate of Queen's University, BCIT and the THNK School of Creative Leadership and blogs about her adventures in social entrepreneurship at Lunagals. Groundswell mentor.
Conlan Mansfield is a coach, athlete, and entrepreneur. He runs a gym & martial arts school in Chinatown. The central question he's trying to answer through his work is, "how can movement change lives & transform communities?" In order to answer that question, Conlan uses fitness & martial arts to forge relationships between Indigenous & Settler community members. Groundswell alumni.
Iona Fresnoza believes in the power of meaningful, purpose-led work. This is why she keeps both a full-time job (with a non-profit) and a full-time social venture. Iona co-founded Kapé, a social enterprise promoting ethically sourced coffee from Philippine Indigenous women coffee farmers. Kapé aims to not only make a positive impact on livelihoods in her homeland, but to contribute to the conversation on immigration, heritage, and identity. A recovering caffeine-dependent human who used to drink 6 cups of coffee a day, she has also started discovering the magic of herbal tea and occasional decaf espressos. Groundswell alumni.
Joleen Mitton's modeling career has landed her spots in campaigns for the likes of Kenzo, Clinique, and Vivienne Westwood, on countless runways in Asia, and in print ads for everything from high-tech air conditioners to Hello Kitty paraphernalia. Now Mitton, founder of the upcoming Vancouver Indigenous Fashion Week! Turtle Island First Indigenous Fashion week! Owner/Operator of All My Relations LTD and Vancouver Indigenous Fashion Week, a company that produces Indigenous Fashion shows with clothing designed by local Indigenous Designers and worn by models of First Nation/Metis and Inuit descent.
Although Joleen loved the art aspect of the fashion world she didn't always agree with it and wanted more substance in her life. Now residing back in Vancouver at Skwachàys as an artist and resident where she's dedicated to working with Indigenous communities through numerous non-profits; connecting through art, fashion and understanding. Groundswell supporter.
Oona Krieg has a complex history which includes sex work and drug use, homelessness and violence. These experiences led Oona to develop her skills in anti-racism anti-poverty, anti-colonial settings. For the past 15 years she has been consulting, organizing, facilitating, grant writing, fundraising and developing community programs with the intent of reducing impacts of poverty, violence and lack of opportunity. Motivated by personal loss and professional frustration from the fentanyl crisis, Oona has turned her tremendous skill sets to Brave Tech Coop because she believes in Brave mission as an organization and sees the importance of tech built by and for at-risk community members. Groundswell supporter.
Dan Ariely has provided us with a short video made for this event about everyday changes we can make to improve our relationship with money. His work asks:
Despite our intentions, why do we so often fail to act in our own best interest? Why do we promise to skip the chocolate cake, only to find ourselves drooling our way into temptation when the dessert tray rolls around? Why do we overvalue things that we've worked to put together? What are the forces that influence our behavior? Dan Ariely, James B. Duke Professor of Psychology & Behavioral Economics at Duke University, is dedicated to answering these questions and others in order to help people live more sensible – if not rational – lives. His interests span a wide range of behaviors, and his sometimes unusual experiments are consistently interesting, amusing and informative, demonstrating profound ideas that fly in the face of common wisdom.
In addition to appointments at the Fuqua School of Business, the Center for Cognitive Neuroscience, the Department of Economics, and the School of Medicine at Duke University, Dan is also a founding member of the Center for Advanced Hindsight, and the author of the New York Times bestsellers Predictably Irrational, The Upside of Irrationality, and The Honest Truth About Dishonesty. Groundswell supporter.
HOSTS
Gilad Babchuk has extensive experience establishing, developing and running various organizations, and has founded or co-founded over 15 social enterprises, academic programs, and NGOs both as an educator and social entrepreneur. Groundswell co-founder.
Paola Qualizza brings authenticity to radical movements and projects in the local economy. As Managing Director of Groundswell, she orchestrates the building of vibrant social ecosystems that liberate people to pursue their creative ventures and livelihoods. Groundswell co-founder.
~
Relationship with Money Status: It's Complicated is part of Groundswell's Doing it Differently speaker series and is presented in partnership with Vancouver Economic Commission.
~
Accessibility & Getting Here
Groundswell is wheelchair accessible, with elevator access to the 4th floor of the Sun Wah building from the lobby. Washrooms are gender neutral and wheelchair accessible.
From the lobby, take the elevator up to the 4th floor and head down the hallway to your right. Do not take the escalator up from the lobby unless you like figuring out mazes!
The Sun Wah parking garage is locked at 7 pm so if you are driving, please find street parking.