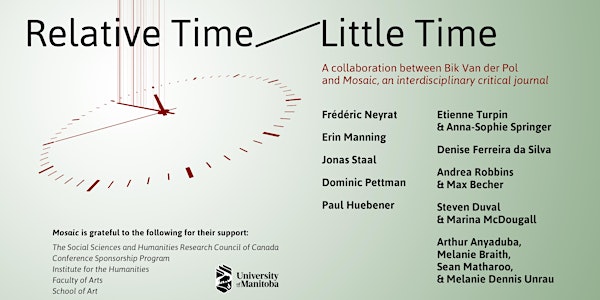 Multiple dates
Relative Time/Little Time Speaker Series - Week Two + Roundtable Talk 2022
In collaboration with Bik Van der Pol, Mosaic, an interdisciplinary critical journal invites you to join us for a series of digital lectures
By Mosaic - An Interdisciplinary Critical Journal
When and where
Date and time
Thu, Feb 3, 2022 10:30 AM - Mon, Feb 7, 2022 1:00 PM PST
About this event
In collaboration with Bik Van der Pol, Mosaic, an interdisciplinary critical journal invites you to join us for a series of digital lectures via Zoom on what we have called relative time/little time. The lectures concentrate on the different granularity of current time relative to the period beginning in 1989, which marked a decisive acceleration of economy, growth, extraction, globalism, movement, population, transportation, etc., and ending in 2020, when over a few weeks the world came to a halt under the influence of the pandemic that spread as rapidly and widely as people, commodities, and capital once moved.
For more information and to view past lectures, visit our website.
1. WHEN REGISTERING, MAKE SURE TO PICK THE APPROPRIATE DATE FOR THE LECTURE YOU WISH TO ATTEND.
2. YOU WILL FIND THE ZOOM LINK IN YOUR CONFIRMATION EMAIL.
Dominic Pettman
"The Observational Eros: Time, Libido, and the Attention Ecology"
Thursday, February 3, 2022 at 12:30pm CST
Dominic Pettman is Professor of Media and New Humanities at the New School of Social Research. His books include, After the Orgy: Toward a Politics of Exhaustion (2002), Avoiding the Subject: Media, Culture and the Object(with Justin Clemens, 2004), Love and Other Technologies: Retrofitting Eros for the Information Age (2006), Human Error: Species-Being and Media Machines (2011), Look at the Bunny: Totem, Taboo, Technology (2013), In Divisible Cities (2013), Infinite Distraction (2015), Humid, All too Humid (2016), Sonic Intimacy: Voice, Species, TechnicsCreaturely Love (2017), Metagestures (with Carla Nappi, 2019), and Peak Libido: Sex, Ecology, and the Collapse of Desire (2020).
Steven Duval and Marina McDougall
"Art's Ecosophical Imperative"
Friday, February 4, 2022 at 1:00pm CST
Marina McDougall is a curator working at the intersection of art and science, nature and culture, who specializes in interdisciplinary approaches in public educational environments. She was the founding director for the Center for Art & Inquiry at the Exploratorium. McDougall was the first curator of art and design at the CCA Wattis Institute for Contemporary Arts and co-founded the Studio for Urban Projects. She has been a visiting curator at the MIT Media Lab, the Museum of Jurassic Technology, the California Academy of Sciences, and the Oakland Museum of California. Steven Duval is an artist, educator, and researcher and specializes in the relationship between specialist and non-specialist identities in relational and collaborative art practice. He has shown his work nationally and internationally including the Gwangju Biennale, Nuit Blanche Paris, the Pistoletto Foundation, and Apexarts. He is also a founding member of the pedagogical research collective Protoacademy. With David Cateforis and Shep Steiner, Duval co-edited Hybrid Practices: Art in Collaboration with Science and Technology in the Long 1960s (2019). Duval and McDougall are working on a Green New Deal workshop in collaboration with the Slought/Public Trust in Philadelphia.
Emerging Scholars Roundtable
Monday, February 7, 2022 at 1:00pm CST
Chigbo Arthur Anyaduba
"'A Great Universal Future Equitably Open to All Peoples, All Nations, and All Species': Decoloniality Beyond Openness"
Dr. Chigbo Anyaduba is an assistant professor in the English Department at the University of Winnipeg. His teaching and research interests focus broadly on African and Black/African diaspora literatures. His current research explores the cultural representations of genocidal mass atrocities in Africa. Anyaduba is the author of The Postcolonial African Genocide Novel: Quests for Meaningfulness (Liverpool University Press, 2021).
Melanie Braith
"Learning from the Six Seasons: Research with the Asiniskaw Īthiniwak"
Dr. Melanie Braith is the Project Manager of the Six Seasons of the Asiniskaw Īthiniwak Partnership Project, and the Research Coordinator for the Centre for Research in Young People's Texts and Cultures at the University of Winnipeg. She holds a PhD in Indigenous literatures from the University of Manitoba and her research focuses on traditional Indigenous storytelling and its contemporary manifestations and reinventions. Melanie is a settler scholar from Germany who lives and works in Winnipeg.
Sean Singh Matharoo
"An Artificial Anthropology of Noise"
Dr. Sean Singh Matharoo is a Postdoctoral Fellow of French in the Department of Romance Studies at the University of North Carolina at Chapel Hill, where he is updating his thesis about French- and English-language speculative literature, media, and philosophy into a book, provisionally named Race and the Apocalypse: Toward a Solar Semiotics of Energy. Sean has published essays in Horror Studies, Green Letters, Alienocene, and Philip K. Dick: Essays of the Here and Now (2020). He is also a practicing noise musician.
Melanie Dennis Unrau
"Boom Time, Giant Time, and Other Elsewhens of Lindsay Bird's Boom Time."
Dr. Melanie Dennis Unrau (she/her) is a settler of mixed European ancestry living on Treaty 1 territory in Winnipeg. Melanie is a Visiting Fellow at St. John's College (University of Manitoba) and a Research Affiliate at the University of Manitoba Institute for the Humanities. She is the author of Happiness Threads: The Unborn Poems (Muses' Company, 2013), a co-editor of Seriality and Texts for Young People: The Compulsion to Repeat (Palgrave, 2014), and a former editor of Geez magazine and The Goose: A Journal of Arts, Environment, and Culture in Canada. Melanie is working on a book titled "The Rough Poets: Petropoetics and the Tradition of Canadian Oil-Worker Poetry," which is on contract with McGill-Queen's University Press.