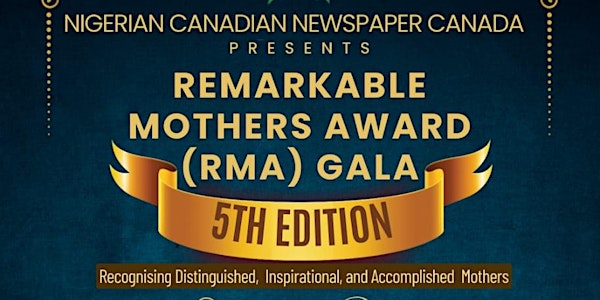 Remarkable Mothers Award (RMR) Gala - 5th Edition
Recognizing Distinguished, Inspirational, and Accomplished Mothers.
When and where
Location
Panemonte Banquet & Convention Centre 220 Humberline Drive Toronto, ON M9W 5Y4 Canada
About this event
Celebrating Our Living Heroes…..As Remarkable Mothers' Awards Returns for its 5th year.
In recent years, it has almost become a ritual to ignore people's achievements, successes, pains and even tears but the moment they kick the bucket, all manner of ceremonious, elating and soul lifting stories about their good deeds will begin to litter the society especially on social media.
Often than not, people come in the public space especially social media to harp on their predicament, successes, achievements, torments or how they are battling ailments, and most of the time, very few people respond or care to even listen to the ordeal of the fellow. But the moment the person dies, their photos will be used as profile pictures, display pictures and well detailed laudable articles about the deceased will begin to emanate from different angles.
It is against this backdrop, among other germane reasons that we initiated the Remarkable Mothers' Award. While we have utmost respect for the dead, we strongly believe in eulogizing the living. We belong to the school of thought that believes in celebrating feats – whether great or small.
One thing many people don't know is that celebrating the success of other people will help you expand your social network, learn new things, feel better, and identify alternate paths to achieving your own goals. Reality is that when you enjoy the success of others, you increase the likelihood of your own success.
Until the inception of the deadly COVID-19 in 2020 that plagued the world and has wrecked unquantifiable havoc across the globe, we have been celebrating women who have made indelible marks in their various endeavors. These are people who have, and are still putting in all the hard work and resources to better the society in their various capacities. And to be fair to all, our retinue of winners have always been drawn from across the globe.
We are excited to announce that we are making a sensational return with our awards come 2023 to end our three-year drought. For us, it was never easy in the past three years to watch with keen interest how lots of women are making positively reverberating impacts in the society without celebrating and putting them on the spotlight.
As it has always been our practice, come 2023, we will be spotlighting and celebrating women who are not limited by fear, people who have strong values with a sense of purpose, that are connecting people to destinies, drawing a roadmap for others to thrive, value human life, who don't recognize failure, "Impossible" is not in their vocabulary, masters of time, and more importantly, women who have carved a niche for themselves in their various fields.
To all our intending awardees, you're the heroes of the 21st century and history will surely be kind to you all. We hope that this noble award will challenge you to keep giving your best in your various fields for the betterment of the society. We look forward to meeting you all at this noble event.