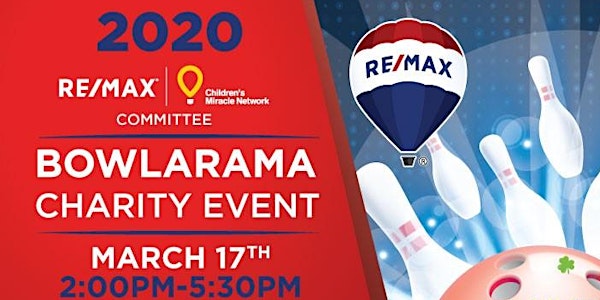 RE/MAX Bowlarama 2020 ****POSTPONED****
By RE/MAX Children's Miracle Network Committee
When and where
Date and time
Tue, Mar 17, 2020 2:00 PM - 5:30 PM MDT
Location
Let's Bowl 2916 5 Ave NE Calgary, Alberta T2A6K4 Canada
Description
RE/MAX Bowl-A-Rama - Hosted by the RE/MAX CMN Committee
CALLING ALL RE/MAX REALTORS!!!
It's that time of the year again for our annual Realtor charity bowling fundraiser with all proceeds going to the Children's Miracle Network & Alberta Children's Hospital Foundation.

--------Back by popular demand a St Patty's Day theme!--------
Come Dressed in your in your funkiest green outfit! Prizes will be awarded to the most creative teams & individuals!
Excited to offer you a new venue as we will be hosting this years event at Let's Bowl! If you need more info on their venue it can be found here: http://www.letsbowl.ca/
##I've heard that the internet explorer web browser is causing issues when buying tickets. Please use Chrome, Firefox or Safari to avoid any issues##
Ticketing options are as follows: *6 people per team *
$40 - includes 2 rounds of bowling + 1 alcoholic beverage & 2 Slices of Pizza
Or
$20 - Non bowling - Includes 2 slices of pizza
*** Please note only 10 pin bowling is available. There is only room for 180 bowlers.
Because of the rate of growth and attendance at our events we've decided to include an attendance only ticket for those who don't want to bowl. This way you can still attend and network with your friends and colleagues as well as taking part in our silent auction.
*** This year all tickets MUST be purchased online through this event page on Eventbrite. From this event page you are able to select your lane and seats, its a very intuative process. That being said you can only choose your own seat if you use a desktop computer the mobile verson of eventbrite does not support custom seat selection. Once you've purchased your tickets you'll receive an electronic ticket confirming your registration.
PRIZES!!!
Prizes will be as follows:
Best Dressed Team

Bowlarama Champions (Highest Scoring team) * Will recieve trophy!!!

Don't quit your day job award (Lowest Scoring Team)

Fred Flinstone Award (Highest Scoring Individual)

Barney Rubble Award (Lowest Scoring Individual)
Silent Auction
As always we will be hosting a silent auciton with a number of great items! If you or anyone you know is interested in donating silent auction items please contact us so we can make arrangements.
After Party!!!

There is a pub right at the venue, so for those of you who would like to keep the party going we invite you to join us!
Visit us online!
If you'd like ot keep informed about all of our upcoming events or the work we do for RE/MAX and the CMN Committee please visit our webpage or follow us on facebook
FAQs
How many people on a team?
There are 6 people to every team. The reason we organized it this way is so that everyone can have an opportunity to play 2 games. A minimum of one RE/MAX Realtor required per team.
Is there food and drink available for purchase at the venue?
Yes! They've got a huge lounge and pretty much anything you could want. There will be no shortage.
Can I transfer or refund my ticket?
Because this is a charity fundraiser tickets are non-refundable. However if you cannot attend you can either A) give your ticket to someone else or B) contact us and we will transfer the ticket into your name.
Can a brokerage buy bulk tickets?
Yes we do allow brokerages to purchase blocks of tickets. Please contact us directly at rmxcmnyyc@gmail.com

About the organizer
The RE/MAX-Children's Miracle Network Committee-YYC is a volunteer organization comprised of RE/MAX Realtors who are passionate about supporting the Alberta Children's Hospital by increasing Realtor awareness and funds through the RE/MAX Miracle Home Program and other fundraising initiatives.