Celebrate the launch of Reminders on the Path with poetry, storytelling & song!
About this event
TICKETS ARE SOLD OUT ON ZOOM.
TO WATCH THE LIVESTREAM ON THE DAY OF THE EVENT, VISIT: https://youtube.com/sjspokenword
Seven years after the publication of Firesmoke, Sheniz Janmohamed returns with her third collection of poetry, Reminders on the Path. The poet is wayfarer, exploring the path we inherit and seek out, that disappears with every step we take on it.
Settle in for a cosy autumnal evening of poetry, storytelling and song as we celebrate the launch of Reminders on the Path! Readings will be followed by a moderated discussion and audience Q&A.
Moderator & Host: Manahil Bandukwala
Opening Offering/Story: Ariel Balevi
Poetry: Sheniz Janmohamed
Closing Offering: Aviva Chernick
Praise for Reminders on the Path:
A great-granddaughter's search for connection to family, to land that was settled, and the land forgotten; these poems are the salt of her DNA. A successful third collection of poetry from a perceptive and practised poet."
–Sharanpal Ruprai, author of Pressure Cooker Love Bomb and Seva
Purchase your copy here:
https://www.mawenzihouse.com/product/reminders-on-the-path/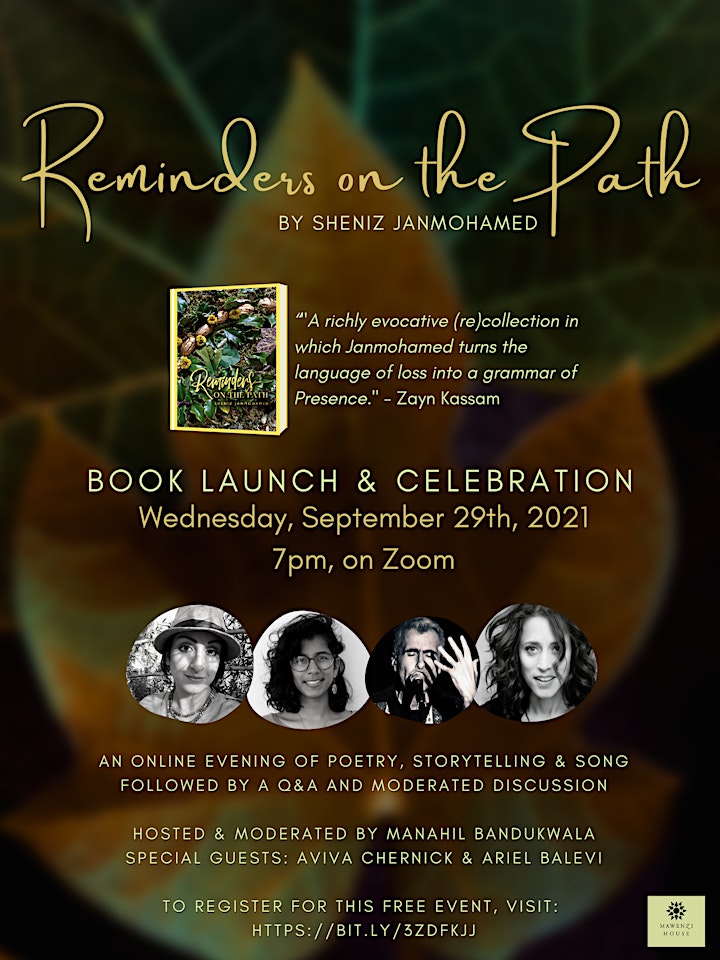 Organizer of Reminders on the Path: Book Launch & Celebration