Event Information
Location
The Wise Hall
1882 Adanac Street
Vancouver, British Columbia
Canada
Description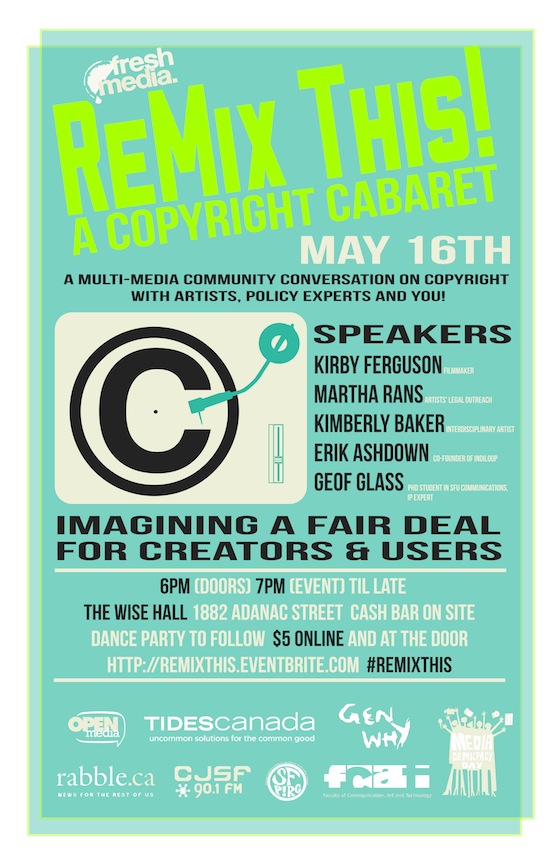 From the think tank of Fresh Media...

An evening of artists, storytellers, copyright experts, engaged citizens and multimedia activities that will get you thinking about:

Who owns what you create & share?
Copyright: does it function as creative incentive or control?
How can we re-conceptualize copyright?

So join us and bring your friends! Share your ideas in a community conversation designed to re-conceptualize copyright at this pivotal moment.

WHAT: ReMix This: A Copyright Cabaret
WHEN: Thursday May 16th | doors at 6, event starts at 7
WHERE: The Wise Hall, 1882 Adanac St.
facebook event here: https://www.facebook.com/events/325967500863398/?fref=ts
Tickets $5, cash bar on site, Dance Party to follow!


We are pleased to announce our masters of ceremonies for the evening: Kai Nagata and Heather Libby of the hilarious, satirical skit show Deep Rogue Ram!
TOPIC//
What happens when copyright is less about incentivizing creative output and more about restrictive control? How do we make sure that creativity is not short-changed on account of profit-driven interests?

Copyright is an incentive for artists to create and share ideas without fearing misrepresentation or take-over, and it also has legal implications for content creators, users, and innovators alike. What's more, current copyright provisions, as proposed by the secretive, multi-country Trans Pacific Partnership (TPP), are setting up barriers to sharing and innovating that would greatly impact how we experience art, communication, and culture.
SPEAKERS//
Kirby Ferguson via Skype, Writer, Filmmaker and Producer
Erik Ashdown, President and Co-founder of Indiloop
Martha Rans, Copyright Lawyer and Co-founder of Artists' Legal Outreach
Kimberly Baker, Interdisciplinary Artist
Geof Glass, PhD student in SFU Communications, professional software developer
Musical Performance by Rupert Common, Rap Lyricist and Commedian
Kai Nagata is a freelance writer and videographer that famously left CTV to report on news much more freely. You can see his work in the Tyee or the Toronto Star. Heather Libby is a writer, communications specialist and many would say, a hilarious comedian. Together, the pair make a dynamic duo that put on the knee-slapping, satirical show, Deep Rogue Ram.
Kirby Ferguson, writer, filmmaker and director is a Canadian based in New York. He has produced dozens of comedic short films including Everything is a Remix.
Erik Ashdown, born in Montreal, has cleverly combined a passion for music and entrepreneurship to foster remix culture. Along with his pal, Karl Goddard, he co-founded the music mash-up tool, Indiloop.
Martha Rans, copyright lawyer and co-founder of Artists' Legal Outreach, has been defending the rights of artists for nearly two decades. Her work has been integral to the success of the Creative Commons in Canada.
Kimberly Baker is an interdisciplinary artist and Arts, Heritage and Culture educator. She came face to face with restrictive, corporate copyright during the 2010 Olympics in Vancouver. Much of her art is creatively reflective of prevalent social issues.
Geof Glass, PhD student in SFU Communications is a professional software developer and Intellectual Property expert. Glass will be speaking on the monopolies of knowledge and culture in relation to copyright.

ReMix This: a Copyright Cabaret gives you the opportunity to engage in conversation with other passionate individuals to rethink copyright for the future of the arts, intellectual property and the open internet.

In the past, FreshMedia events have had fantastic turnouts. Grab your tickets above now! And bring 2 friends!

#REMIXTHIS
Date and time
Location
The Wise Hall
1882 Adanac Street
Vancouver, British Columbia
Canada