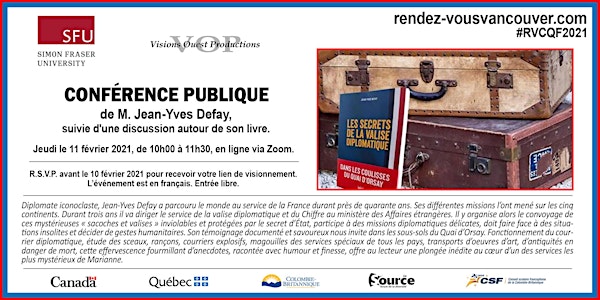 Rencontre avec Jean-Yves Defay "Les secrets de la valise diplomatique"
Rencontre et discussion avec M. Jean-Yves Defay dans le cadre des 27e RVCQF2021 et du cours "Diplomatie et gouvernance mondiale" à SFU-BAFF.
By Visions Ouest Productions
When and where
Date and time
Thu, Feb 11, 2021 10:00 AM - 11:30 AM PST
About this event
Vous êtes cordialement invités,
dans le cadre des Grandes rencontres de Visions Ouest Productions et des 27e Rendez-vous du cinéma québécois et francophone du 4 au 14 février 2021, et du cours "Diplomatie et gouvernance mondiale" du Bureau des Affaires francophones et francophiles de l'université Simon-Fraser,
à une conférence publique de M. Jean-Yves Defay, suivie d'une discussion autour de son livre : "Les secrets de la valise diplomatique".
Jeudi le 11 février 2021, de 10h00 à 11h30, en ligne via Zoom.
R.S.V.P. avant le 10 février 2021pour recevoir votre lien de visionnement. L'événement est en français. L'entrée est libre.
L'auteur: Jean-Yves Defay est né à Rennes (1942), marié, deux filles. Il a été professeur, journaliste (Ouest-France), diplomate (Quai d'Orsay, Matignon), photographe, parolier, dialoguiste, voyageur et Consul général de France à Vancouver de 2002-2006. Il a été en poste en Afrique : Malawi (2 ans), Zambie (3 ans); en Asie : Thaïlande (2 ans), Hong Kong (5 ans); en Océanie : quelques mois; en Amérique : USA (5 ans), Canada (6 ans, Québec +Vancouver); en Europe : Allemagne (5 ans) et il a ensuite terminé sa carrière en France.
Description de l'ouvrage : Diplomate iconoclaste, Jean-Yves Defay a parcouru le monde au service de la France durant près de quarante ans. Ses différentes missions l'ont mené sur les cinq continents. Durant trois ans il va diriger le service de la valise diplomatique et du Chiffre au ministère des Affaires étrangères. Il y organise alors le convoyage de ces mystérieuses « sacoches et valises » inviolables et protégées par le secret d'État, participe à des missions diplomatiques délicates, doit faire face à des situations insolites et décider de gestes humanitaires. Son témoignage documenté et savoureux nous invite dans les sous-sols du Quai d'Orsay. Fonctionnement du courrier diplomatique, étude des sceaux, rançons, courriers explosifs, magouilles des services spéciaux de tous les pays, transports d'oeuvres d'art, d'antiquités en danger de mort, cette effervescence fourmillant d'anecdotes, racontée avec humour et finesse, offre au lecteur une plongée inédite au cœur d'un des services les plus mystérieux de Marianne.
Cet événement est rendu possible grâce au support des partenaires, dont le Patrimoine canadien, le Secrétariat des relations canadiennes, le Gouvernement de la Colombie-Britannique, le Conseil scolaire francophone de la C.-B. et La Source.
www.sfu.ca/baff-offa www.rendez-vousvancouver.com
About the organizer
VOP presents the French Film Rendez-vous Festival for 28 years, both online & live event. We are part of SFU Woodwards Cultural Programs.