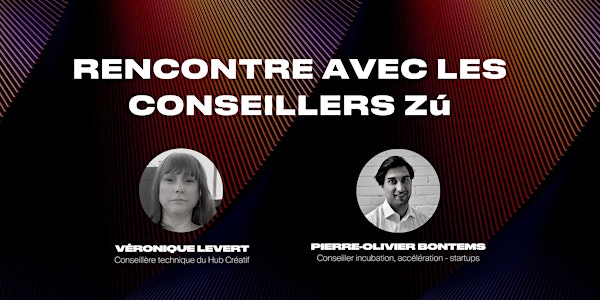 Rencontre avec les conseillers Zú
Vous souhaitez en savoir plus sur Zú, ses services d'accompagnement, et sa communauté? Venez nous rencontrer virtuellement le 5 avril !
When and where
Date and time
Wed, Apr 5, 2023 9:00 AM - 10:00 AM PDT
About this event
Vous avez envie de faire partie d'une communauté dont l'ambition est de créer de la richesse au Québec en faisant rayonner la créativité d'ici partout dans le monde ?
Vous cherchez un incubateur qui soutient et propulse les entrepreneurs créatifs des industries culturelles, créatives et du divertissement ?
Vous cherchez une communauté et un encadrement qui offrent un accès à de l'expertise entrepreneuriale de pointe (légal, ventes, financement, etc.), des services en innovation ouverte pour les PME et grandes entreprises, un réseau local et international d'une centaine de coachs renommés, des studios à la fine pointe de la technologie et des espaces pour exposer et tester vos projets auprès du public au centre-ville de Montréal?
Vous cherchez à en savoir plus sur nos services d'accompagnement pour startups ?
Si vous avez répondu oui à l'une ou l'autre de ces questions, il est temps d'approfondir la conversation virtuellement avec un de nos conseillers.
Rendez-vous virtuellement le 5 avril de 12h à 13h avec nos conseillers Véronique Levert, conseillère technique du Hub Créatif ainsi que Pierre-Olivier Bontems, conseiller incubation, accélération - startups chez Zú qui se feront un plaisir de répondre à vos questions et de vous orienter en fonction de vos besoins.