Multiple Dates
Renewable Energy in Alberta - Panel Series
A two-day virtual panel series exploring current renewable energy work, opportunities, policy, advancements, and barriers in Alberta.
About this event
Satisfying the world's energy requirement while maintaining environmental sustainability is a huge and complex challenge. With the rapid increase in population and economic development, the demand for energy is surging, posing a significant strain on the current energy infrastructure and the environment. The way energy is produced has a lasting effect on our world. Sustainable development, where the needs of the current generation are met without compromising the ability of the future generation to meet theirs, has become a comprehensive notion and the stimulus of creative practices, innovation, and emerging technological advancements in Alberta.
This two-day virtual panel series explores current renewable energy work, opportunities, policy, advancements, and barriers from perspectives of the industry, government, non-profits and academia. Panelists include leading individuals from the solar, wind, hydro, biomass, geothermal, and hydrogen energy sectors in Alberta.
Sustainable Development Goals this panel series will explore include affordable and clean energy, gender equality, responsible consumption and production, industry, innovation and infrastructure, and climate action.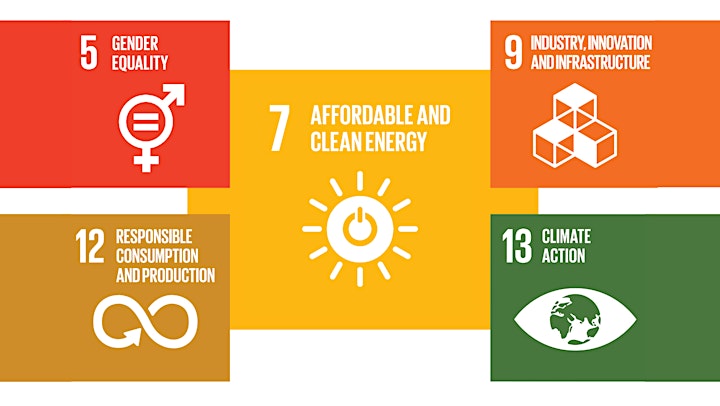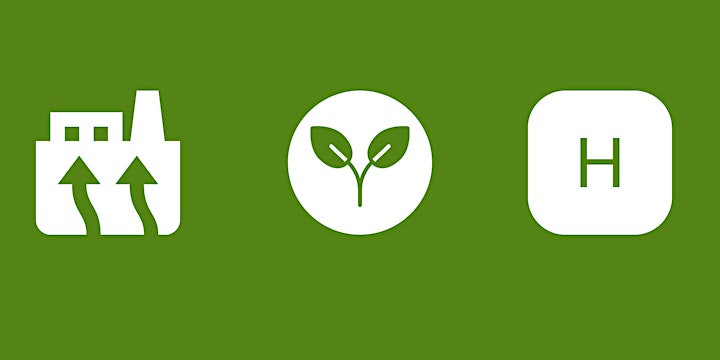 Panel 1 - This panel consists of individuals from the biomass, geothermal, and hydrogen energy sectors.
Events occurs on March 6, 2021 at 12:00 PM MST.
If you would like to register to attend both panels, you will need to check out twice.
Panelists
Sean Collins, Founder at Terrapin Geothermics and Co-Founder of Student Energy
Sean Collins is a serial clean energy entrepreneur who has raised over $45 million for clean energy projects and new ventures to date. Sean is the Founder of Terrapin Geothermics, one of Canada's leading geothermal development companies, and recipients of $25.45 million in funding from NRCan's Emerging Renewable's Power Program. Sean also Co-founded Student Energy, a global energy education charity with over 50,000 members and official university level chapters in over 30 countries. Sean won the National Community Radio Award in 2014 for the "Great Pipeline Debate" episode of his Energy Voices radio show and was the youngest recipient of the Top 40 Under 40 Award in Edmonton in 2012. Sean has spoken at the United Nations in New York on two occasions and was a proud member of Canada's contingent at COP 21 in Paris.
Robert Lavoie, CEO and President of AirTerra Inc.
Rob's first career was as a reservoir engineer for Shell Canada followed by independent consulting mostly on CCS projects in Western Canada. However, Rob founded AirTerra in 2009 after learning about the potential for biochar to be a valuable soil enhancement product with byproducts that could also serve as a source of renewable energy. Moreover, biochar is also and a means of sequestering CO2 for climate change mitigation and adaptation. Rob's first venture in the biochar space included working with an award-winning African NGO that set up a grassroots biochar generating clean cooking stove manufacturing facility and sales organization in Kenya. In 2015, AirTerra registered its first Canadian Food Inspection Agency registered biochar product for sales across Canada – SoilMatrix® Biochar. Now AirTerra is planning to build a biochar production plant near Calgary that will not only produce its biochar products but also have the capacity to recover 100 barrels per day of bio-oil for renewable electricity production or be transformed into a low carbon liquid transportation fuel.
Dr. David Layzell, Chief Energy Systems Architect for Transition Accelerator
Dr. David Layzell, FRSC is a University of Calgary Professor and the Chief Energy Systems Architect for the Transition Accelerator, a non-profit focused on the net-zero energy system transition in Canada. His research program uses analytical and modeling tools to explore how existing or new technology, business model, policy or social innovations could transform or disrupt the systems that Canadians use for societal provisioning. Using these tools, and through engagement with key stakeholders, he identifies strategies to direct the disruptive forces to achieve societal goals, including, but not limited to, climate change mitigation. Before assisting in the launch of the Transition Accelerator in 2019, and starting the Canadian Energy System Analysis Research (CESAR) Initiative at the U of C in 2013, Layzell was Executive Director of the Institute for Sustainable Energy, Environment and Economy (ISEEE) at the U of C (2008-12), and the Executive Director of BIOCAP Canada, a research foundation focused on biological solutions to climate change (1998-2008). As a Professor at Queen's University between 1981 and 2008, he also founded a scientific instrumentation company called Qubit Systems Inc. and was elected Fellow of the Royal Society of Canada (FRSC) for his research contributions.
Moderator
Preet Kang, Organizer of Renewable Energy in Alberta Panel Series and Member of Alberta Council for Global Cooperation's SDG Youth Hub
Preet is the organizer of the panels series and a member of this year's SDG Youth Hub, lead by the ACGC. A recent chemical engineering undergraduate from the University of Alberta, she understands that the way energy is produced has a lasting effect on our world. As a youth, she is curious about this challenge, and eager to delve into renewable energy opportunities in Alberta. Preet is truly passionate about sustainable development.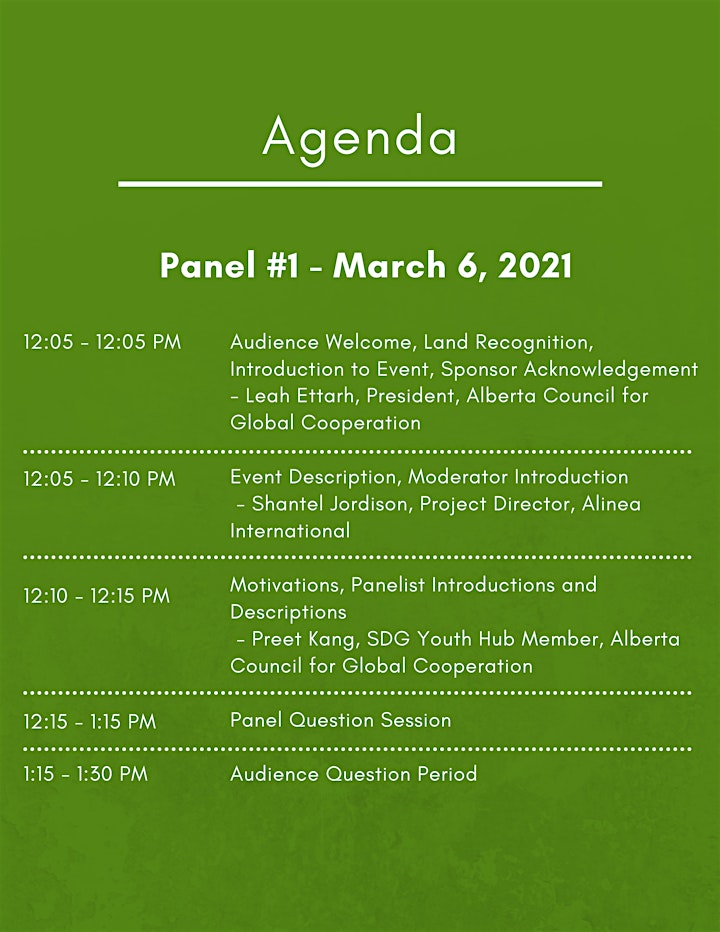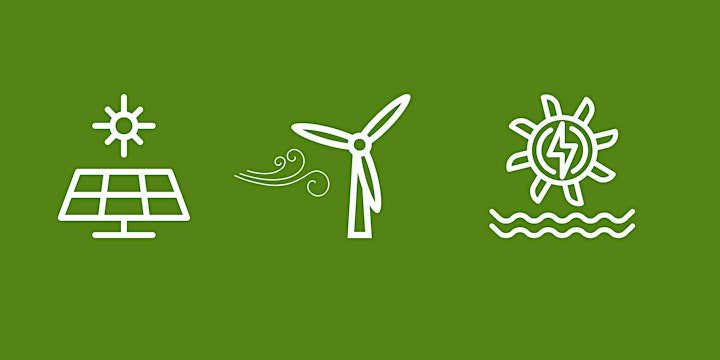 Panel 2 - This panel consists of individuals from the solar, wind, and hydro energy sectors.
Events occurs on March 7, 2021 at 12:00 PM MST.
If you would like to register to attend both panels, you will need to check out twice.
Panelists
Heather MacKenzie, Executive Director at Solar Alberta
Solar Alberta is an award-winning not-for-profit society that has been engaged in public education about climate change and solar energy opportunities since 1991. Solar Alberta's mandate is to build awareness, understanding, and use of solar energy as well as other renewable energy sources and conservation technologies. To achieve this mandate, Solar Alberta routinely holds public seminars/webinars and workshops as well as industry classes and an annual solar trade show event.
Daniel Lai, Head of Public Policy & Institutional Affairs Canada at Enel North America
In his current role, Daniel supports Enel's public policy advocacy and government engagement for our renewable growth priorities, demand response services, battery storage, and EV network charging infrastructure in Canada. Daniel believes that we come to a critical juncture of the global energy transition, and that it is vital to collaborate across industries and disciplines to position Canada competitively.
Chelsea Donelon, Senior Advisor Climate Policy and Technology at TransAlta
Chelsea Donelon is a Senior Advisor Climate Policy and Technology on the Alberta team at TransAlta, where she works on the long-term decarbonization and asset strategy. Previously she worked for the Chief Executive Officer on carbon and net zero policy. Before that, she was a Senior Policy Analyst in the Electricity and Sustainable Energy Division of the Government of Alberta where she worked on the Coal Transition Team, the Renewable Electricity Program and the Infrastructure Solar Procurement among others. She was valedictorian at the University of Cambridge for her Master's in Economic Development and has an unquenchable thirst for greening Alberta's electricity grid.
Riley Georgsen, Director of External Affairs at Alberta Utilities Commission
Riley Georgsen has had the unique opportunity to be involved with renewable energy through several different roles and perspectives. Riley's involvement began as the Chief of Staff for Alberta Ministers of Energy and Environment at which time he gained experience in developing policy that impacted climate change, sustainability and renewables. He then transitioned to the private sector with TransAlta Corporation where he advocated for public policy that supported renewable projects across Canada and the United States. Most recently, Riley has joined the Alberta Utilities Commission and has been actively working to help reduce regulatory burden for all electricity projects in Alberta.
Moderator
Julia-Maria Becker, Manager of Sustainable Business & Operations for the Royal Bank of Canada (RBC)
Julia-Maria Becker is the Manager of Sustainable Business & Operations for the Royal Bank of Canada (RBC), supporting the implementation of RBC's Climate Blueprint. She holds a Masters in Economics and a Bachelor in International Economics. Her expertise is in emissions reductions policies, corporate procurement of renewables, and stakeholder engagement strategies. She has worked with governments (provincial and national), utilities, industry associations, and companies from across the energy sector.
Before joining RBC, Julia was the Alberta Clean Economy Director at the Pembina Institute, leading the Business Renewables Centre (BRC) Canada. Julia has also worked for local and international non-profit organizations, for German and Mexican government institutions, and for academia. She is on the board of Student Energy, a non-for-profit organization working on empowering the next generation of leaders to transition the energy system and Green Economy Canada, a non-for-profit organization working with businesses across Canada to set and achieve sustainability targets. Julia is fluent in German, English and Spanish and has received various awards for her leadership in transitioning the energy sector.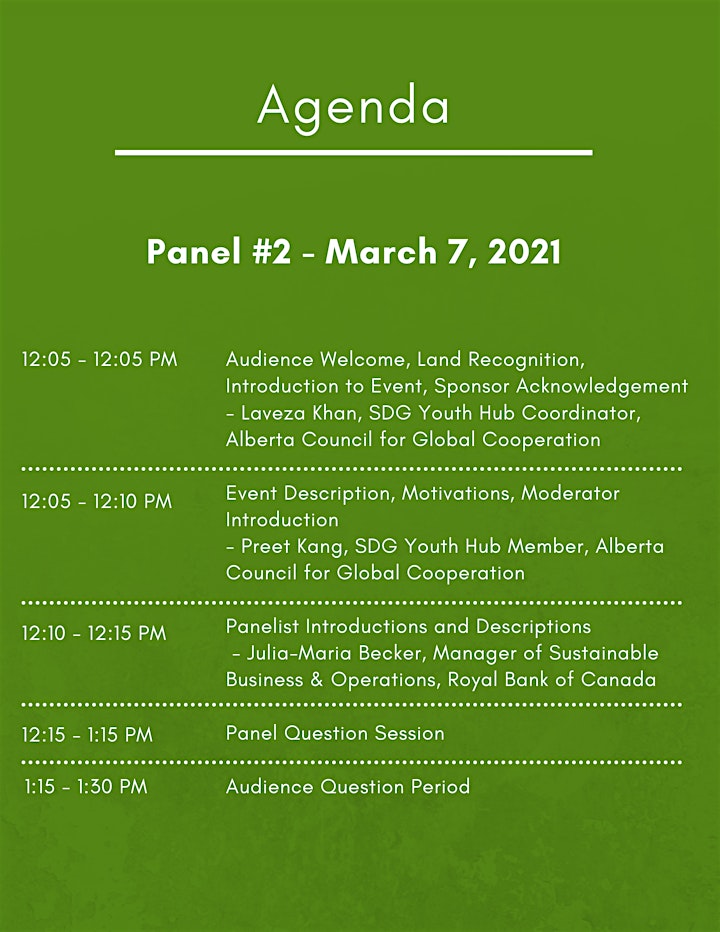 Sponsor
The Alberta Council for Global Cooperation (ACGC), a non-governmental organization accredited by the United Nations, is a network of organizations and individuals, located in Alberta, working locally and globally to advance sustainable development and global citizenship; part of this network includes ACGC members, comprised of civil society organizations and individuals.
ACGC's mission is to mobilize Albertans to become global citizens engaged in sustainable development by building the capacity of network organizations, representing members' interests with government and others, and increasing the awareness, knowledge, and connections of Albertans in global issues and sustainable development.
The SDG Youth Hub is a program lead by ACGC, which helps young people in Alberta fulfill the mandate of the United Nations' Sustainable Development Goals (SDGs), and is a space for young Albertan residents to meet and engage in a meaningful dialogue, collaborate, and take action in their communities on issues they are passionate about.
Organizer of Renewable Energy in Alberta - Panel Series