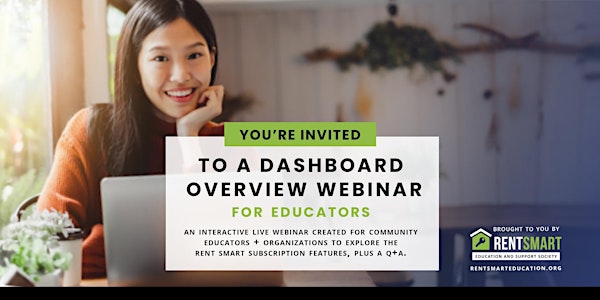 Rent Smart Educator Dashboard Overview Webinar: June 1, 2022
Learn about all the features within your Educator and Organization Dashboards and how they work.
About this event
Thanks for your interest in this Rent Smart information webinar.
This event takes place on June 1st at 10am PST /11am MST /12pm CST /1pm EST
Join us for an overview of your Rent Smart Educator and Organization Dashboards. We will be walking through all of the key features within your Dashboards and how to use them. Provincial Coordinators, Christina and Jessica, will guide you through each of the tiles in your Educator and Organization Dashboards, answer questions and provide tips on course management. We will be covering:
How to create a course
Ordering/downloading Participant Manuals
Managing course history
Educator Resources (Powerpoints, marketing materials, curriculum)
Forms (accessing and distributing to participants)
Ordering/downloading Certificates
Stats (how to search, generate and download results)
Managing current Educator lists (Organization Dashboard)
Managing order history
We're excited to expand our support to provide invaluable tenant education and skills through the use of your Educator and Organization Dashboards!
We will also have a Q+A at the end to answer any questions from participants.
Once you register, expect to receive a welcome email immediately, and 1 week prior to this event, you'll receive a reminder for the webinar and the link details 1 day before.
We look forward to meeting you and having you join us!
Please note: This webinar is for Certified or soon-to-be RentSmart Educators only.