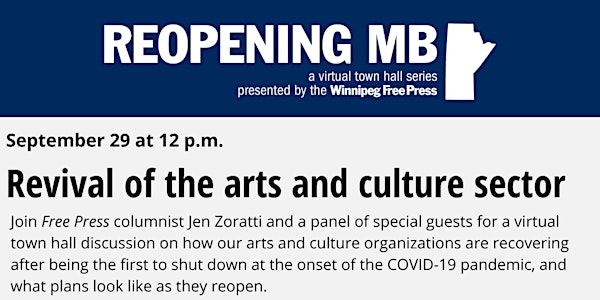 Reopening MB town hall: Revival of the arts and culture sector
A virtual town hall discussion focused on how Manitoba's arts and culture sector plans to move forward in a post-pandemic future.
About this event
Join Free Press columnist Jen Zoratti and a panel of special guests for a virtual town hall discussion on how our arts and culture organizations are recovering after being the first to shut down at the onset of the COVID-19 pandemic, and what plans look like as they reopen.
Panellists include:
Lynne Skromeda, executive director, Winnipeg Folk Festival
Camilla Holland, executive director, Royal Manitoba Theatre Centre
Jorge Requena Ramos, artistic director, West End Cultural Centre
This is the last in a four-part town hall series that will answer your questions about future plans in various sectors, including the restaurant industry, sports and arts and culture, as we move slowly toward reopening.