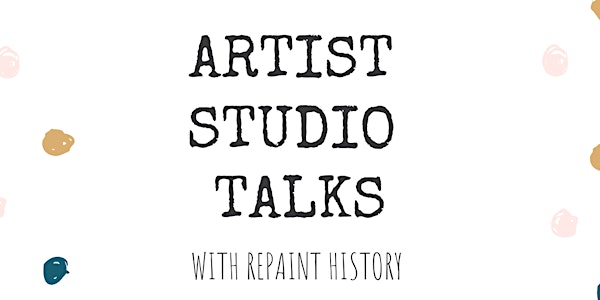 Repaint History Presents: Artist Studio Talks
Join Repaint History as we get together every week and visit an inspiring artist's studio and learn about their art and career as an artist.
About this event
Artist Studio Talks with Repaint History is an ongoing series focused on highlighting the practice of many female artists from across the globe.
Every week Repaint History will tune in with an artist at their studio to chat with them about their career, inspirations, success and failures and what is inspiring them during the current state of the world. These conversations are meant to be kept engaging and casual for participants with a Q&A session at the end of each talk. Each session will be a total of 45 minutes.
*** This is a FREE event and will be hosted via Zoom. Access to the event will be shared to all the registrants prior to the event***
Friday, July 10th, 2020 at 3.30PM EST (12.30pm PDT , 2.30pm CDT, 9.30pm CET, 8.30pm GMT) we tune in with Jesse Mockrin, the interdisciplinary artist whose work has been exhibited nationally and internationally. She has also appeared in various publications such as the O, Oprah Magazine and has had many collaborations with well known brands such as Dior.
About the Artist: Jesse Mockrin (b. Silver Spring, MD, 1981) has had solo exhibitions at Night Gallery (Los Angeles), Nathalie Karg Gallery (New York), and Galerie Perrotin (Seoul). In 2019, her work was acquired by the Dallas Museum of Art, and her work is also in the collections of the Los Angeles County Museum of Art (LACMA), the Rubell Collection, the KRC Collection, and the Hans-Joachim and Gisa Sander Foundation. In 2017 she presented a solo project at Galerie Perrotin in Seoul, South Korea. Mockrin's work has been covered extensively, appearing in publications including The New York Times, The New Yorker, Vogue, Artforum, T Magazine, Modern Painters, and Art Agenda, among others. A catalogue for her solo exhibition Syrinx was produced by Night Gallery in 2019. She lives and works in Los Angeles.
About Repaint History: Repaint History is determined to highlight the contributions of many female artists of the past, present and future while continuously addressing the gender gap in the art world. The company uses various channels to address this gap, whether through collaborations with various art institutions or their growing line of clothing focused on addressing this message. To date Repaint History has collaborated with various museums, galleries and institutions such as the Art Gallery of Ontario, Milwaukee Art Museum, Art Toronto, The Barnes Foundation, and Joan Mitchell Foundation to name a few. More information about Repaint History can be found at www.repainthistory.com
Follow Repaint History's Instagram account to stay updated on more upcoming talks and events.