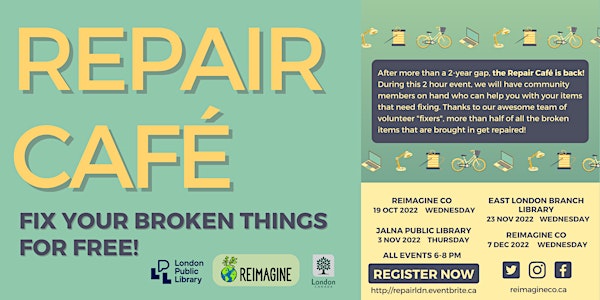 Repair Cafe - Fix your broken things - for free!
Come and get your broken household items repaired for free!
When and where
Location
Reimagine Co 206 Piccadilly St London, ON N6A 1S1 Canada
About this event
PLEASE NOTE that tickets for the Repair Cafe are now available via the following link and not through Eventbrite: https://dandelion.earth/o/reimagine
Sorry for any confusion caused. Please follow this link to register for free for one of the upcoming Repair Cafe events at Jalna Library Branch, East London Library Branch or Reimagine Co.
*********
After a more than a two year gap, the Repair Café is back! This was always one of our favourite events, and now that it's safer to gather again, we are looking forward to getting back into the swing of regular repair events, learning new skills and fixing items that would otherwise have gone in the landfill.
Thanks to our awesome team of volunteer "fixers", more than half of all the broken items that are brought in get repaired! Some of the items that have been repaired in the past are: toaster ovens, curling iros, clocks, lamps, jeans, purses, coats, chairs, radios, microwaves, etc.
During this 2 hour event, we will have community members on hand who can help you with your items that need fixing. If you have a small appliance or piece of clothing or something else that needs fixing, please bring it in and have it repaired - for free :)
We are hosting the Repair Café at Reimagine AND at London Public Library branches! Please carefully note the location of the event you are regsitering for :)
Reimagine - Wednesday, September 28
Reimagine - Wednesday, October 19
Jalna Library Branch - Thursday, November 3 (1119 Jalna Boulevard, London ON N6E 3B3)
East London Branch Library - Wednesday, November 23 (2016 Dundas Street East, London ON N5Z 1R1)
Reimagine - Wednesday, December 7
21st century humans throw away vast amounts of stuff. In fact, Canadians throw away almost 800 kilos of garbage a year - per person! Sometimes things with almost nothing wrong are tossed out since buying new has become cheaper than ever. These things can easily get a new lease of life after a simple repair.
Reimagine Co is located at 206 Piccadilly St in the heart of downtown London - just west of Richmond Row, next to Kal Tire! We have free parking in front of our building, as well as bike parking, and we're easily accessible by bus and via the TVP.